When it comes to adding a touch of color and modern flair to your cabinets, blue emerges as a popular choice. Blue cabinet paint can transform your kitchen or bathroom, injecting personality and style into your space.
In this comprehensive guide, we'll delve into the world of blue cabinet paint colors, helping you select the perfect shade to suit your aesthetic preferences.
Why Blue for Kitchen Cabinets?
Blue kitchen cabinets are a fantastic way to infuse vibrancy into your culinary haven, especially when paired with neutral choices.
However, the key lies in choosing the right shade of blue to avoid overwhelming brightness.
So, is blue a good color for kitchen cabinets? Absolutely!
Now, let's explore what colors harmonize best with blue cabinets.
Complementary Colors for Blue Cabinets
Blue is inherently versatile and pairs well with various hues, making it an ideal choice for cabinets. Here are some color combinations that work wonders with blue kitchen cabinet paint:
White: For a crisp and clean look, pair blue cabinets with white accents.
Lighter Colors: Soft pastels or lighter shades complement blue, creating a charming, cottage-like ambiance.
Natural Wood Tones: Blue cabinets alongside warm wood tones evoke a cozy, homely vibe.
Gold and Metallics: Infuse a touch of luxury by combining blue with gold or metallic accents.
Selecting the Ideal Blue Kitchen Cabinet Paint Color
Choosing the right blue cabinet paint color involves a few considerations:
Color Family: If you're here, it's likely you've settled on blue as your color family of choice.
Tone: Determine whether you prefer a lighter or darker shade, as well as whether you want it brighter or more subdued.
Undertones: Consider the undertones you desire in your blue cabinet paint.
Testing Blue Paint Samples
Before committing to a specific blue cabinet paint color, it's essential to test samples. Here's a step-by-step guide to ensure you make the right choice:
Purchase Samples: Acquire at least three paint samples in your chosen blue shades.
Apply Samples: Paint the samples on your walls in various locations, ensuring you include spots near fixtures or elements that won't change, such as trim, carpet, flooring, or existing cabinets.
Allow Drying Time: Let the samples dry, applying two coats if necessary.
Observe in Different Lighting: Over two days, assess the samples in morning, daytime, and evening lighting conditions. Consider both natural and artificial lighting.
These steps ensure you get a comprehensive sense of how your chosen blue cabinet paint color will appear in your home.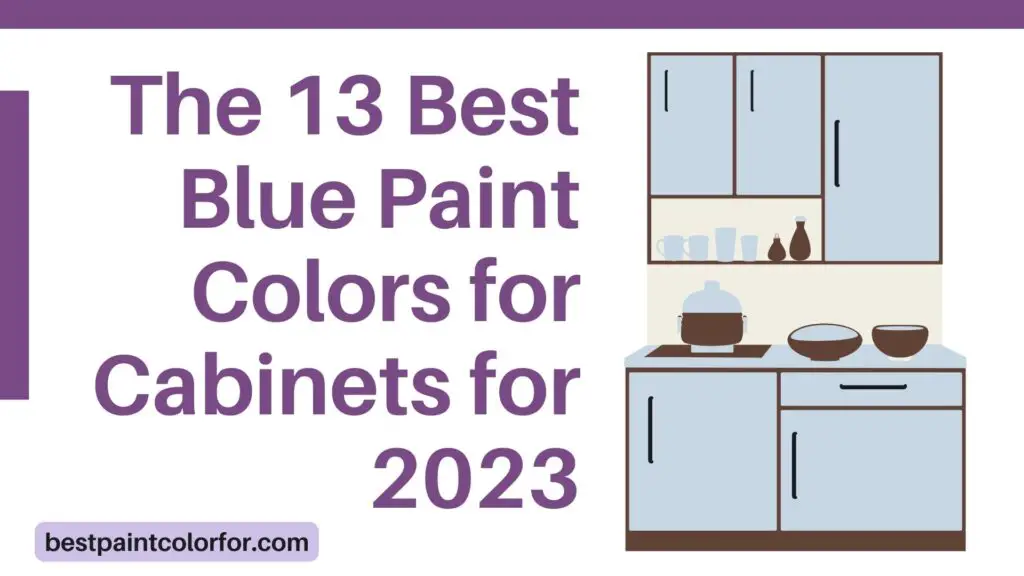 Understanding Blue Paint Undertones
Blue paint colors can possess warm or cool undertones, each offering a distinct look:
Warm Blue: A warm blue will lean towards blue-purple.
Cool Blue: A cool blue will lean towards blue-green.
For a more subdued and less neon appearance, it's advisable to opt for a blue paint color with gray undertones. This brings sophistication and versatility to your space.
Now, let's delve into the top blue cabinet paint colors that can elevate your cabinets to new heights.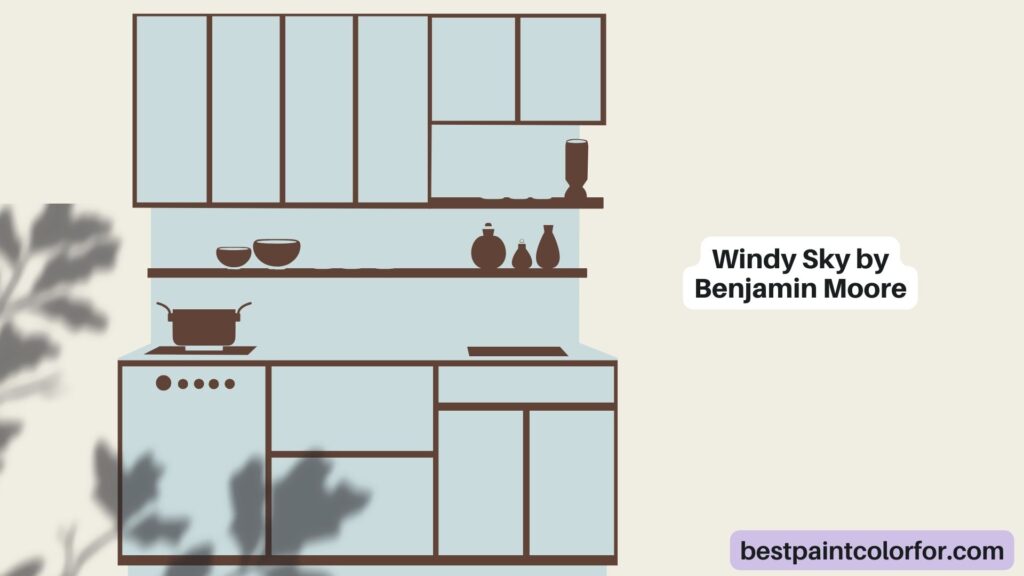 The Best Light Blue Cabinet Paint Colors
Windy Sky by Benjamin Moore (1639): This bright and cheerful blue-gray hue exudes sophistication, reminiscent of a sunny, cloudless day.
Iceberg by Benjamin Moore (2122-50): A very light blue with strong gray undertones, Iceberg offers a muted, non-pastel alternative to baby blue.
Brittany Blue by Benjamin Moore (1633): Crisp and cool, Brittany Blue is a light blue-gray with icy undertones, striking a balance between sky blue and elegance.
Icy by Sherwin Williams (SW6534): This blue with gray undertones leans towards a true sky blue. Pair it with creamy colors for a refined look.
Lake Placid by Benjamin Moore (827): Lake Placid's bright, purple-tinged blue adds a modern twist to the traditional baby blue.
Upward by Sherwin Williams (SW 6239): A clear and pure blue, Upward exudes cheerfulness and works well in various rooms.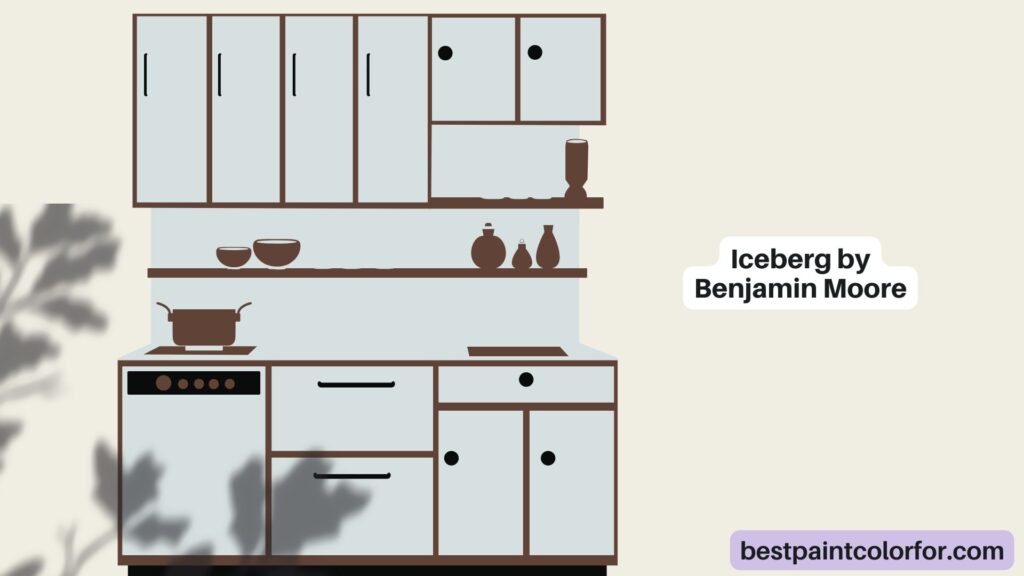 The Best Navy Blue Cabinet Paint Colors
Hale Navy by Benjamin Moore (HC-154): A deeply saturated navy blue, Hale Navy injects boldness into any space without feeling overly militaristic.
Stained Glass by Benjamin Moore (CSP-685): While technically a dark teal, Stained Glass's gray undertones give it a cozy and comfortable vibe.
Blue Note by Benjamin Moore (2129-30): A deep navy with hints of green, Blue Note embodies a pure, deep blue with subtle gray undertones.
New Providence Navy by Benjamin Moore (1651): This color showcases teal and green undertones, adding depth and character.
Polo Blue by Benjamin Moore (2062-10): A rich, masculine navy that makes a striking statement, ideal for both interiors and exteriors.
Gentleman's Gray by Benjamin Moore (2062-20): Despite the name, this color leans more towards deep teal and is perfect for a study, library, or man cave.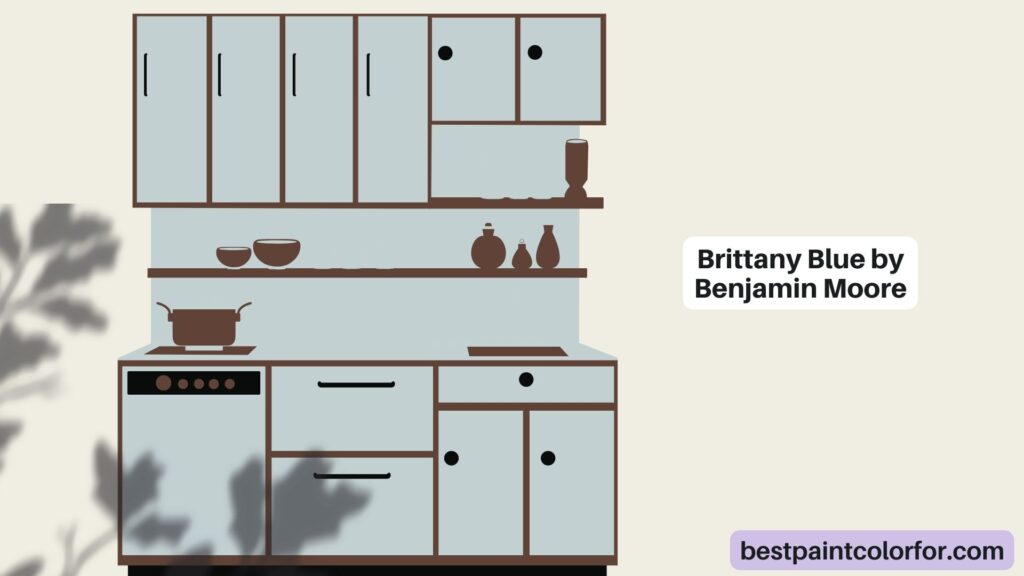 The bottom line
Incorporating these blue cabinet paint colors into your kitchen or bathroom can breathe new life into your space. Remember to consider your desired atmosphere, lighting conditions, and complementary colors when making your final selection. With the right blue cabinet paint color, you can transform your cabinets into stunning focal points that elevate your home's aesthetics.