Are you thinking about giving your home a warm and inviting touch with terra cotta? Whether you're planning to paint your walls in this earthy hue or have some eye-catching terra cotta decor pieces, we've got you covered!
When we talk about terra cotta, we're usually picturing that lovely reddish-orange color often used for flower pots and tiles. This color has gained a lot of popularity lately, and some even see it as the latest go-to neutral shade.
Now, if you're looking to spruce up your living space with some complementary colors, we've got some great suggestions for you! Let's explore the perfect accent colors to pair with your terra cotta elements.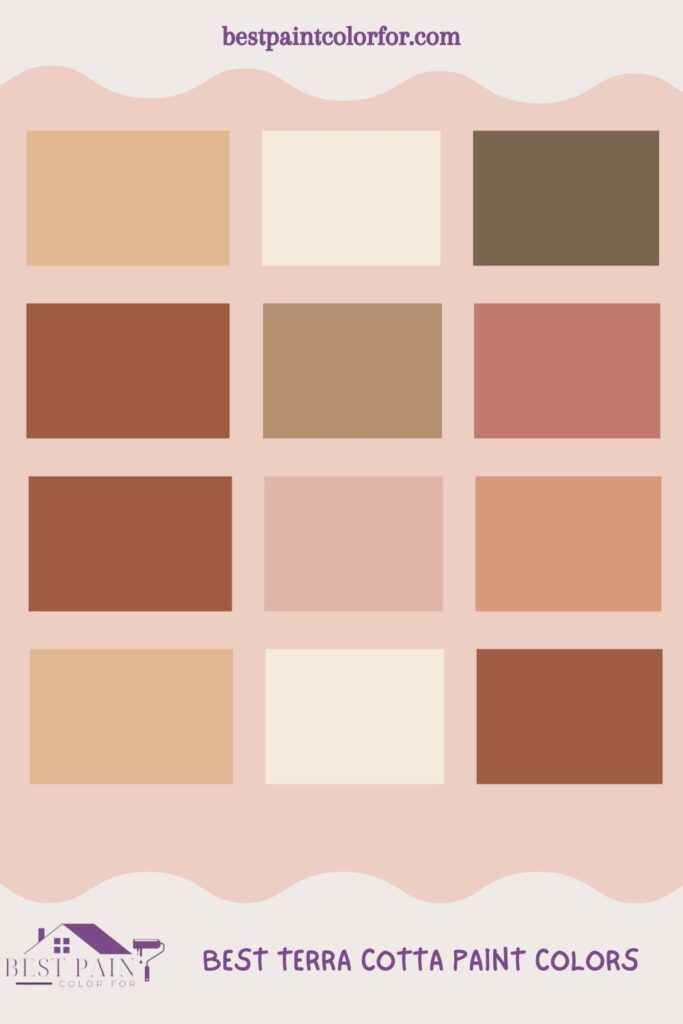 What is terra cotta paint color?
Let's start by exploring Terra Cotta!
Terra cotta is a beautiful and warm color that combines the rich tones of burnt orange with subtle hints of brown. Depending on the specific shade and the lighting in your space, it can take on various appearances, sometimes leaning more towards brown, orange, or even a touch of pink.
This versatile hue can serve as a dominant color in your home's decor, or you can use it as an accent to add vibrancy to any room.
The great thing about terra cotta is its adaptability. You can incorporate it into every room and pair it with a wide range of other colors. How you choose to introduce it into your home, whether through accent walls or decor pieces, will determine the best colors to complement your terra cotta elements.
So, without further delay, let's dive into the world of terra cotta and discover the perfect color combinations to enhance your space!
Also Read: 29+ of The Best Terra Cotta Paint Colors in 2023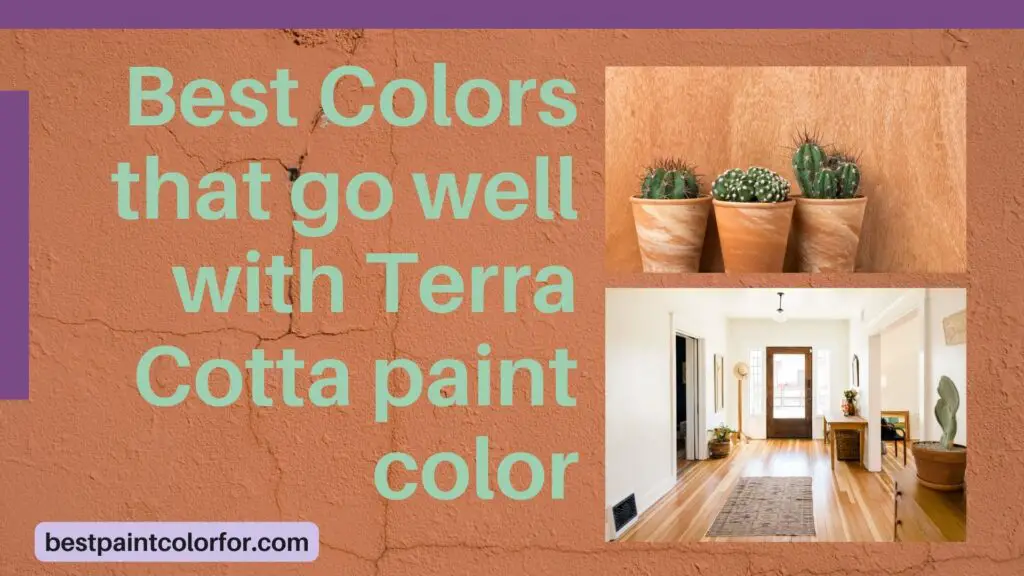 What colors go well with Terra Cotta Paint Color?
Let's explore the wonderful world of colors that go harmoniously with terra cotta. Finding the perfect color combinations is all about paying attention to the details and unleashing your creativity to achieve the look and feel you desire in your space.
Blue
Terra cotta and blue are a natural pair that creates a striking contrast, perfect for those looking to make a dramatic impact. Here are our top three blue accent colors for terra cotta:
Light Blue:

Benjamin Moore Light Blue
Sherwin Williams Minor Blue
Sherwin Williams Atmospheric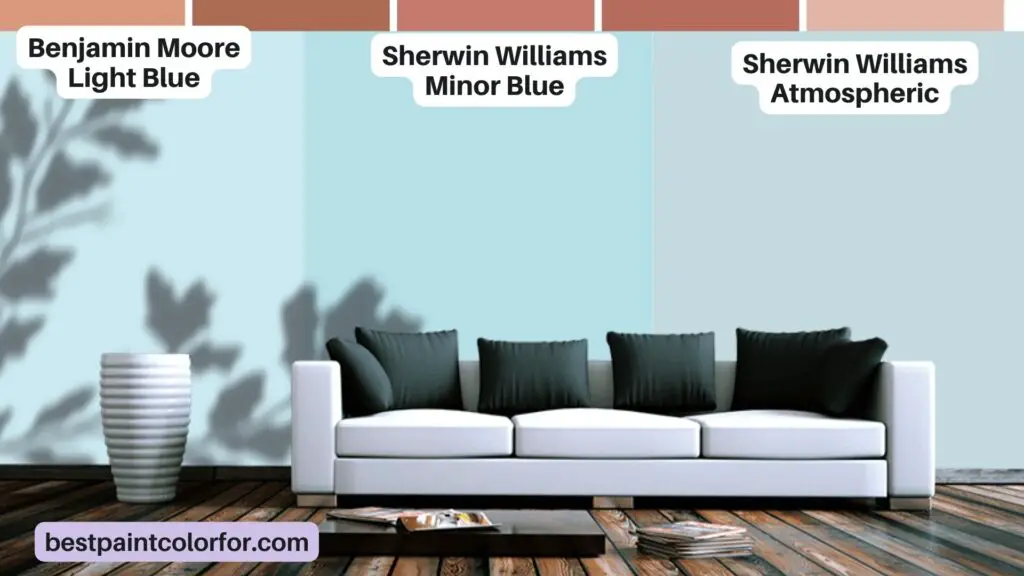 Navy Blue:

Sherwin Williams In The Navy
Sherwin Williams Dress Blues
Benjamin Moore New York State of Mind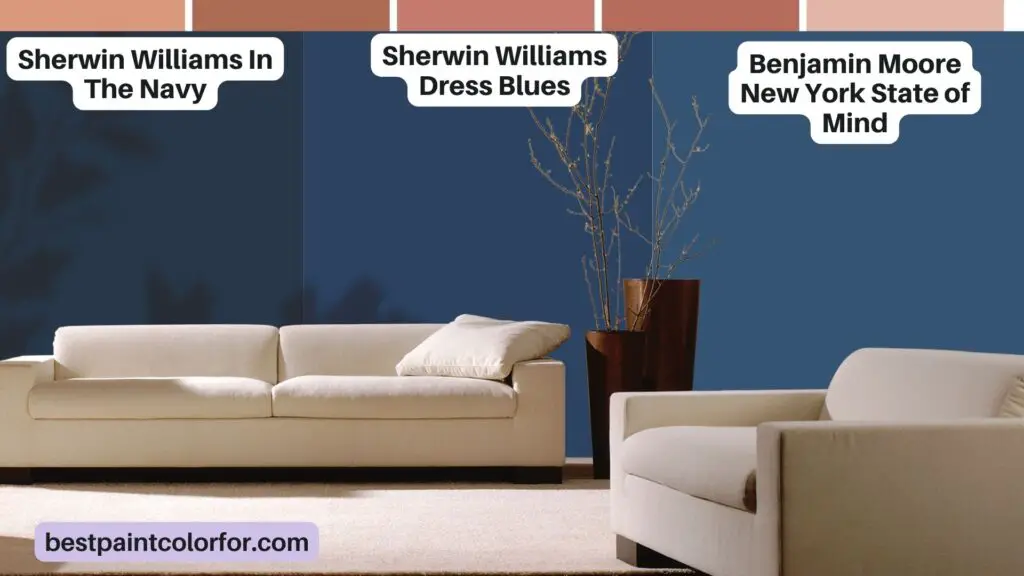 Teal:

Benjamin Moore Teal
Benjamin Moore Teal Ocean
Sherwin Williams Blue Nile
Sherwin Williams Gulf Stream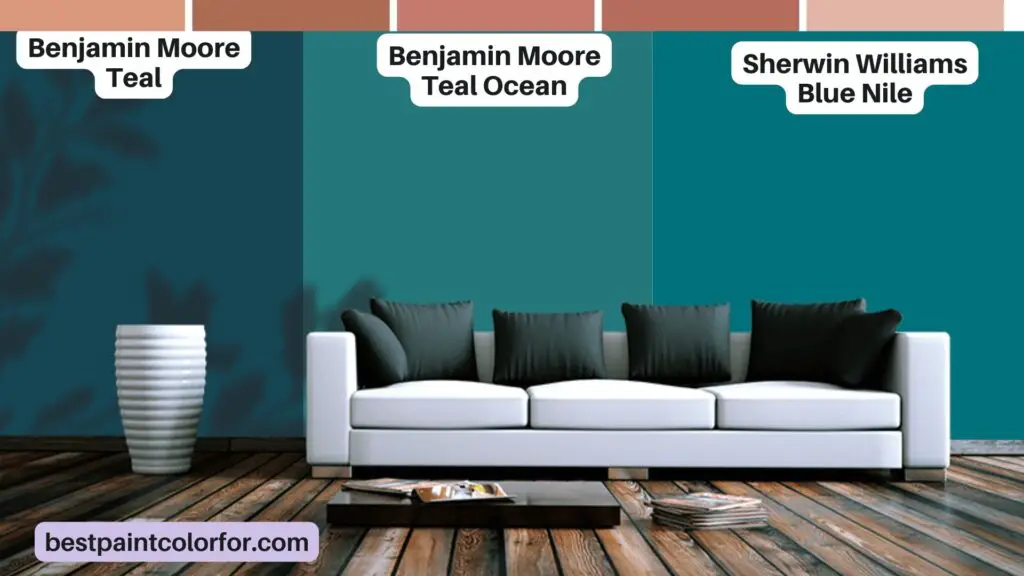 Green
 If you want to introduce a soothing effect, consider pairing terra cotta with green. This combination offers a more harmonious contrast than blue, creating a balanced and visually pleasing atmosphere. Here are some excellent green colors to pair with terra cotta:
Forest Green:

Sherwin Williams Night Watch
Sherwin Williams Cascades
Benjamin Moore Forest Green
Benjamin Moore Bavarian Forest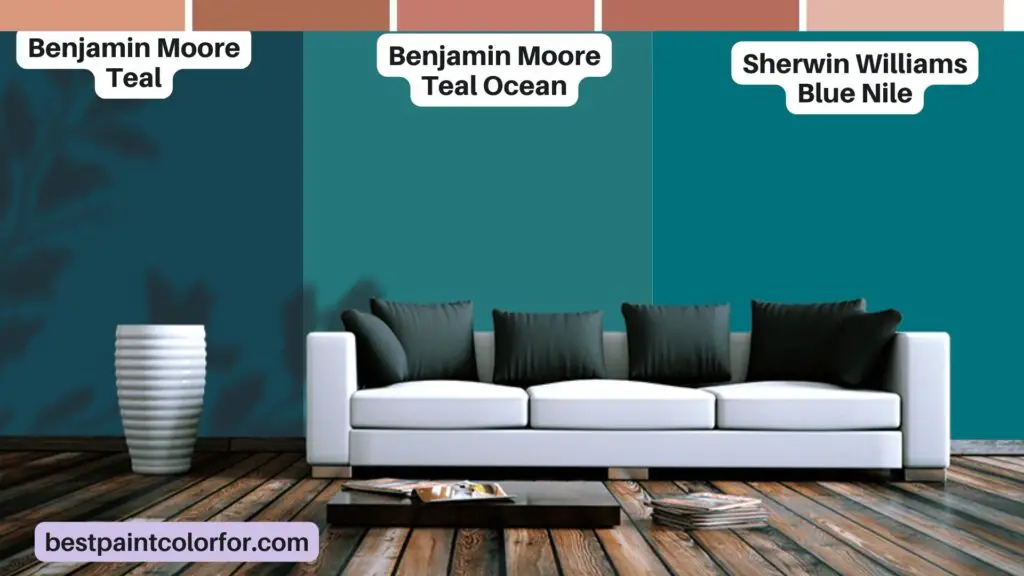 Olive Green:

Benjamin Moore Olive Tree
Sherwin Williams Leapfrog
Sherwin Williams Garden Spot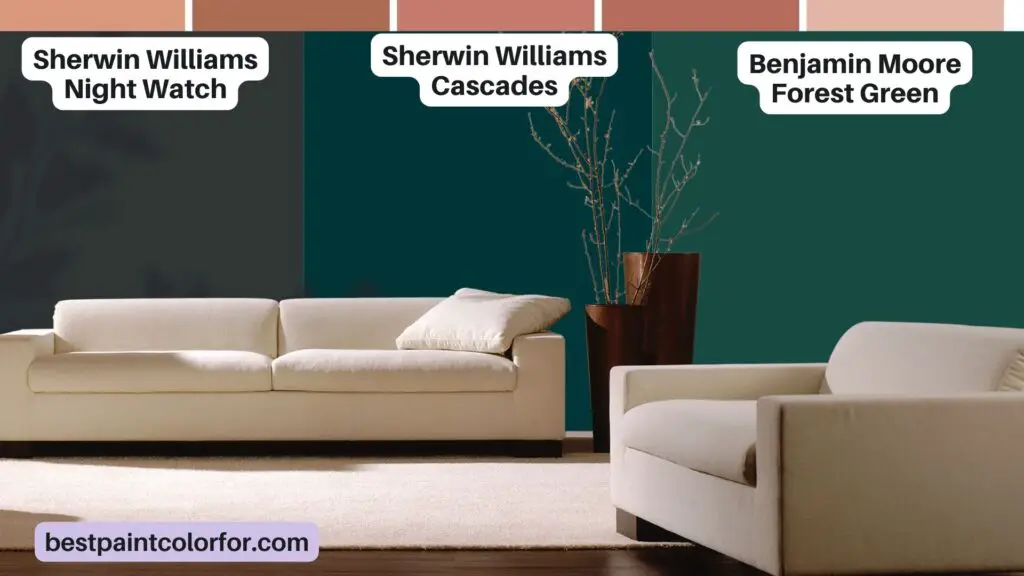 Hunter Green:

Benjamin Moore Hunter Green
Sherwin Williams Isle of Pines
Sherwin Williams Shamrock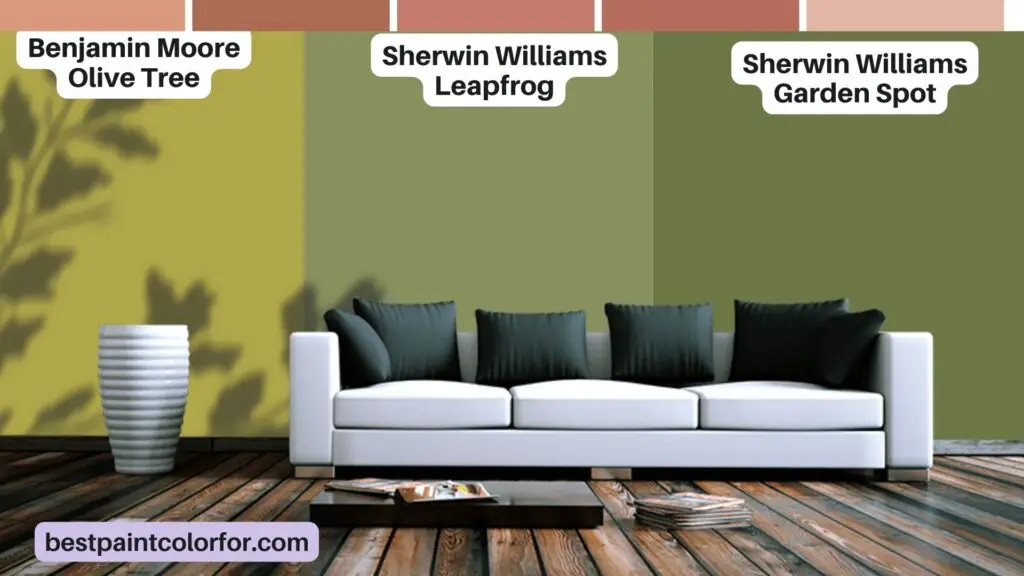 Pink
Contrary to the belief that complementary colors make the best combinations, you can opt for colors adjacent on the color wheel for a more subtle, tone-on-tone look. Here are some appealing pink accent colors that work beautifully with terra cotta:
Pastel Peach:

Benjamin Moore Sanibel Peach
Sherwin Williams Naive Peach
Sherwin Williams Peach Blossom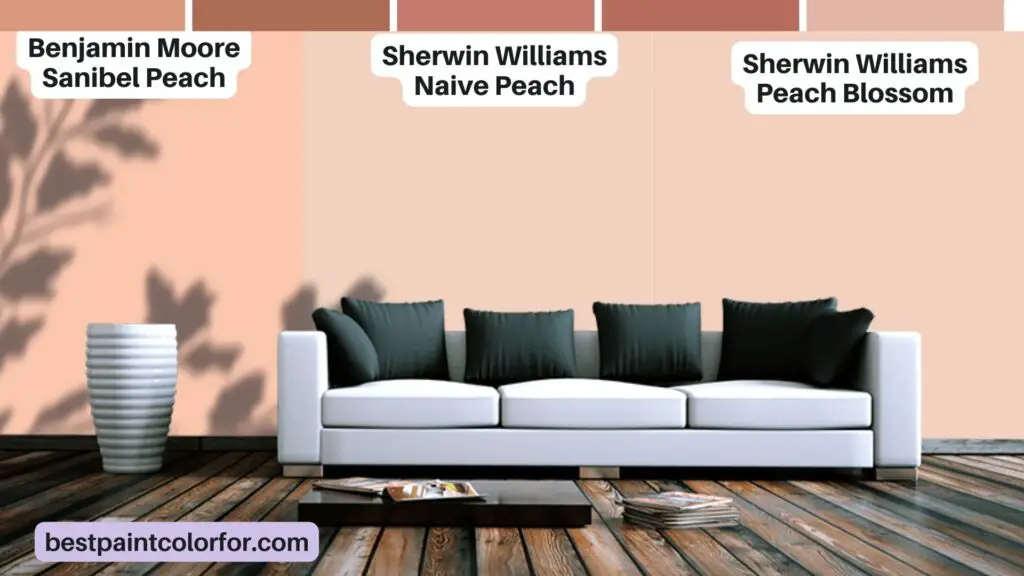 Earthy Pink:

Sherwin Williams Rachel Pink
Benjamin Moore Cool Lava
Benjamin Moore Rosy Tan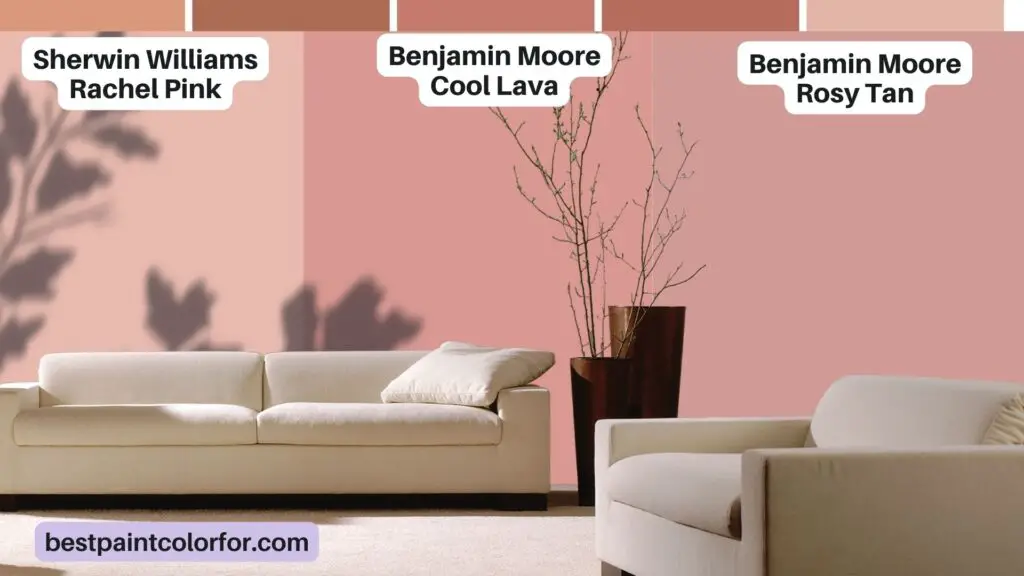 Blush:

Sherwin Williams Charming Pink
Benjamin Moore Powder Blush
Benjamin Moore Tippy Toes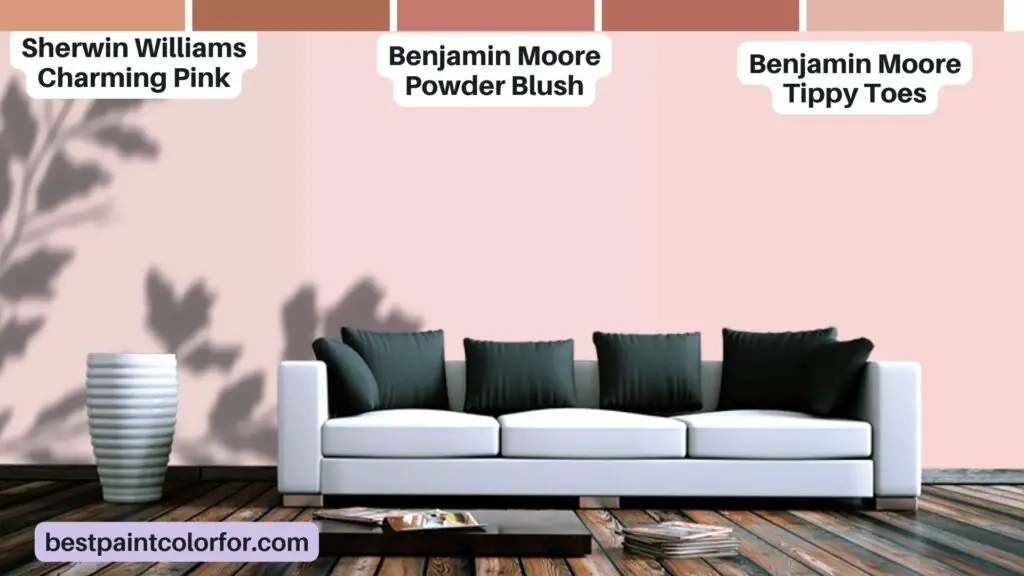 Yellow
Adding a touch of yellow as an accent color to terra cotta can infuse your space with cheerfulness and brightness. Here are some delightful yellow accent colors to consider:
Marigold:

Sherwin Williams Marigold
Benjamin Moore Yellow Marigold
Benjamin Moore Soft Marigold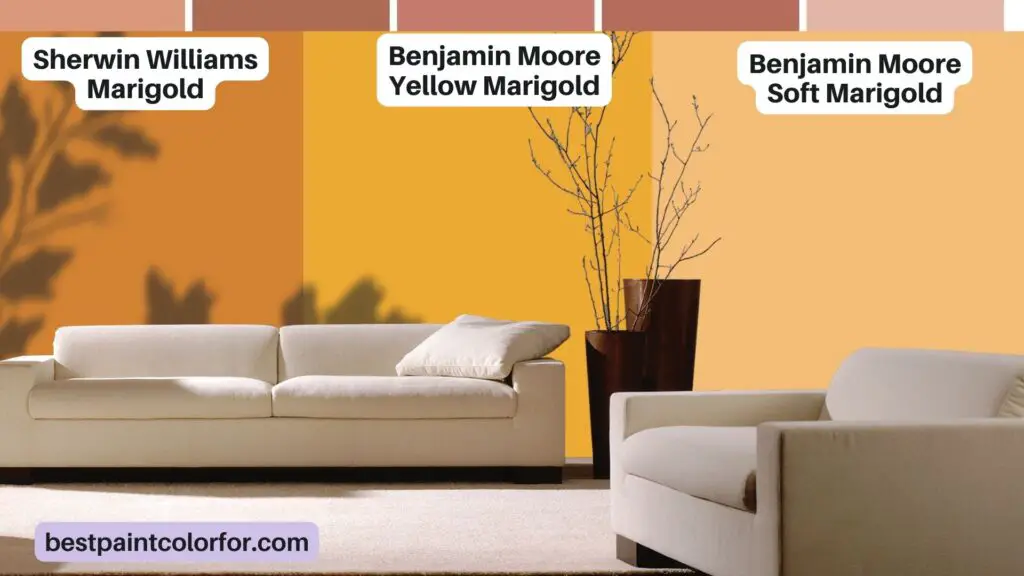 Mustard Yellow:

Sherwin Williams Daisy
Sherwin Williams Cheerful
Benjamin Moore Fields of Gold
Dark Brown
For those who prefer a more dramatic color scheme, dark brown pairs exceptionally well with terra cotta. This combination creates bold contrast without overwhelming the space. Here are the recommended shades:
Chocolate Brown:

Sherwin Williams Cowboy Boots
Benjamin Moore Chocolate Candy Brown
Benjamin Moore Mocha Madness

Cognac Brown:

Sherwin Williams Leather Bound
Benjamin Moore Wood Grain Brown
Benjamin Moore Leather Saddle Brown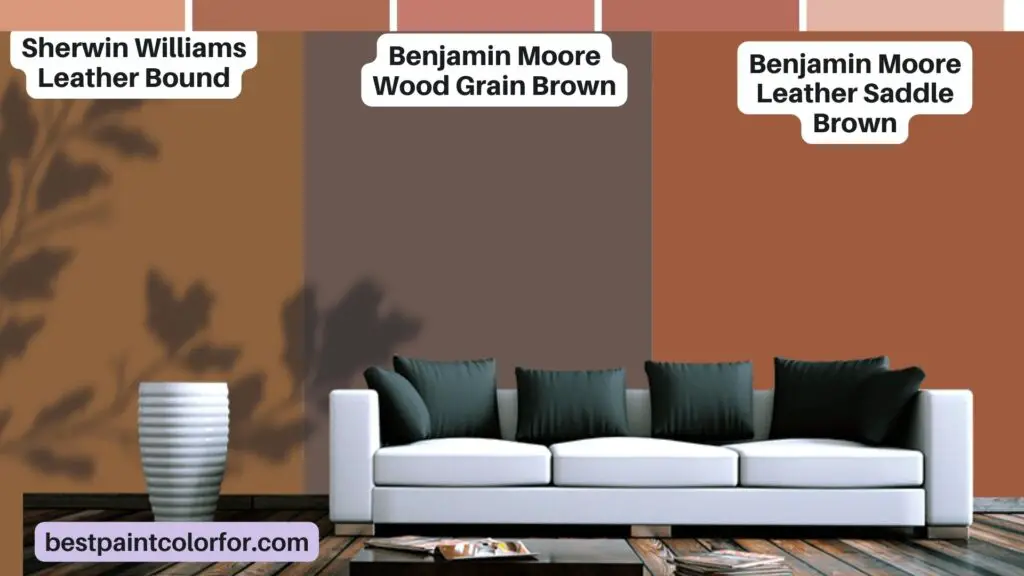 Earthy Brown:

Sherwin Williams Burnished Brandy
Benjamin Moore Earth Brown
Benjamin Moore Adirondack Brown
White/Neutral
If you want to create balance and a clean look, white tones and warm neutrals are perfect companions for terra cotta. These colors will help tone down the atmosphere and provide a neat appearance. Opt for soft or warm-toned neutrals to complement terra cotta's warm undertones. Here are some options:
White:

Sherwin Williams White Snow
Benjamin Moore White Opulence
Benjamin Moore Alabaster

Cream:

Sherwin Williams Honied White
Sherwin Williams Frost Bite
Benjamin Moore Cream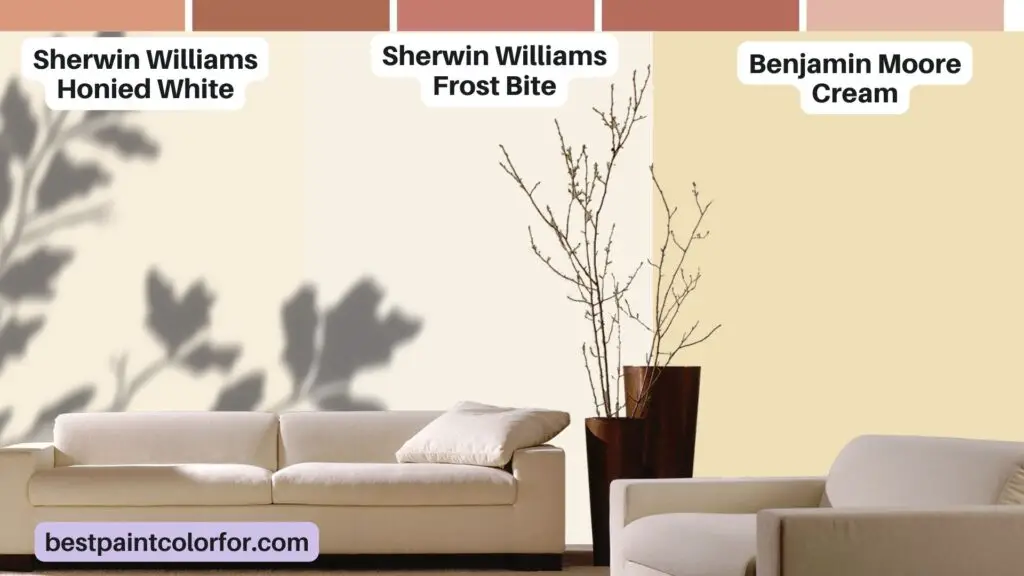 Beige:

Sherwin Williams Kilim Beige
Sherwin Williams Minimalist
Benjamin Moore Lighthouse Landing
Gray
If you're not keen on white details but still want a neutral option, gray is an excellent choice. It offers a lighter alternative to black while allowing room for experimentation with different shades. Here are some gray accent color recommendations:
Charcoal Gray:

Sherwin Williams Peppercorn
Benjamin Moore Trout Gray
Benjamin Moore Rock Gray

Greige (Gray + Beige):

Sherwin Williams Vessel
Sherwin Williams Modern Gray
Benjamin Moore Edgecomb Gray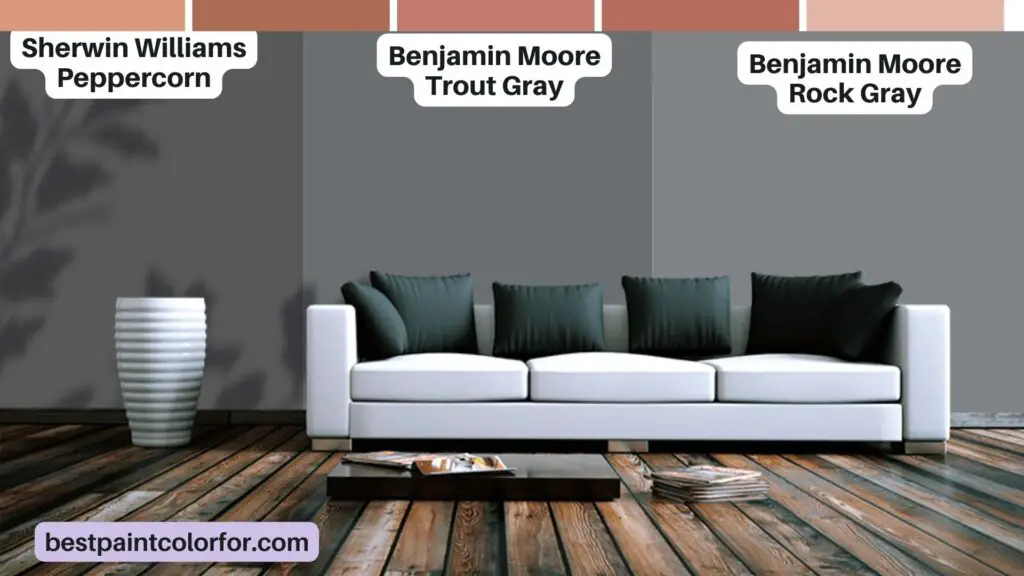 📝 Key takeaways
Terra cotta is a warm color combining burnt orange and brown tones, popular for decor and paint.
It can be used as a dominant color or an accent for vibrancy in any room.
Terra cotta pairs well with a variety of colors, depending on your design preferences.
Blue provides a striking contrast, with options like light blue, navy blue, and teal.
Green offers a more soothing contrast with options such as forest green, olive green, and hunter green.
Subtle tone-on-tone combinations are possible, like terra cotta with adjacent pink shades.
Yellow accents infuse cheerfulness into terra cotta-themed spaces, including marigold and mustard yellow.
Dark brown creates bold contrast without overwhelming the space, with shades like chocolate brown and cognac brown.
White and warm neutrals provide balance and a clean look, complementing terra cotta's warm undertones.
Gray offers a neutral option, with choices like charcoal gray and greige.
Selecting the right accent color depends on your style and preferences.
A free paint color planning worksheet is available to help you choose the perfect hue for your space.
Now that you have a palette of beautiful accent colors to choose from, it's time to commit to the one that aligns with your style and preferences. To make the selection process easier, we've prepared a free paint color planning worksheet to help you find the perfect hue for your space. Happy decorating!