Olive green paint has surged in popularity, and its appeal is evident. This versatile hue strikes a balance between opulence and relaxation, channeling a touch of nature and timeless charm.
The allure of olive green lies in its multifaceted nature. A quick glimpse through our collection of home tours below reveals an array of stunning rooms adorned with olive green paint, showcasing its remarkable adaptability.
The beauty of olive green lies in its diverse spectrum, ranging from lighter shades to richer, brown-infused tones. Notably, the interplay of lighting and surrounding elements significantly influences how this paint color appears across various spaces.
Yearning to infuse your home with olive green allure? This guide presents an assortment of the finest olive green paint colors, accompanied by essential considerations for selecting the perfect shade.
Our research has yielded a list of the 31 best olive green paint colors from reputable sources like Benjamin Moore and Sherwin Williams. This compilation serves as your compass, ensuring you find the perfect hue for your artistic endeavor.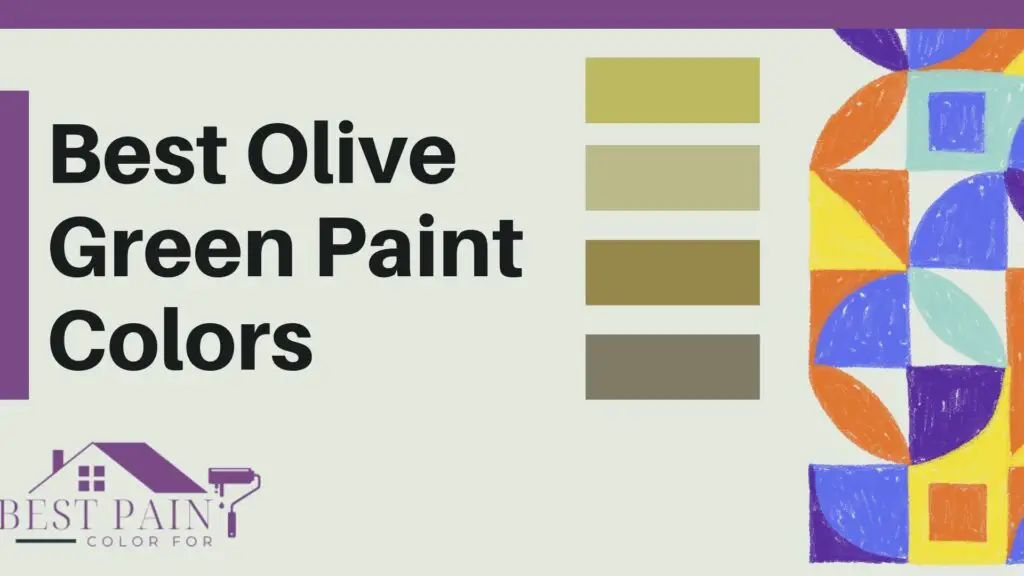 What is olive green paint color?
Before we dive into reviewing the paint colors in our lineup, let's break down a few key points. Olive green paint colors stand out as a distinct blend, leaning towards a yellowish-green tone that trends towards deeper shades.
Achieving this distinctive hue involves combining three parts of yellow with one part of blue to create a base green. To further refine it into olive green, a touch of red is introduced, resulting in a richer and darker variation of the original green shade.
Like any other paint color, olive green also comprises elements of red, green, and blue. The proportions of these primary colors determine the final appearance. This is why it's valuable to assess the red, green, and blue (RGB) color codes, as they reveal which primary color dominates. This dominance plays a role in shaping the subtle hues and nuances that characterize the color.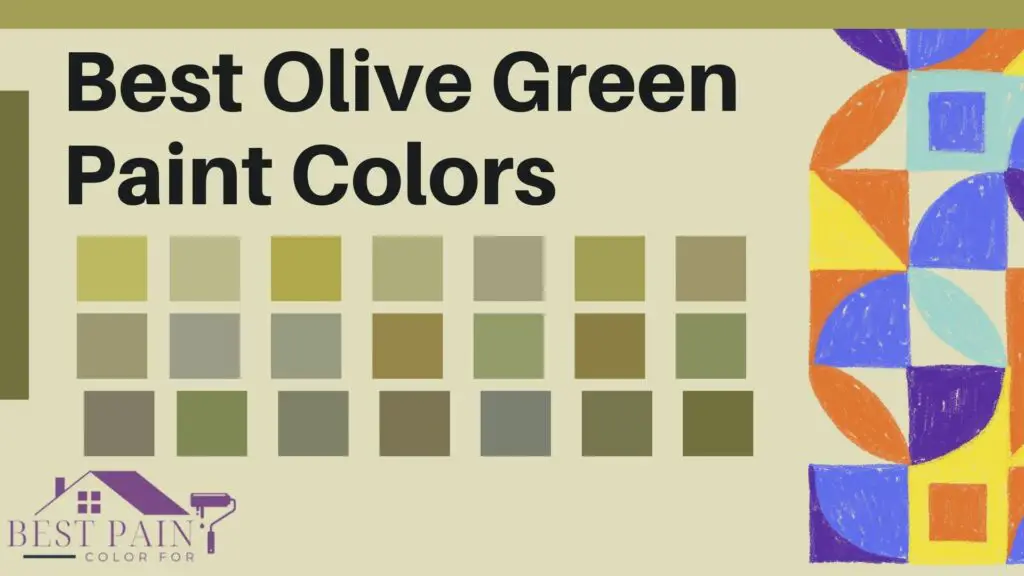 What Are the most Common and Best Tones of Olive Green Paint Colors?
Olive green paint colors typically carry warm undertones. This warmth stems from the substantial presence of yellow, mingling with the dominant green hue.
Occasionally, undertones lean towards a golden quality, resembling yellow's essence. After all, golden shades bear resemblance to yellow tones.
In certain instances, dark olive paint colors reveal hints of blue beneath the surface. This occurrence results in paint colors that exhibit a neutral undertone.
Consequently, these shades harmonize seamlessly with both warm and cool color schemes.
However, for the deepest and darkest olive hues, a prevailing undertone might manifest as black. This phenomenon indicates a deeper infusion of blue and green, a characteristic delineated by the RGB color code.
Also Read: Go Away Green Color – A complete Guide & Color Review
Ways to choose the right shade of olive green paint
Olive green is making waves in interior design, and it's a fantastic choice for refreshing your walls. This hue strikes a unique balance, simultaneously exuding a calming and bold presence—making it suitable for both entire walls and subtle pops of color.
Yet, the task of choosing the ideal olive green paint color comes with its challenges. The palette offers a multitude of subtly distinct shades, requiring thoughtful consideration.
Navigating this selection process necessitates a holistic approach, taking into account your home's overall composition. Assess your existing furniture, decor, carpets, and other integral elements that will remain post-painting.
For further guidance, seek inspiration from online resources, exploring olive green home aesthetics. By doing so, you can gain insight into which hues harmonize best with your existing layout.
Begin by determining whether you lean towards lighter or darker shades. This initial decision will significantly streamline the process of pinpointing the perfect tint for your space.
Also Read: The Best Black-Green paint colors
What are the Colors that Go Well with Olive Green?
Olive green offers a diverse range of shades, opening up a plethora of color pairing possibilities. White stands out as a natural companion, a neutral that effortlessly complements the paint color. This versatile quality makes it an easy choice.
Similarly, off-white and cream paint colors seamlessly blend with olive green, presenting a harmonious union. The subtlety of these shades ensures a balanced and cohesive aesthetic.
Venturing into other neutral territories, both beige and gray establish favorable pairings with olive green, particularly in their lighter variations. This combination results in a pleasing contrast that enhances the overall ambiance.
Beyond neutrals, a world of captivating color combinations awaits. Red, blue, purple, maroon, gold, black, wood tones, yellow, pewter, plum, and tan all possess unique potential when paired with olive green. The interplay of these colors can create a visually captivating and distinctive palette.
Embarking on a color exploration journey may yield surprising results. The act of finding complementary hues to olive green can lead to unexpected and inspiring combinations. This endeavor has the potential to unveil striking visual harmony that elevates your living space.
Where can I use Olive Green paint color to have best results?
Olive green paint colors encompass remarkable versatility and serve as exceptional neutrals. Their adaptability renders them suitable for diverse applications, both indoors and outdoors, particularly in darker shades.
Consider infusing your living room with this hue and seamlessly extending it to the dining area for a cohesive transition.
Unleash your creativity by combining light and dark olive green shades alongside other complementary colors to fashion a decor that leaves a lasting impact.
The scope for innovation extends to a variety of spaces, including:
Accent walls
Bedrooms
Hallways
Front doors
Entryways
Cabinetry
Exterior walls.
The inherent richness of olive green can elevate each space, instilling a sense of timeless charm and visual interest.
Best Olive Green Paint Colors to choose from
Venturing into the realm of olive green paint colors, we unveil an array of options that cater to diverse preferences. Our selection is divided into two primary categories: light and dark, each possessing its unique appeal.
Light Olive Green Paint Colors
 First, let's delve into the realm of light olive green shades, a collection that harmonizes well with most spaces, especially those seeking to exude a balanced ambiance without a dramatic impact.
Sherwin Williams Green Onyx
A medium, muted olive green that imparts a friendly and relaxed atmosphere to your space, capturing a sense of ease and comfort.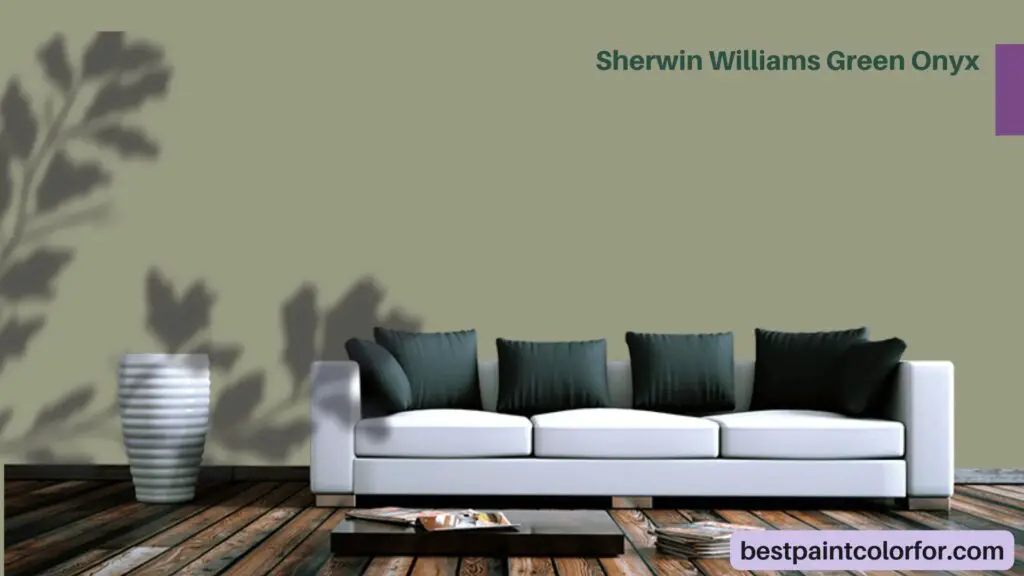 Benjamin Moore Thicket
This soft olive green with a subtle yellow undertone holds the power to open up your area, creating an inviting and airy environment.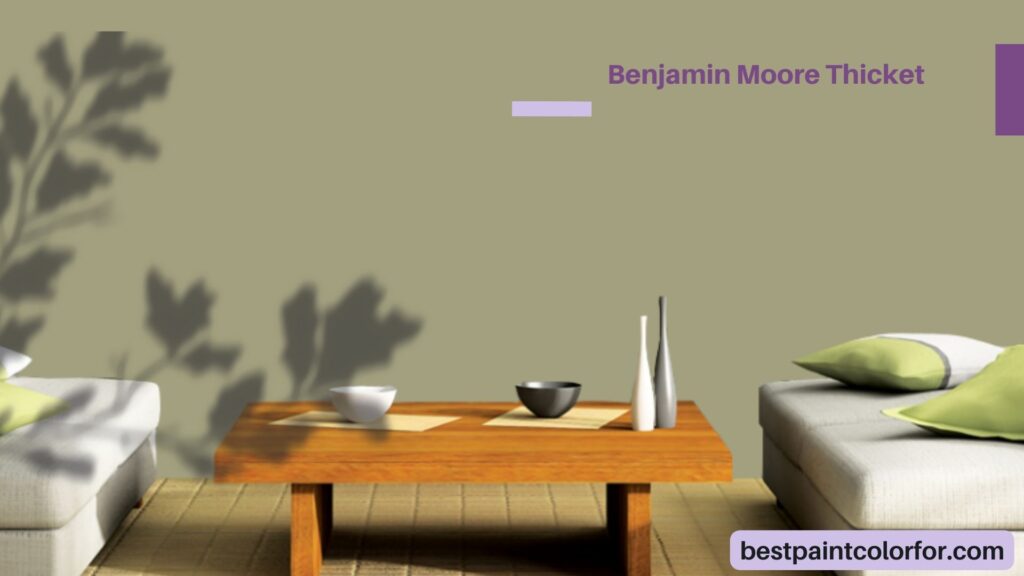 Sherwin Williams Lemon Verbena
A slightly muted yet still vibrant olive green that adds a touch of liveliness and energy to your space.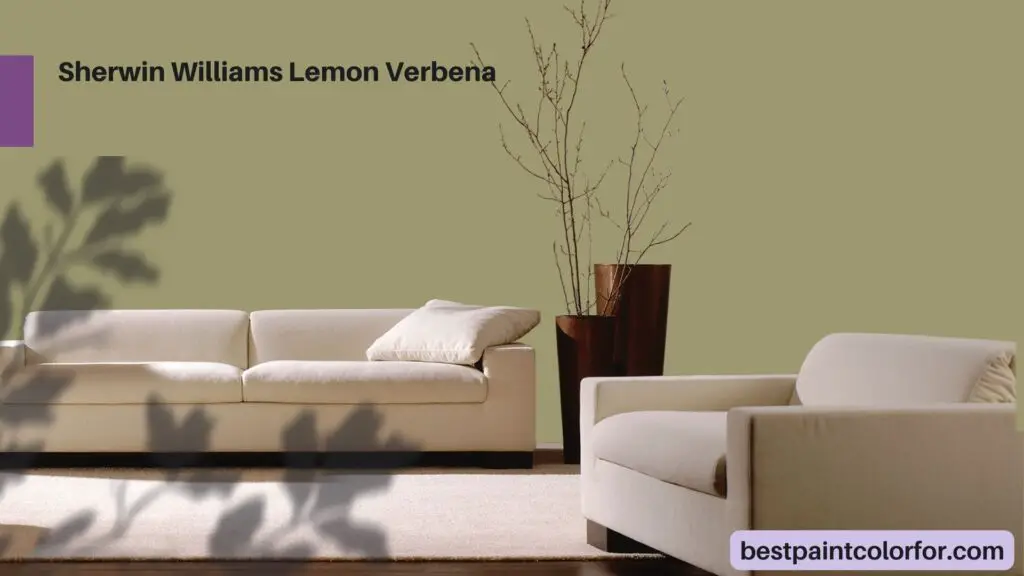 Benjamin Moore Martini Olive
Vibrant and playful, this shade is perfect for adding a lively twist to your decor and infusing a sense of joy.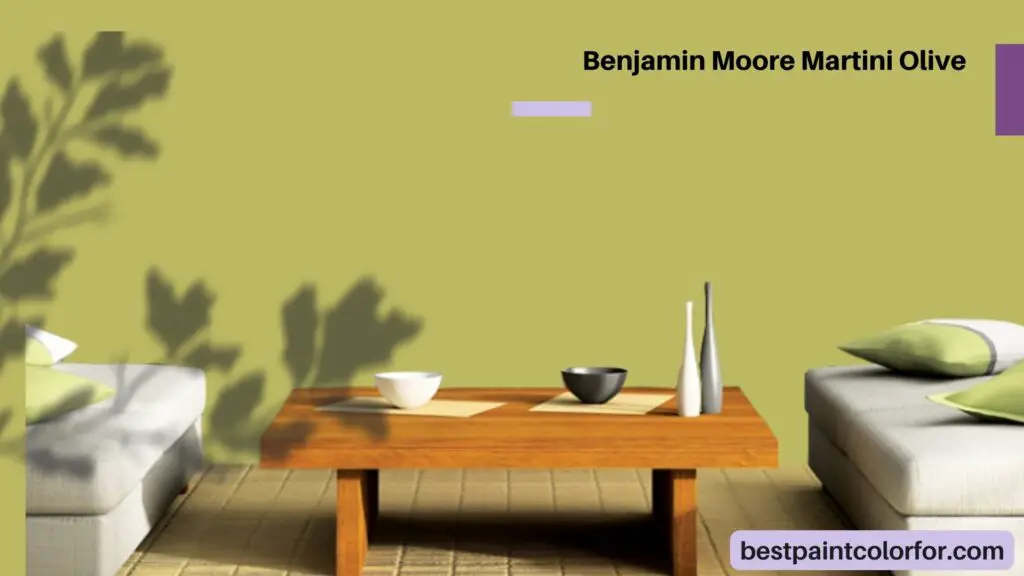 Farrow and Ball Sap Green
Evoking a true reflection of nature, this soft yet rich accent color brings a sense of the outdoors into smaller spaces.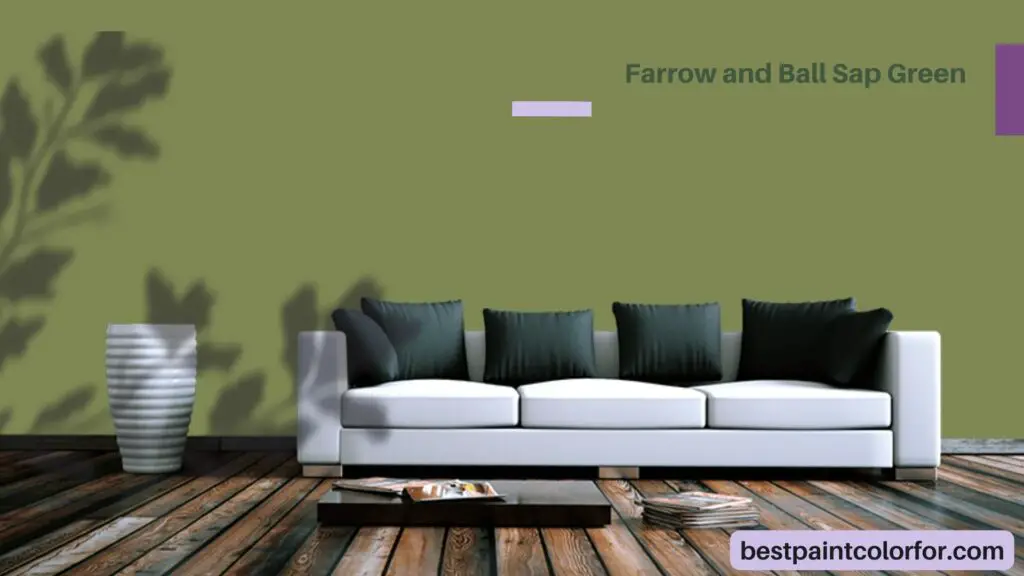 Sherwin Williams Lemongrass
 A delightful blend of yellow and green that radiates warmth and a natural glow, capturing the essence of a fresh spring day.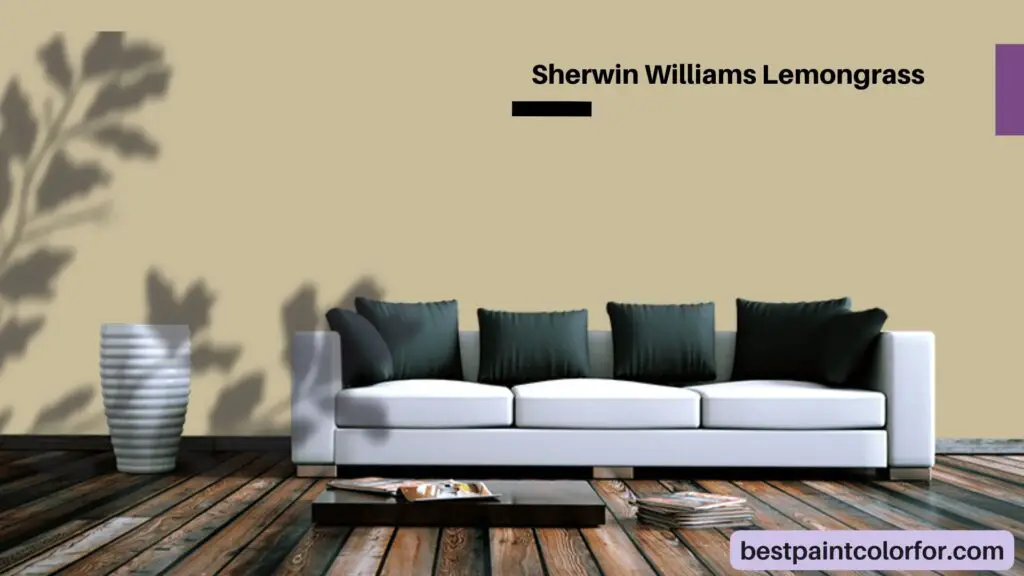 Benjamin Moore Spanish Olive
Offering a faded version of olive green with soft gray undertones, striking a balance between subtlety and depth.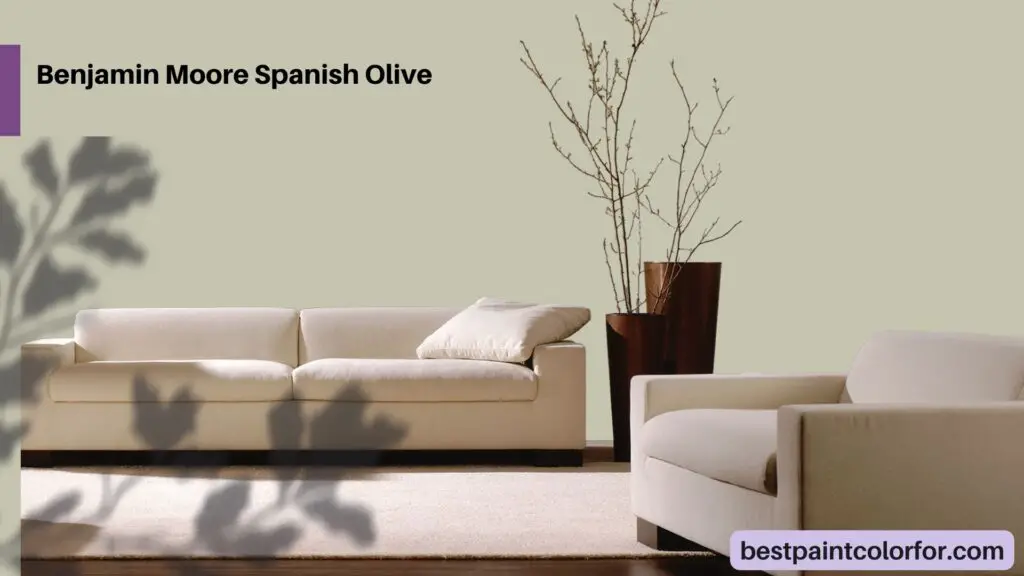 Benjamin Moore Olive Tree
A bright olive green with a subtle undertone of gold, ideal for accenting spaces and adding a touch of vibrancy.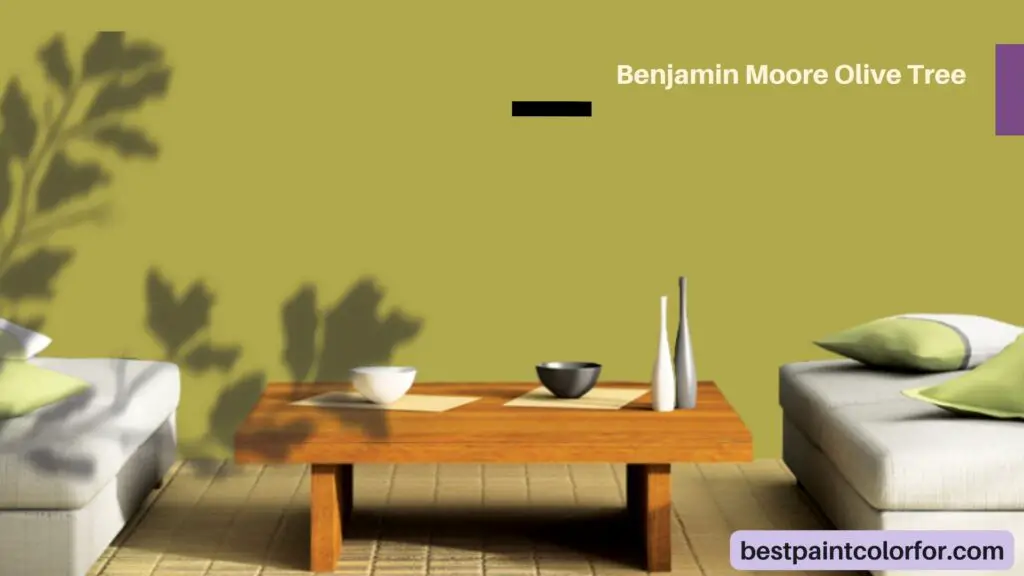 Benjamin Moore Hiking Path
 Exhibiting golden undertones, this muted olive green infuses a sense of warmth and serenity.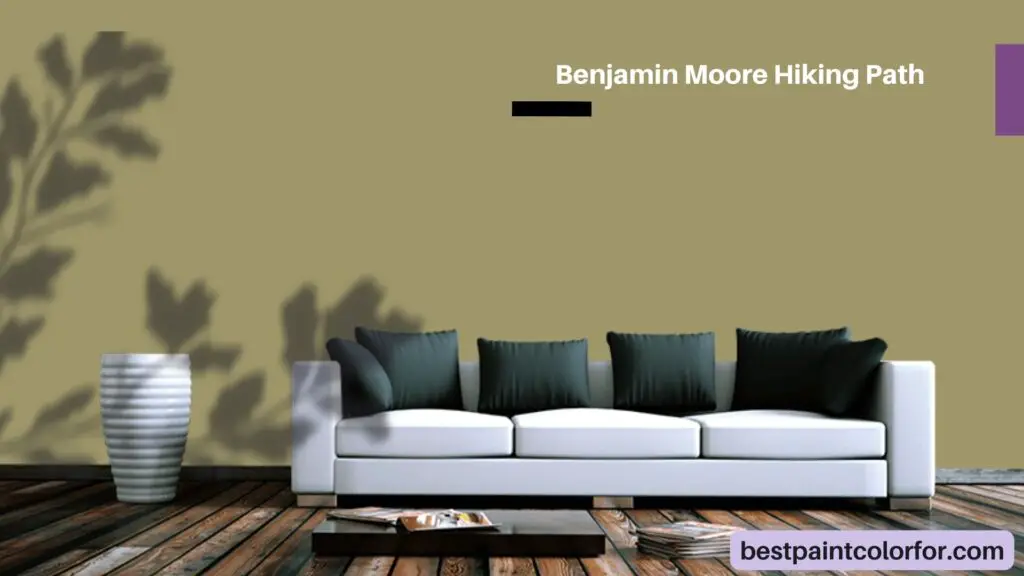 Sherwin Williams Celery
The fusion of light olive green and subtle yellow imparts a fresh spring-like feel to your home, welcoming the outdoors indoors.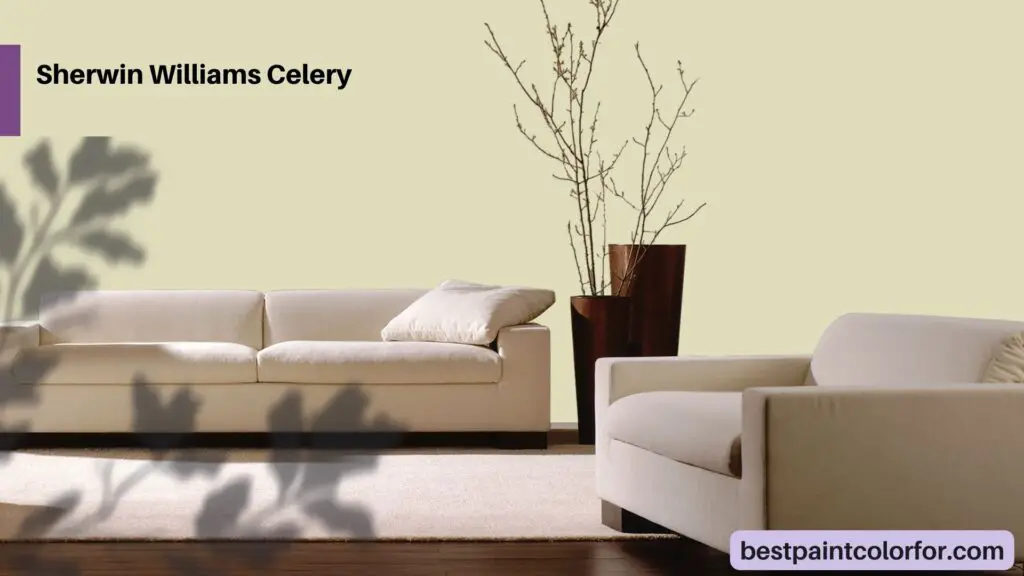 Benjamin Moore Savannah Moss
Rich and lush, this hue combines yellow and green tones, creating a captivating aura reminiscent of a forest oasis.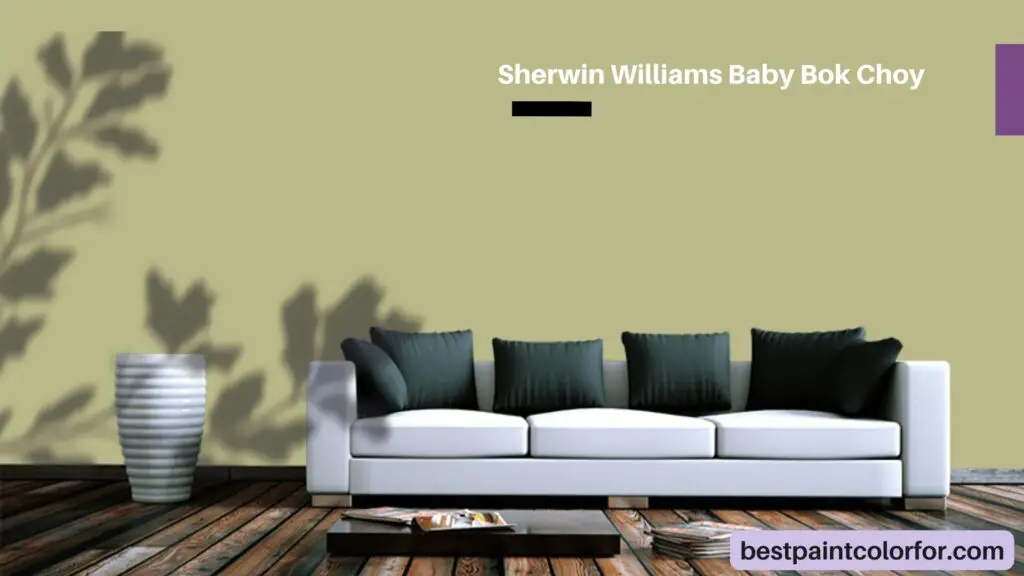 Sherwin Williams Baby Bok Choy
A muted and light olive green that complements off-white or beige furniture and decor, contributing to a tranquil setting.
Benjamin Moore Jalapeño Pepper
Equal parts yellow and green yield an energetic and vibrant hue, infusing your space with a lively spirit.
Sherwin Williams Ryegrass
Soft and slightly muted, this olive green pairs well with brown-based beige, promoting a serene and harmonious aesthetic.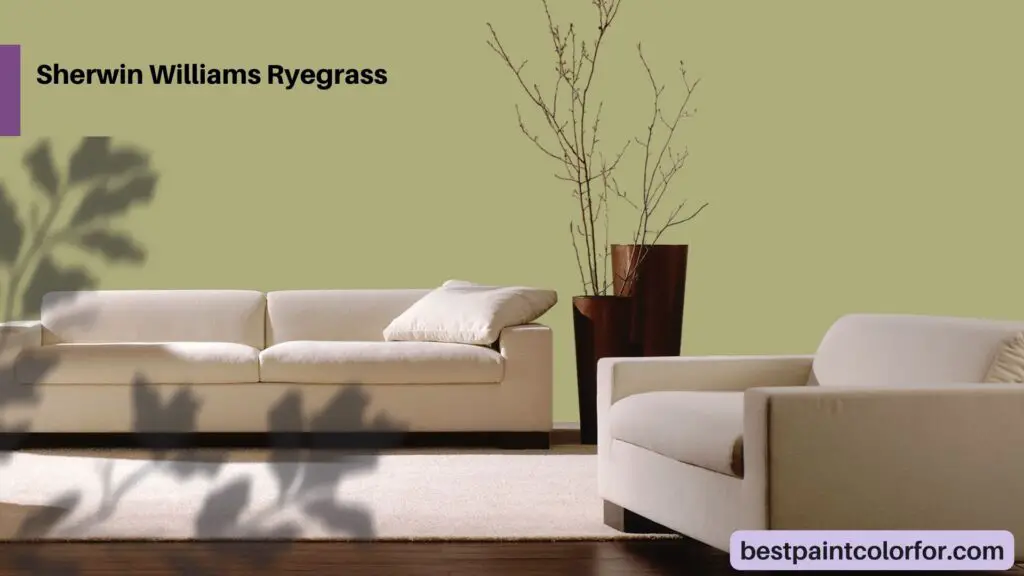 Benjamin Moore Raintree Green
A gray-infused olive green that offers depth while maintaining a sense of balance, perfect for creating a soothing atmosphere.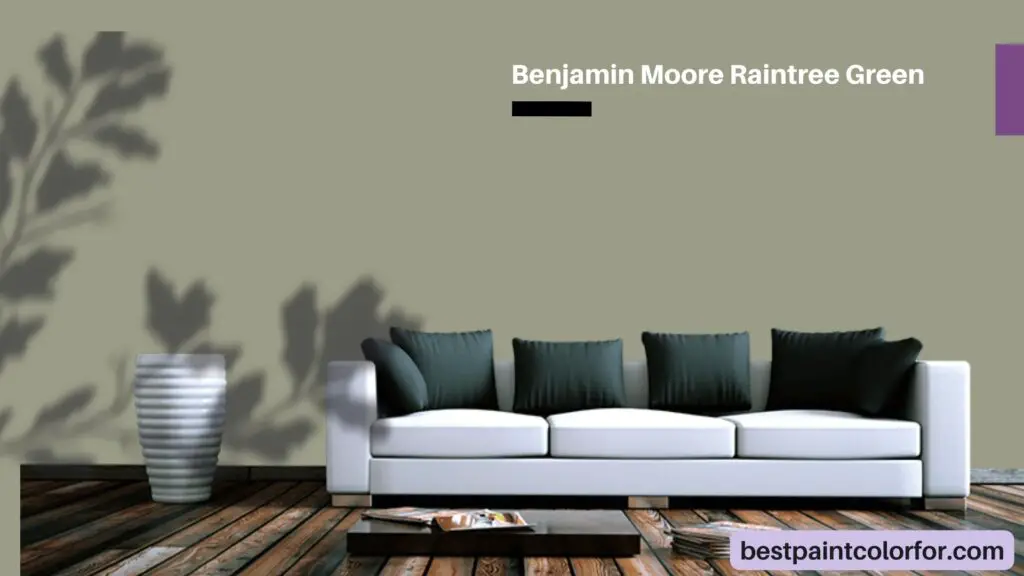 Dark Olive Green Paint Colors
Transitioning to dark olive green shades, these hues are ideal for creating a cozy and intimate ambiance, especially in well-lit spaces or compact rooms.
Farrow and Ball Olive
This hue magnifies the earthy elements of olive green, radiating richness and depth that shines best in spaces that accentuate its allure.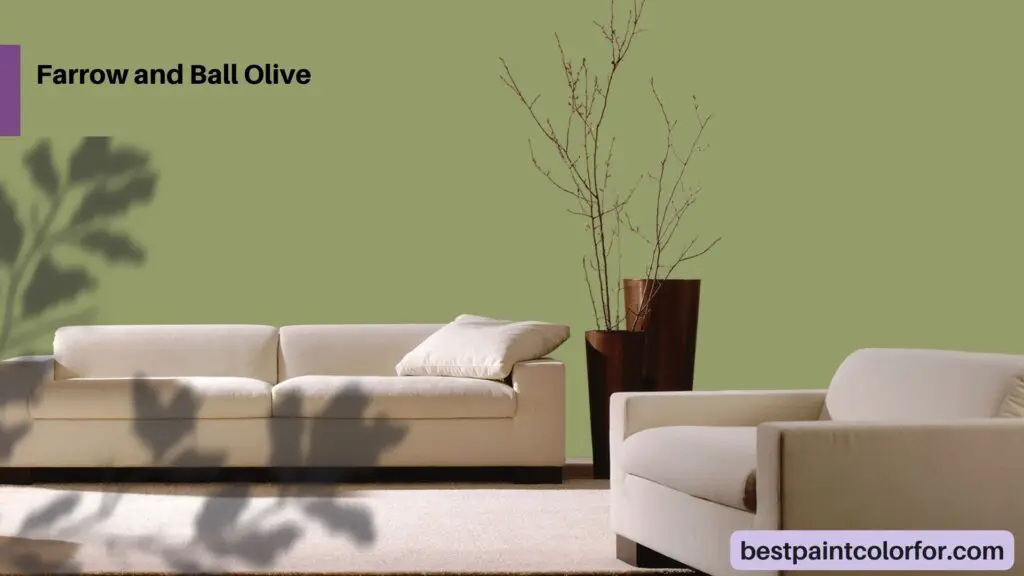 Sherwin Williams Artichoke
A harmonious blend of yellow and gray undertones delivers darker, yet warm bursts of energy, adding intrigue and warmth.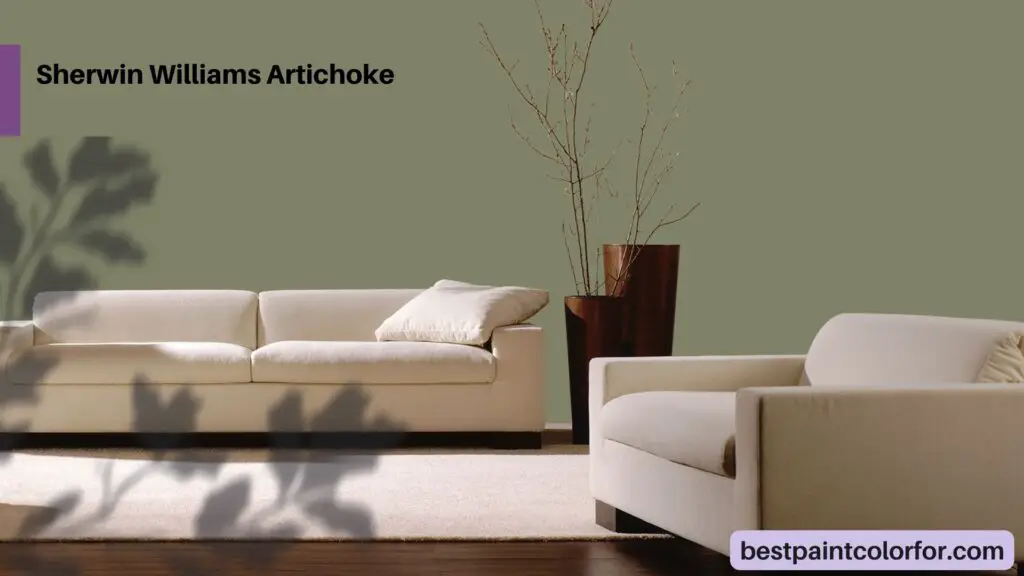 Benjamin Moore Sussex Green
Combining sleek olive infusion with charcoal hints, this shade strikes a balance between sophistication and nature-inspired charm.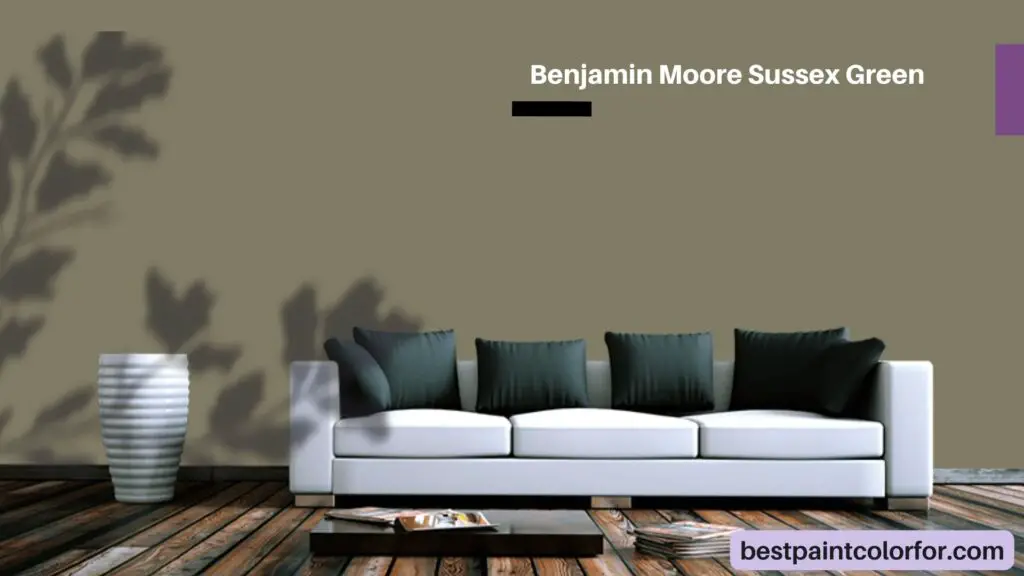 Sherwin Williams Leapfrog
Evoking a more vibrant green, this shade injects vivacity into your space, invigorating the atmosphere.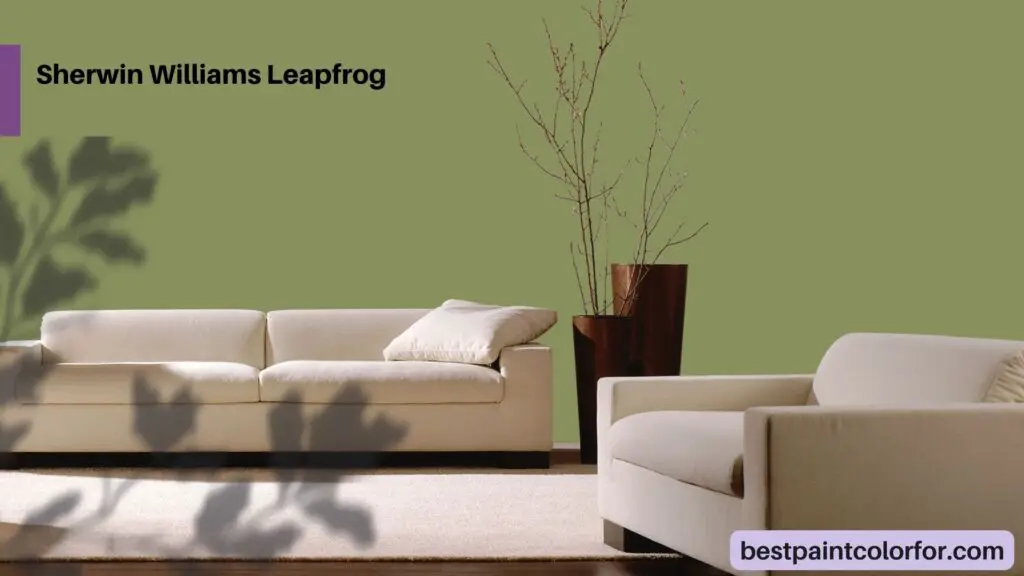 Benjamin Moore Shady Lane
Deep and earthy, this olive green embodies both natural and forest qualities, cultivating a sense of serenity.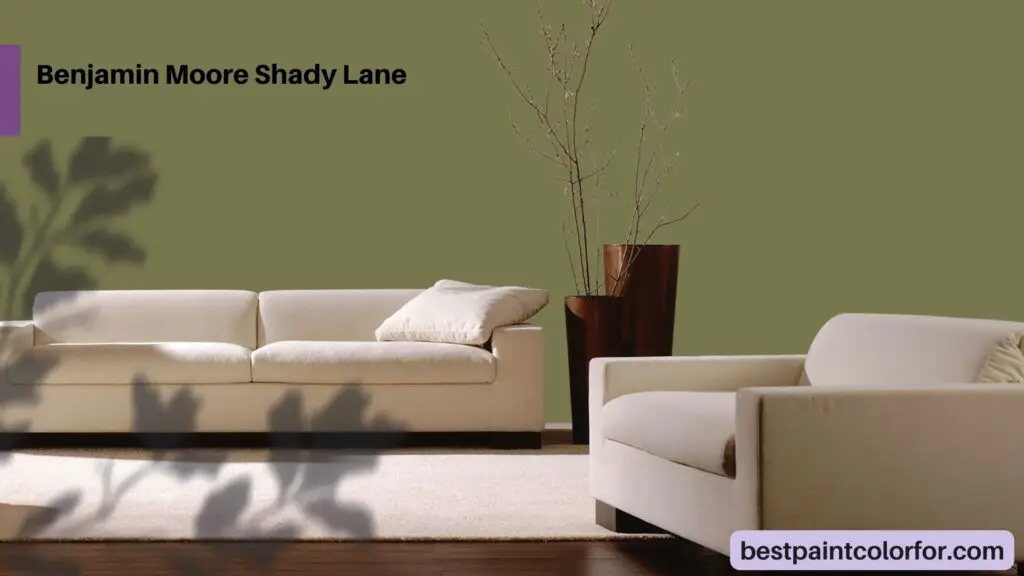 Benjamin Moore Forest Floor
Exhibiting muted tones closely resembling charcoal gray, this hue is a versatile option that exudes understated elegance.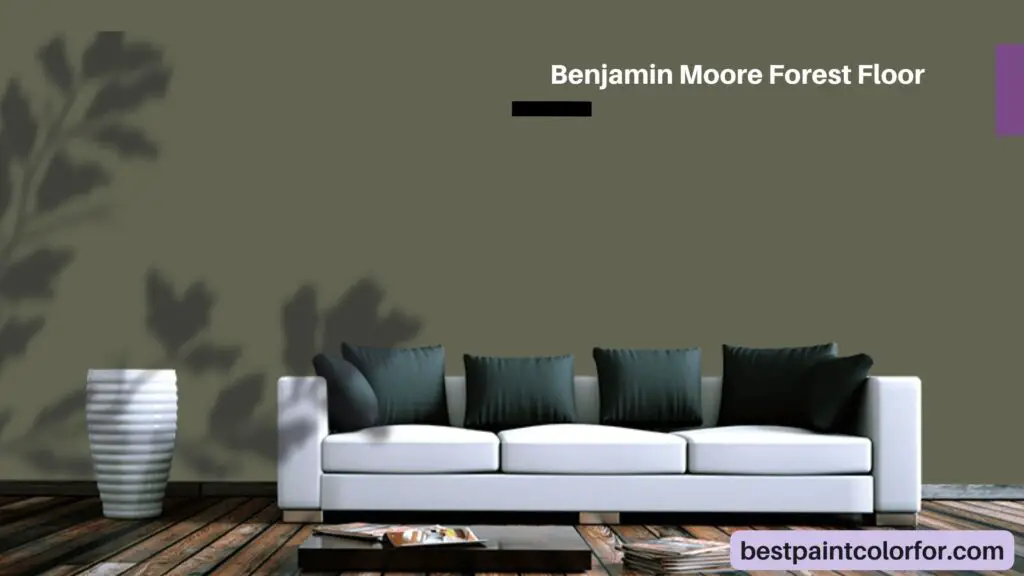 Farrow and Ball Bancha
Offering a modern twist on the classic olive, this vibrant shade infuses your space with dynamic energy, creating an invigorating ambiance.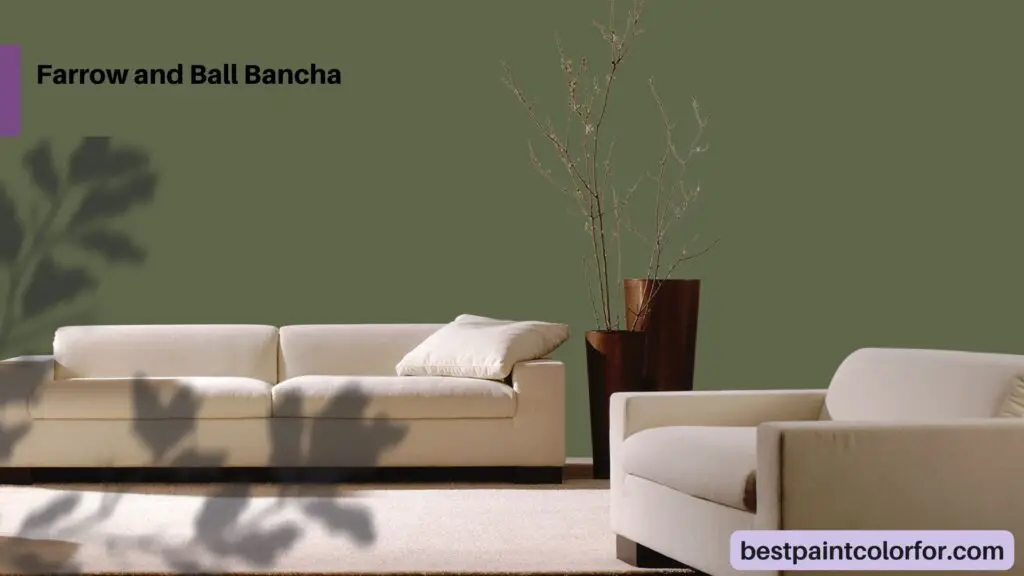 Benjamin Moore Dark Olive
Muted and sophisticated, this dark olive green strikes a perfect equilibrium between earthiness and elegance, lending depth to your environment.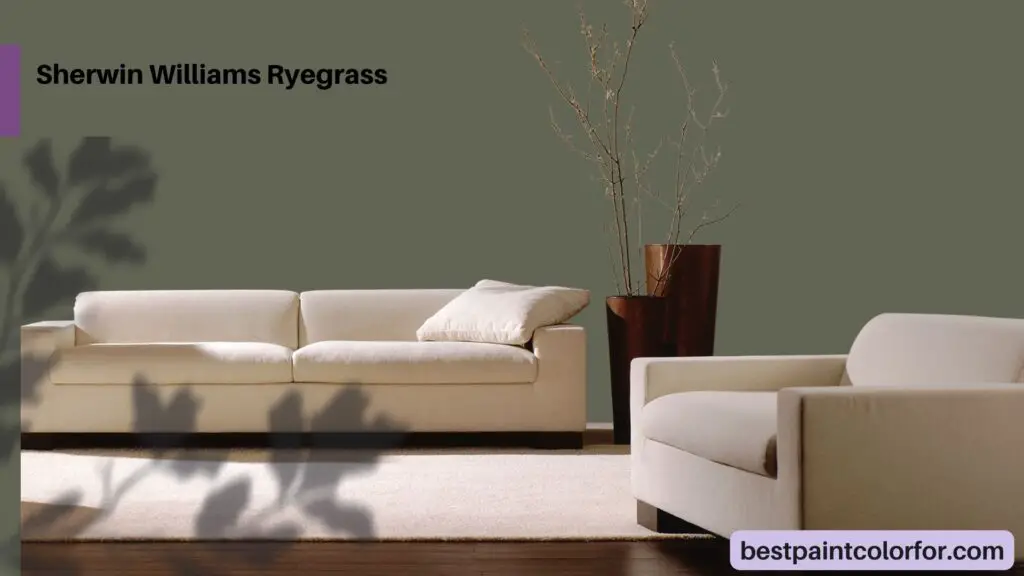 Sherwin Williams Relentless Olive
Deep and earthy with yellow undertones, this shade emanates warmth and authenticity, instilling a sense of natural comfort.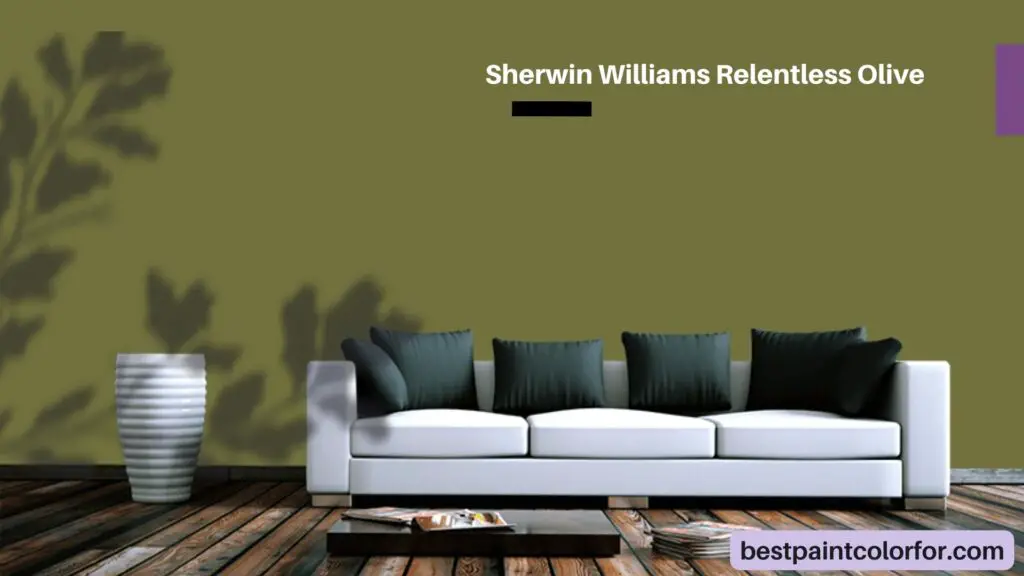 Benjamin Moore G.I. Green
Bearing a stronger yellow undertone, this dark green hue adds an intense touch of warmth and energy to your space.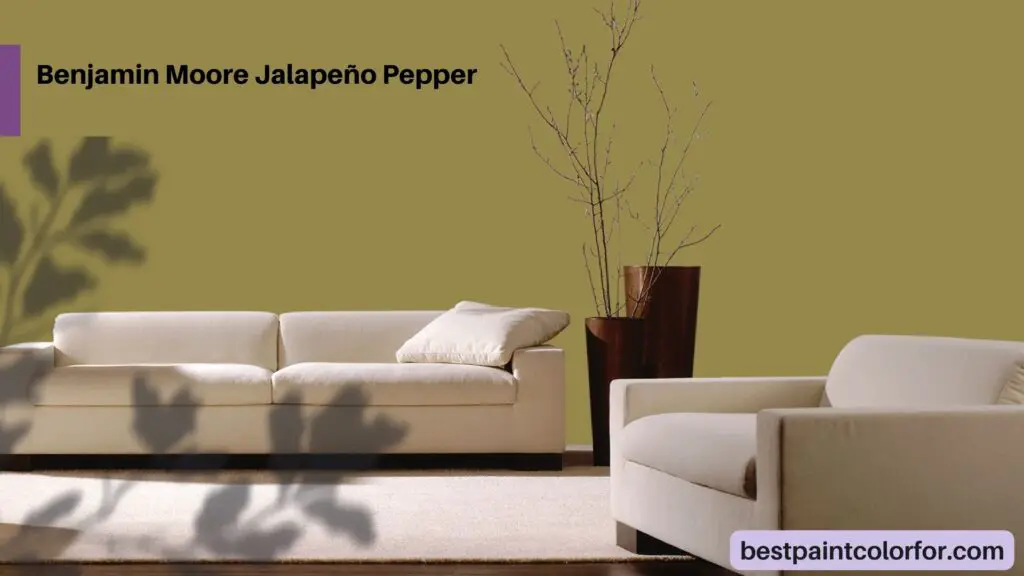 Benjamin Moore Greenbrook
Exuding warmth and a hint of brown infusion, Greenbrook is an inviting hue that radiates coziness and comfort.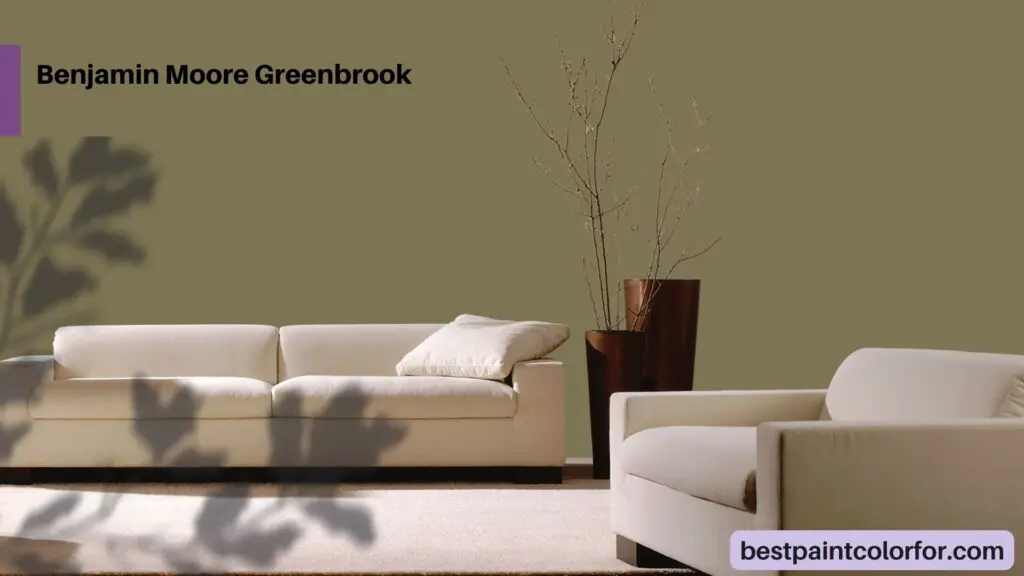 Sherwin Williams Dried Thyme
A cool-toned olive green, reminiscent of the outdoors, offers an organic aesthetic that brings a sense of calmness and tranquility.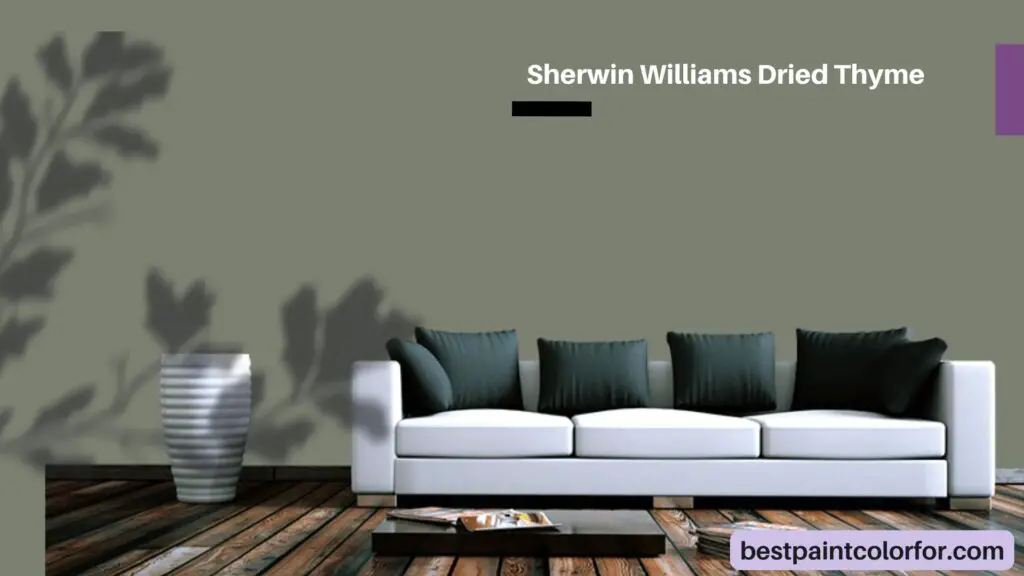 Sherwin Williams Rosemary
A deep green with a grey undertone, Rosemary creates a soothing atmosphere that pairs seamlessly with wooden furniture, promoting harmony.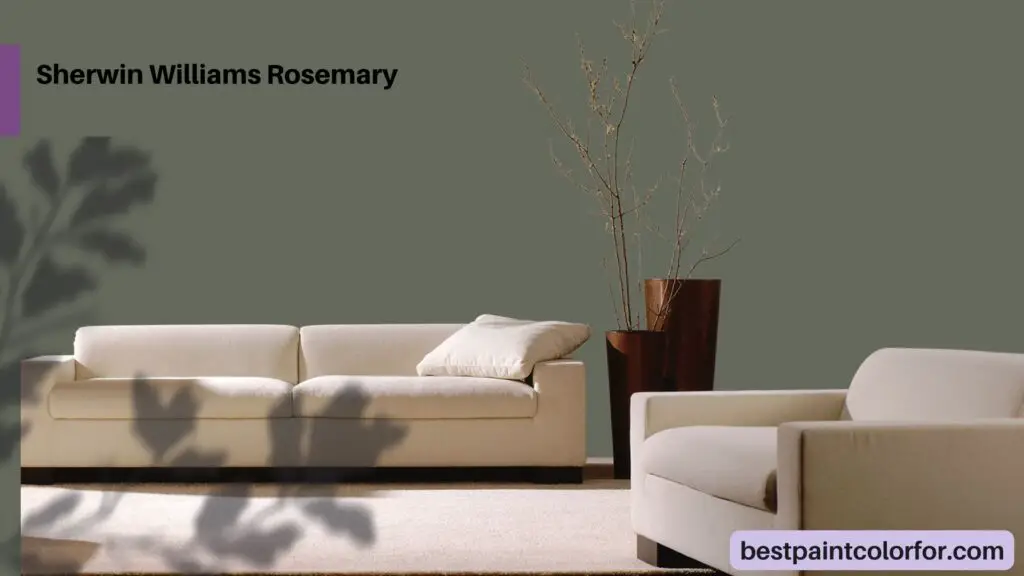 Benjamin Moore Newt Green
Combining earthy green with golden undertones, Newt Green imparts a touch of warmth to your space, infusing it with a welcoming aura.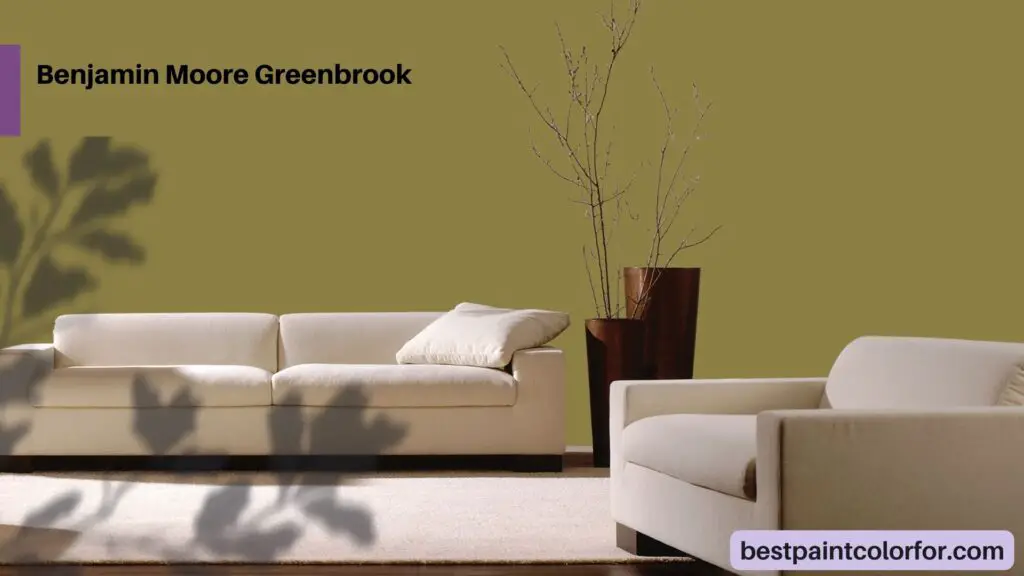 Incorporating olive green paint colors into your interior design provides an exciting opportunity to express your style and enhance your space's ambiance. Whether you opt for the soothing allure of light shades or the cozy depth of dark hues, olive green offers a versatile palette for creating captivating and inviting environments.
BONUS! Ideas to Spruce up your space with Olive Green paint Color
Here're 35 of my favorite ideas where you can use Olive Green Paint color to spruce up and complement the outlook without breaking the bank:
Brilliant Backdrop: Light olive green complements colorful artwork without overpowering the space.
Balanced Hues: Pair olive green with bold drapes for harmony in a room.
Brighten Bathrooms: Add color and personality to windowless bathrooms with olive green.
Kitchen Cabinets: Refresh an all-white kitchen by painting cabinets with a fresh coat of olive green.
Open Up Spaces: Use light olive green to expand cozy rooms and create a more spacious feel.
Focal Points: Make furniture stand out by using olive green as a backdrop.
Revive Furniture: Transform old pieces with rich olive green shades.
Enhance Millwork: Combine gray wainscoting with olive green walls for a contemporary touch.
Crisp Trim: Amplify white moldings by pairing them with olive green walls.
Entryway Elegance: Define entryways with olive green to welcome guests with style.
Boho Vibes: Add an earthy boho touch using olive green in bathrooms.
Showcase Collections: Display treasures against a rich olive green backdrop.
Ceiling Statements: Add intrigue to neutral rooms by painting ceilings olive green.
Cozy Living Rooms: Warm up open living spaces with olive green for added coziness.
Dramatic Dining: Carve out distinct dining areas with olive green accent walls.
Built-In Backdrop: Enhance built-ins with a colorful olive green backdrop.
Metallic Accents: Olive green walls make mixed metal décor stand out.
Accent Wall: Olive green accent walls become focal points in gray color schemes.
Illuminate Spaces: Use olive green to brighten rooms filled with natural light.
Natural Elements: Set the stage for artwork and unfinished wood furniture with olive green.
Standout Impact: Make a statement with olive green in neutral colored homes.
Awkward Spaces: Transform awkward areas into warm scenes with olive green.
Retro Charm: Add vintage charm to bedrooms with olive green.
Lofty Warmth: Warm up spacious rooms and complement architectural elements with olive green.
Closet Makeover: Enhance aesthetics by adding olive green flair to closet doors.
Furniture Upgrade: Revitalize worn wooden furniture with bright olive green hues.
Contrasting Accents: Set the stage for red and orange toned accents with olive green.
Revamped Chairs: Revitalize wooden chairs with bright olive green shades.
Bright Corners: Illuminate dark corners with light-enhancing olive green.
Defined Spaces: Transform corners into inviting areas with olive green.
Bold Patterns: Provide lively backdrops for vivid prints using olive green.
Décor Focus: Draw attention to décor items with olive green backdrops.
Floating Shelves: Add vibrancy to floating shelves with olive green.
Built-In Drama: Use olive green to create striking focal points with built-ins.
Kitchen Refresh: Give kitchens a modern twist with olive green cabinets.
The bottom line
The era of exclusively white walls has faded, making way for captivating accent walls and vibrant room aesthetics. Yet, the journey to find the ideal tint isn't devoid of challenges, given the myriad of undertones each hue possesses. Amidst this complexity, worry not—help is at hand.
Olive green is undoubtedly basking in the spotlight, and it's no mystery why. Radiating a soothing ambiance, this hue effortlessly balances boldness with subtlety, making it a captivating choice for entire walls, distinctive features, or playful pops of color on furnishings and doors.
Dive into a world of olive green decorating inspiration, as we unveil some of the most remarkable paint colors that bring this shade to life.
In the world of home design, olive green paint colors are more than a choice; they are an expression of personality and ambiance.
The journey to finding the perfect hue can be an exciting adventure, and our insights will illuminate your path towards a captivating transformation.