Let's go on a fun journey to pick the perfect green color for your cozy home! We'll explore two special shades: Mint Green Vs Sage Green. They're like characters in a story, each with their own cool features. You get to decide which one you like best!
Imagine a world where people love using green paint colors to make their homes look beautiful. It's a bit like a new breeze that feels fresh and exciting. Green is a color that comes from nature and feels calming. It can make any room feel warm and fancy.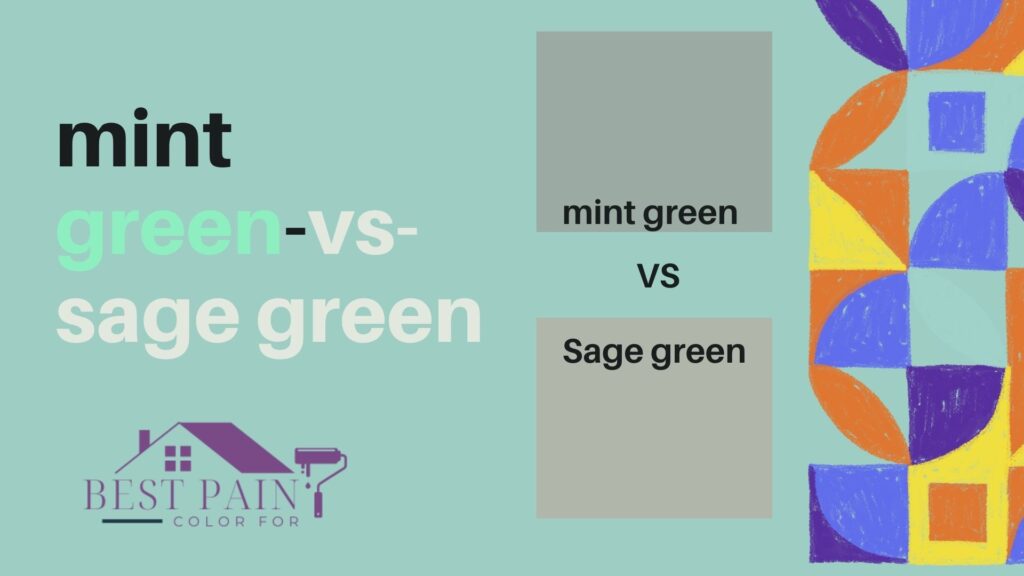 Mint Green – what is it like?
First, let's talk about Mint Green. It's like the color of a happy spring morning. Imagine a soft, light color that makes a room feel happy and fresh, like flowers in a garden. That's Mint Green! It's perfect if you want your room to feel cheerful.
Mint Green is a light green color like the color of grass, but with a little bit of blue and gray mixed in. It looks bright, new, and feels cool.
What is Sage Green?
Now, onto Sage Green. This shade is like a wise friend in the color world. It has a hint of gray that makes it feel timeless, like old trees with lots of stories. When you use Sage Green, it makes a room feel calm and peaceful. It's like having a friend who brings a touch of old-time elegance.
Sage Green is a warmer green color, kind of like the color of leaves in the fall. It has a touch of yellow, brown, or gold in it. Sage green can be a light color, like the color of some leaves, or it can be a darker green, like the color of other leaves. Sage green always gives a warm feeling.
Also Read: The 17 best green-gray paint colors for 2023
Green comes in many shades, and they all remind us of nature's beauty. It's like giving your home a cozy hug, like being in a forest or a meadow. Whether you like the happy feeling of Mint Green or the fancy charm of Sage Green, your choice will make your home look awesome and bring nature's wonders indoors.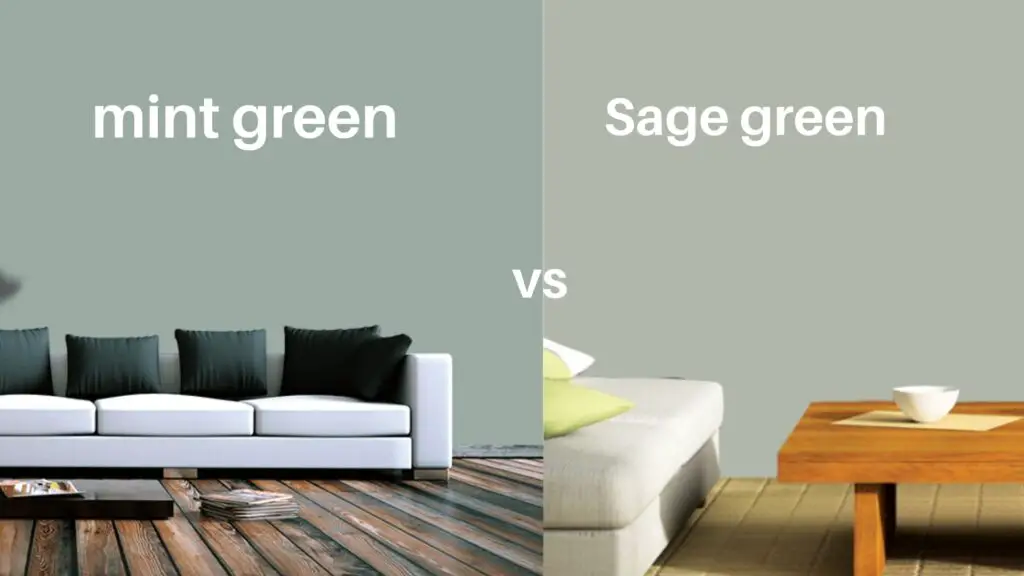 Different colors of Mint Green
Sherwin Williams Hazel – A Cool Green
Sherwin Williams Hazel is a nice green choice that has a touch of blue mixed in. You'll notice the cool tones more in rooms that face the north because the cool light makes the green look a bit bluish.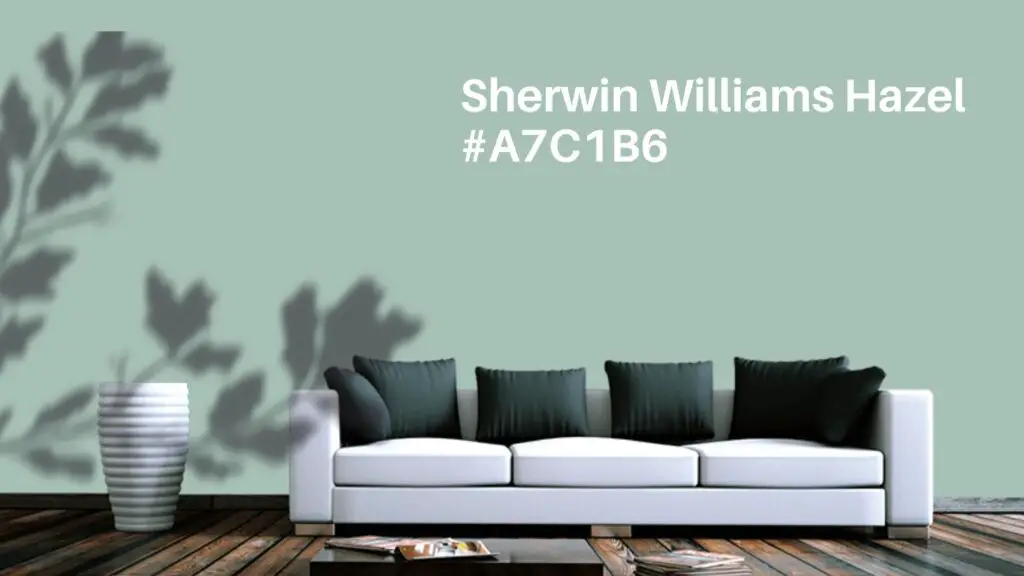 Benjamin Moore Spring Mint – Fresh Minty Color
Spring Mint from Benjamin Moore is a light and bright minty color. It's like the color of mint leaves and has lots of blue in it. It's great for making bathrooms feel relaxing like a spa!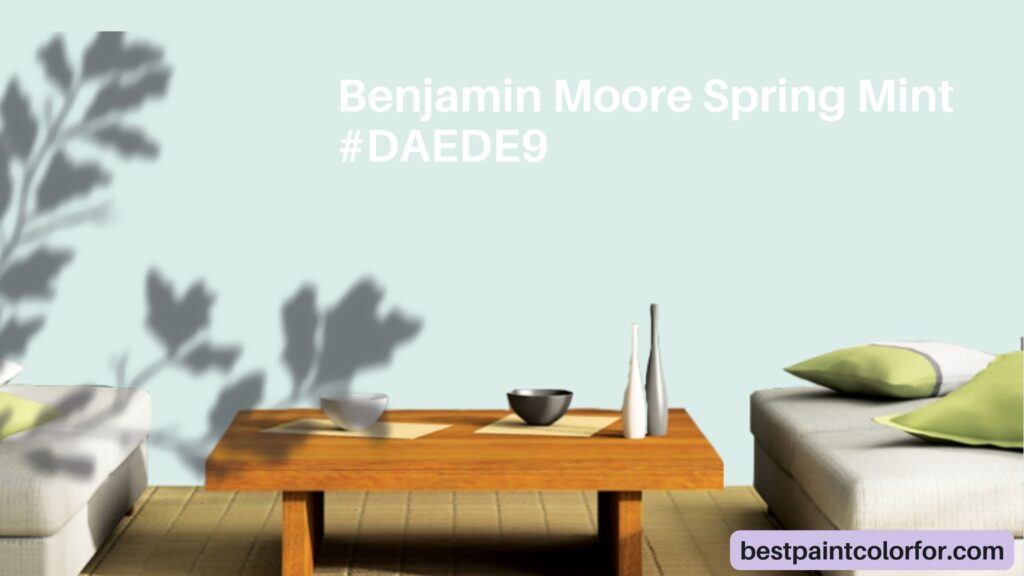 Sherwin Williams Aloe – Balanced Green
Aloe by Sherwin Williams is a bit darker than your usual mint color. It's good for rooms that you want to feel bright. It's like a mix of blue and green, just right!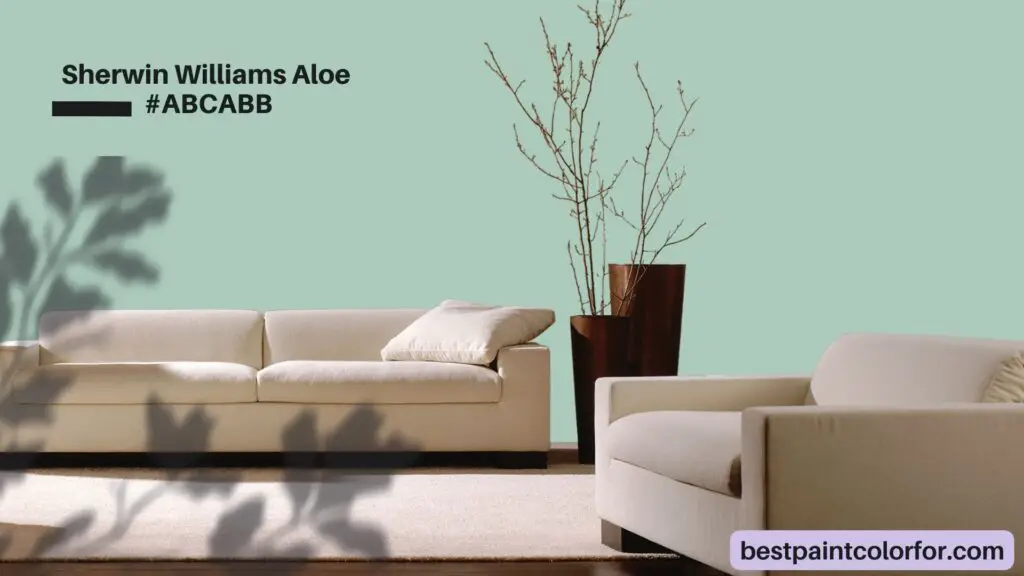 Benjamin Moore Spring Breeze – Classic Mint
Spring Breeze from Benjamin Moore is a bright green that's full of blue too. It's a classic mint color that you'll instantly recognize.
Also Read: 29+ of The Best Terra Cotta Paint Colors in 2023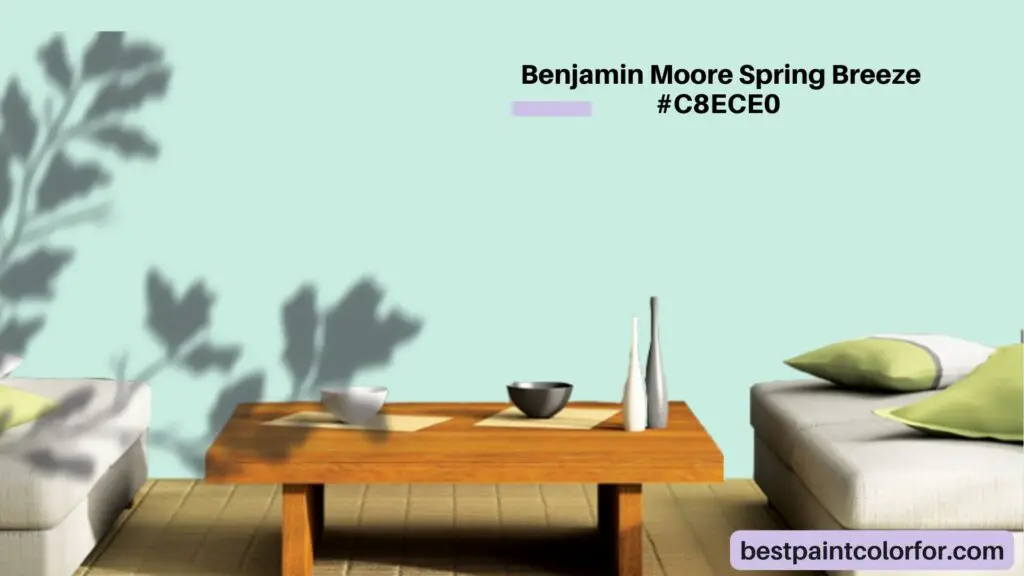 Behr Nature's Gift – Earthy Green
Nature's Gift by Behr is a lovely earthy green. It's a bit darker than light green and has hints of both blue and gray underneath. It looks different in different kinds of light!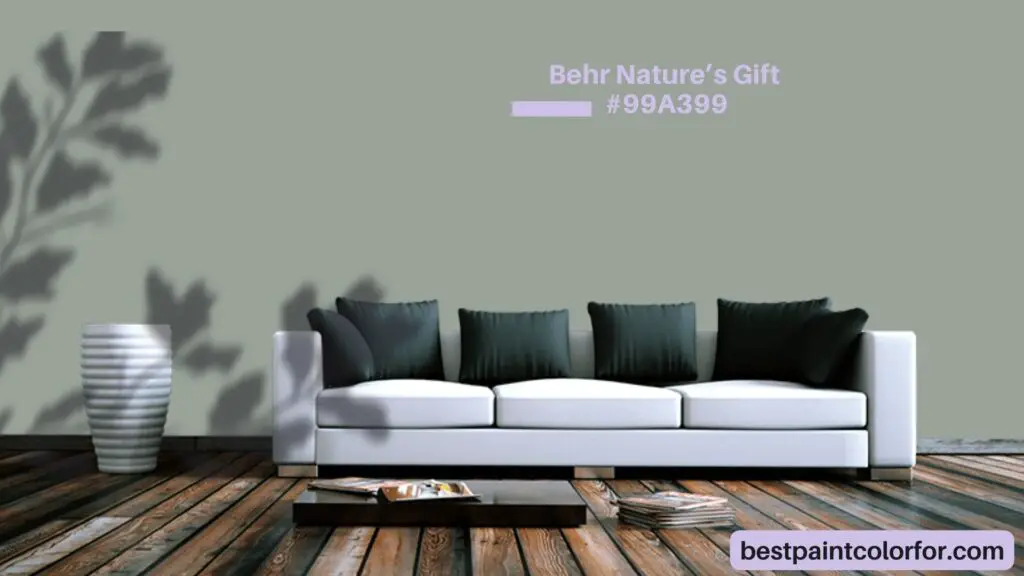 Sherwin Williams Liveable Green – Warm Sage
Livable Green from Sherwin Williams is a sage green with a touch of yellow or brown. If your room gets cool light, it'll seem more green. In bright sunlight, it might look more like beige.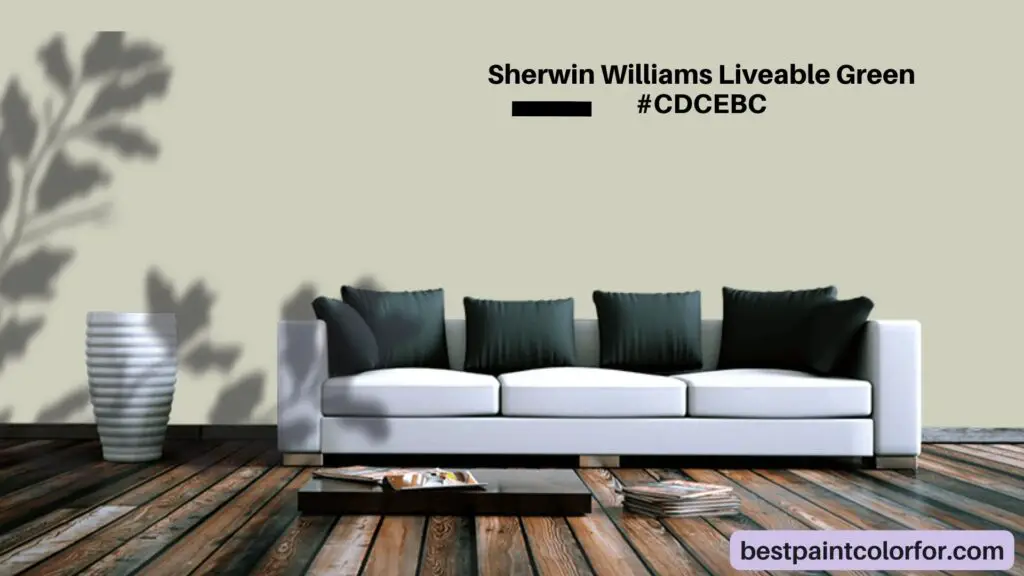 Benjamin Moore Sage Wisdom – Bright Sage
Sage Wisdom from Benjamin Moore is a brighter sage green. It's not too dark and not too bright, with some gray hidden inside. Perfect if you want green walls that aren't too dark.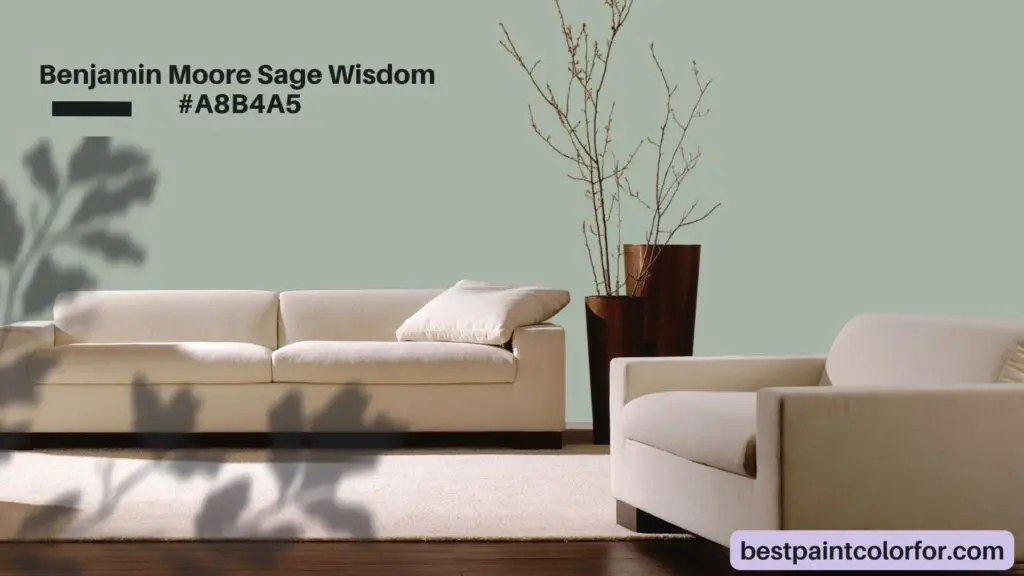 Benjamin Moore Saybrook Sage – Cozy Sage
Saybrook Sage by Benjamin Moore has a lot of yellow in it. That makes it feel warm and cozy. Use it if your floors or tiles also have warm colors.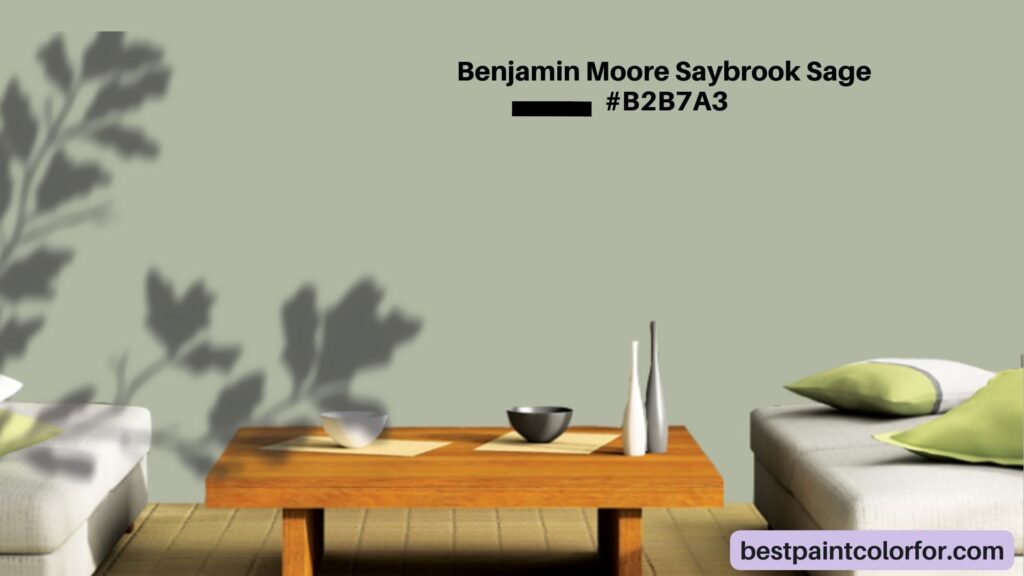 Colors that go well with Mint Green
Mint Green and Sage Green are two special colors, like the colors of leaves and grass. They have friends that look nice when they're together.
Imagine a color wheel. Next-door colors are friends, like green and blue or green and yellow. Mint Green and Sage Green like to be friends with lots of shades of green.
Now, think about opposite friends. Sometimes, colors on opposite sides are great friends too. Sage Green's opposite friend is a warm pink, like the color of peach or papaya.
Mint Green's opposite friend is a different warm pink, like terracotta or desert rose.
For colors that are like the best background friends, use creamy soft whites. They'll make Mint Green and Sage Green really stand out.
Guess what? Black and deep charcoal black are also cool friends for these greens.
If Sage Green is a warm green, it loves hanging out with warm purple or red, kind of like terracotta.
Mint Green, which is cooler, likes to be with other blues and greens, just like a family of ocean colors.
Mint Green vs Sage Green: Which should you choose?
Trying to pick between mint and sage? Well, take a peek at the other things in your room, like the floor, tiles, and furniture. Do they have colors that feel warm or cool?
If they're cool like the fresh air, then mint might be your color. But if they're warm, like a cozy blanket, then sage could be the one for you!
The bottom line
Deciding between Mint Green and Sage Green is a bit like choosing between two exciting stories—one full of youthful energy and the other with timeless style. So, start this colorful adventure with a happy heart. Trust your feelings as you find the perfect green color, making your house a special and comfy place to be.