Are you looking for some green-gray paint colors to transform your living space into a realm of sophistication and tranquility? Look no further, for we've delved into the world of interior design to uncover the most captivating and trendy green-gray paint colors for 2023.
These shades marry the serene essence of green with the understated elegance of gray, creating a harmonious symphony that elevates your home décor to a whole new level.
Nature's abundant hues have always captivated the human eye, and green is no exception.
From the soothing olive greens that whisper tales of the Mediterranean breeze, to the ethereal blue undertones that infuse a touch of magic, green shades breathe life into your home.
These green tones not only evoke a sense of calm but also bring the rejuvenating outdoors inside, creating an environment that is both soothing and invigorating.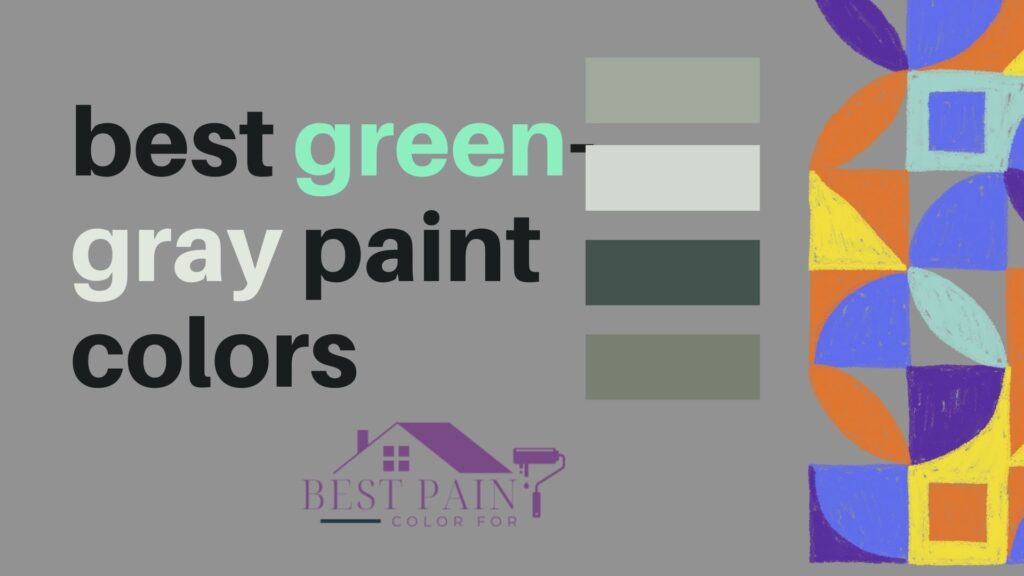 What is green-gray paint color used for?
As the name suggests, green-gray paint lies on the hues between green and gray. But the dominant color in this shade is gray and so you got to use more green to make it actually look like green-gray. The gray actually decreases the brightness of green and make it more subdued.
Gray and green dance together in harmony to create the perfect backdrop for your interiors. Gray green paint transcends the ordinary, infusing your space with a sense of balance and serenity.
Imagine the gentle play of light on your walls, emphasizing the depth of color that gray-green hues bring. This isn't just paint; it's a transformative experience.
Muted paint color – what does it mean?
Muted paint colors bring a gentle sophistication to your walls. These colors are like a soft whisper, adding a touch of charm without shouting for attention.
Example: Imagine a cozy living room with walls adorned in muted tones – it's a haven of tranquility.
Muted colors aren't just faded versions of vibrant hues; they're a unique spectrum of their own.
They're created by adding a bit of gray to bright colors, resulting in a more relaxed, softened shade. This palette includes dusty pinks, muted blues, and calm greens, each with its own story to tell.
Serene Escape – In a world bustling with activity, muted colors offer a serene escape. These colors create a peaceful atmosphere, perfect for unwinding after a long day. Picture a bedroom dressed in muted lavender – it's an invitation to relax, rejuvenate, and find solace.
Versatile – Muted paint colors are versatile allies in design. They play well with various decor pieces. Be it a vintage cabinet or a sleek modern sofa, muted colors provide a backdrop that allows each element to shine. They're like the supporting actors that make the star shine brighter.
Timeless classics – Muted neutrals, like soft grays and gentle beiges, are timeless classics. These colors fit any style and add a touch of elegance to your space. They're like a soothing background melody that sets the tone for your decor composition.
Simple sophistication – Think of muted paint colors as a touch of simple sophistication. They're not loud, but they leave a lasting impression. It's like a quiet confidence that draws you in. With muted hues, your walls become a canvas of understated beauty.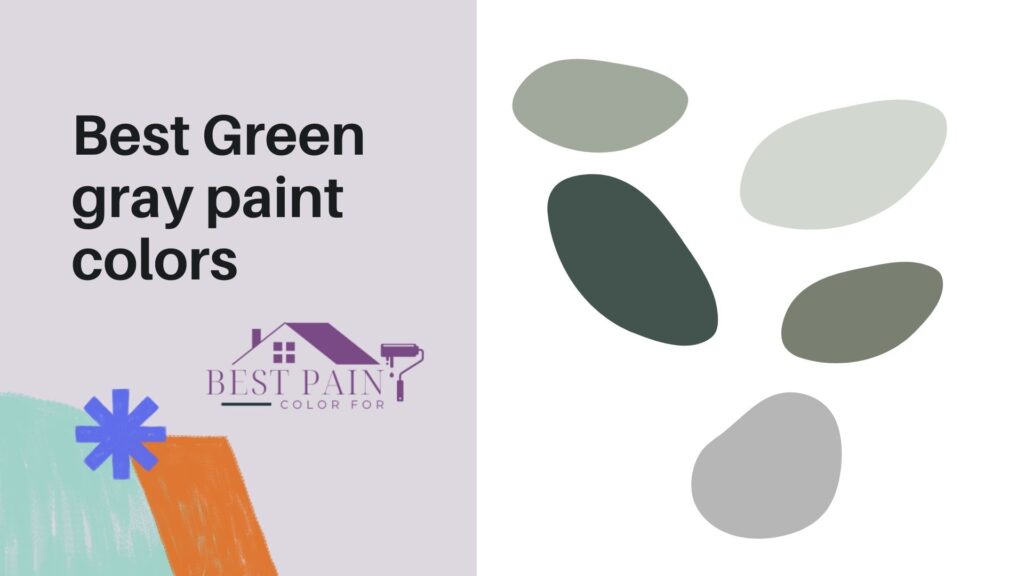 Best Green-gray paint color types & ideas
Green-gray paint colors offer a unique blend of nature's tranquility and modern sophistication, making them an excellent choice for enhancing the ambiance of your home.
These hues strike a harmonious balance between the serene essence of green and the understated elegance of gray.
They create a versatile canvas that can complement a variety of design styles, from contemporary to traditional.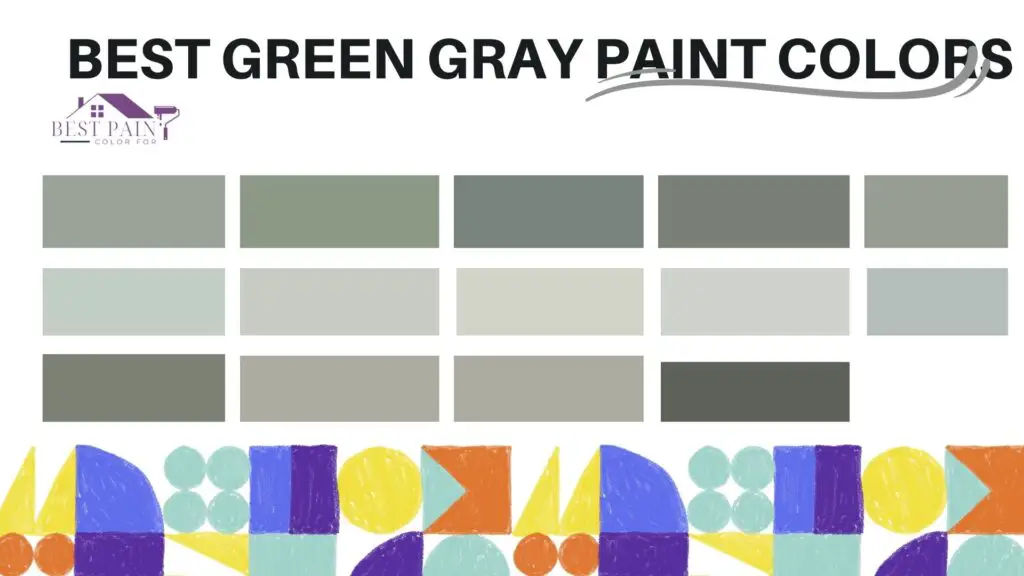 Light Green-Gray Paint Colors
Light green-gray paint colors like Behr Nature's Gift and Benjamin Moore High Park bring a breath of freshness to your interiors.
These shades infuse a space with a sense of openness and airiness, making them ideal for rooms where you want to create a soothing and welcoming atmosphere.
Consider using these light green-gray tones in living rooms and bedrooms to evoke a tranquil oasis that invites relaxation and rejuvenation.
Behr Nature's Gift
This soft and light green-gray shade embodies the delicate balance between green and gray. Its subtle undertones make it a versatile choice for various spaces, including bedrooms, where you want to create a serene and tranquil environment.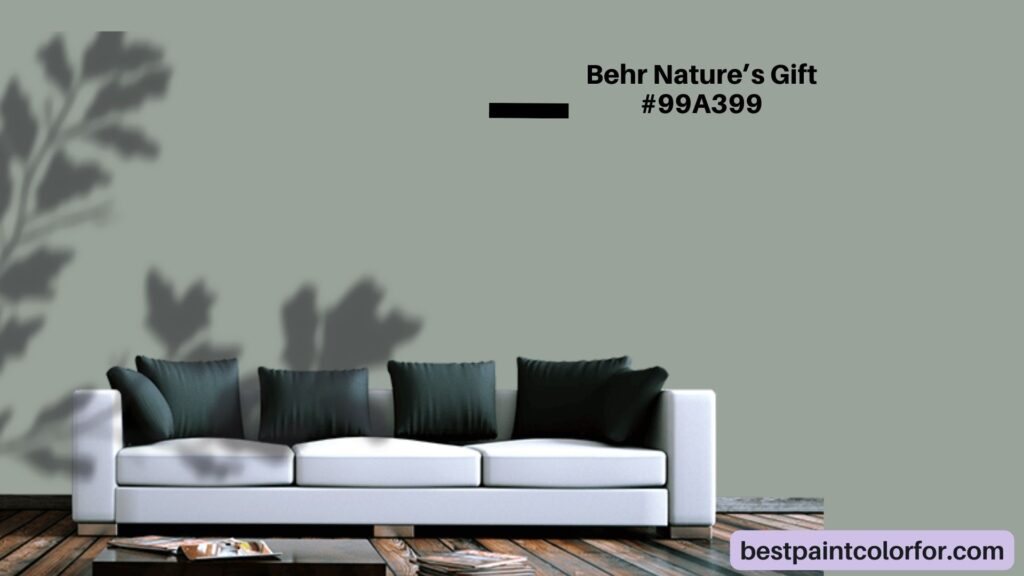 Benjamin Moore High Park
With a touch more gray, this light green-gray shade exudes sophistication. It's perfect for living rooms and dining areas, where you want to create an elegant and timeless ambiance that complements both classic and modern furnishings.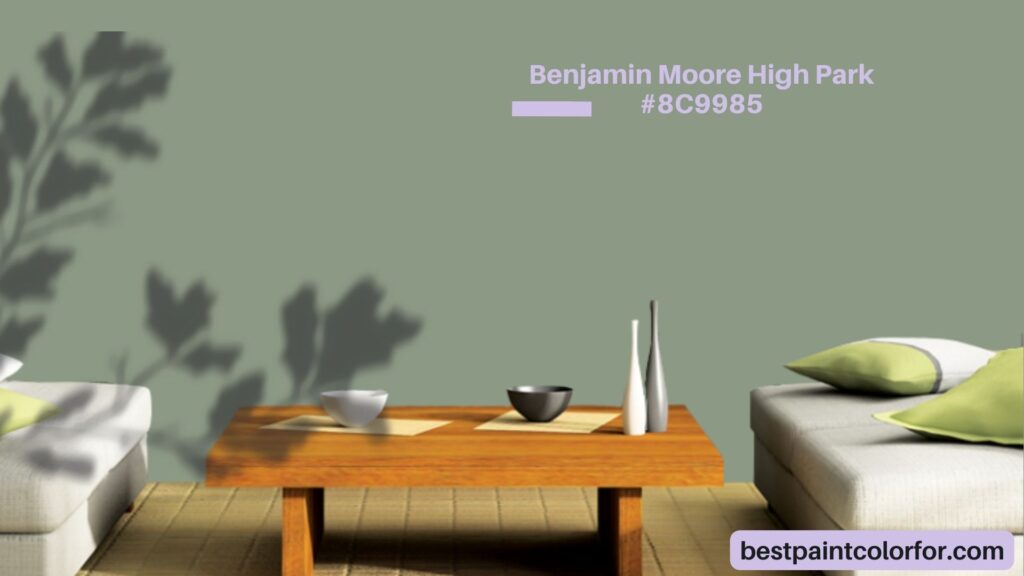 Benjamin Moore Night Train
Moving into slightly deeper tones, Night Train retains its green-gray charm while adding a touch of depth. It can work well as an accent color in spaces like home offices or reading nooks, adding a sense of coziness and concentration.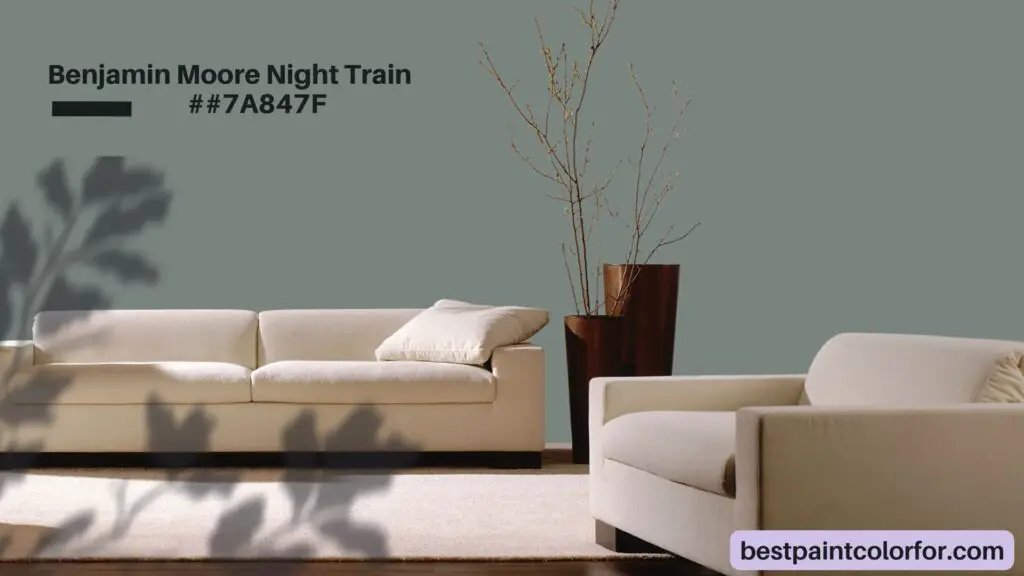 Sherwin Williams Retreat
This light and breezy green-gray hue brings a sense of calm reminiscent of a coastal getaway. It's a great choice for bathrooms and kitchens, infusing these spaces with a serene and refreshing atmosphere.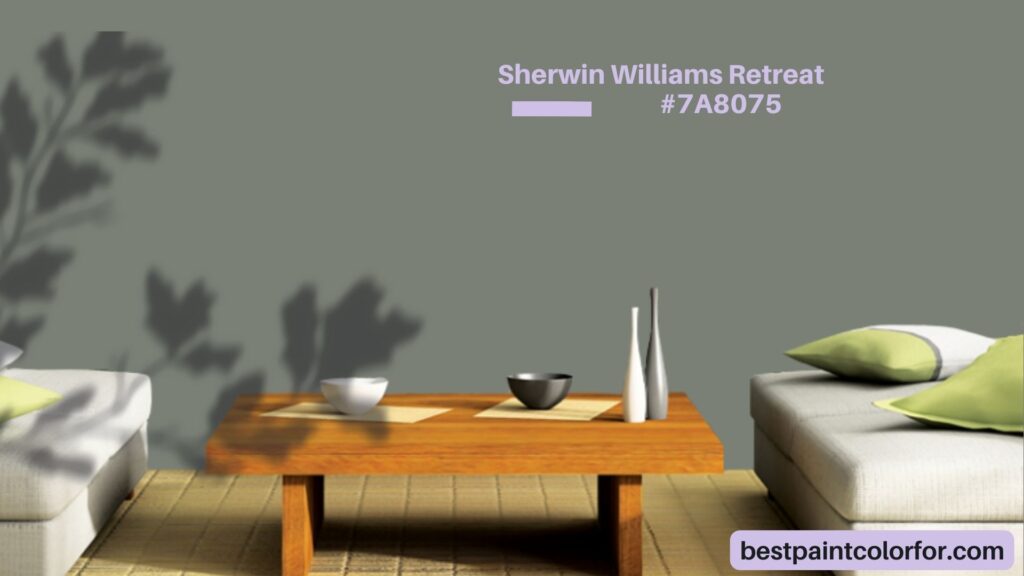 Sherwin Williams Acacia Haze
With a hint of sage green, Acacia Haze offers a touch of nature to your interiors. It's a versatile color that can work wonders in bedrooms, where you want to create a calming and inviting environment.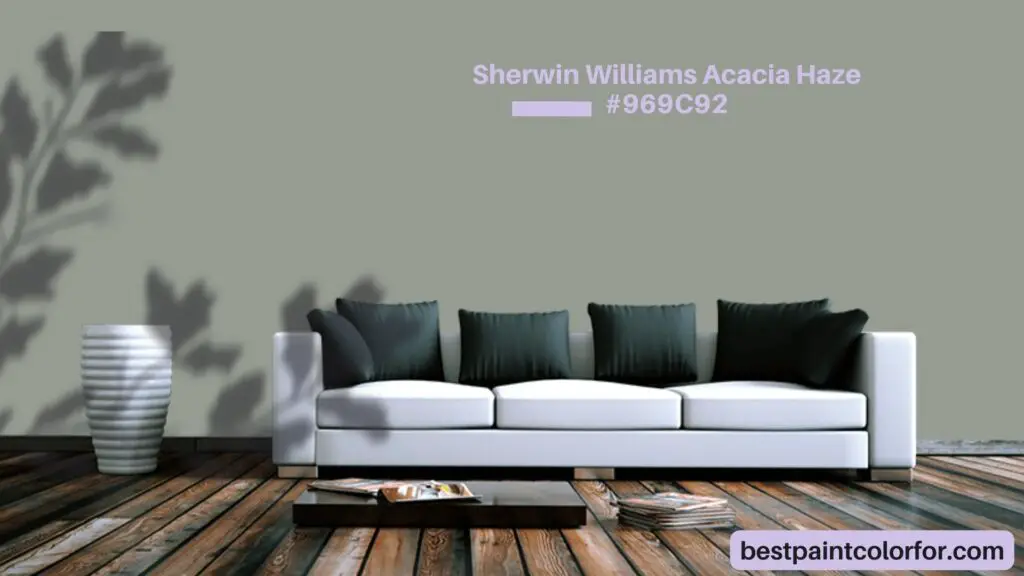 Sherwin Williams Rainwashed
Moving closer to a soft blue-green, Rainwashed is perfect for spaces where you want to evoke a sense of tranquility, such as bedrooms or home libraries.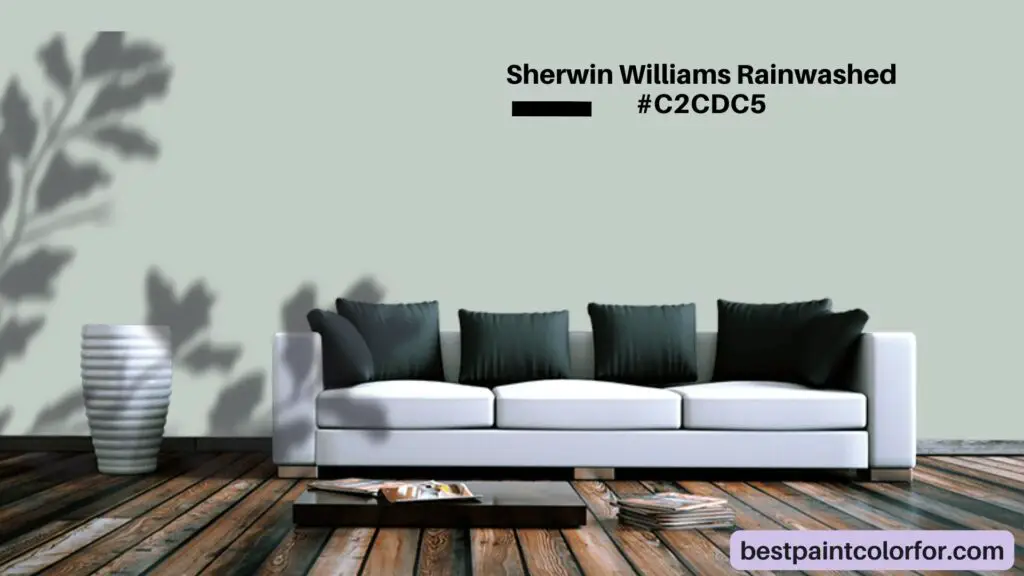 Sherwin Williams Silver Strand
With subtle blue undertones, Silver Strand is an excellent choice for creating a serene and coastal-inspired atmosphere in living rooms or bathrooms.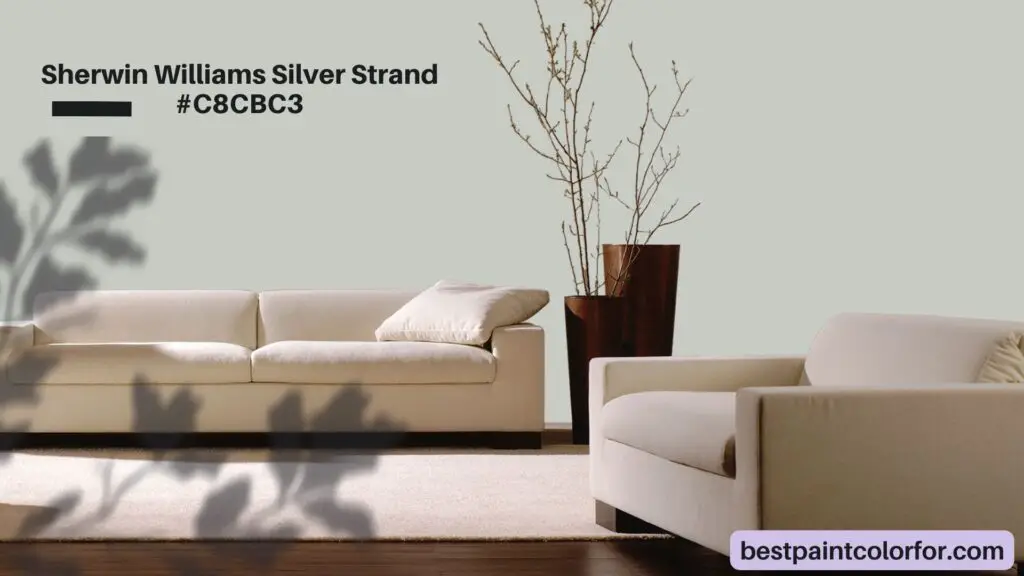 Sherwin Williams Filmy Green
As the name suggests, Filmy Green offers a delicate and almost ethereal touch. It's perfect for nurseries or spaces where you want to add a hint of playful charm.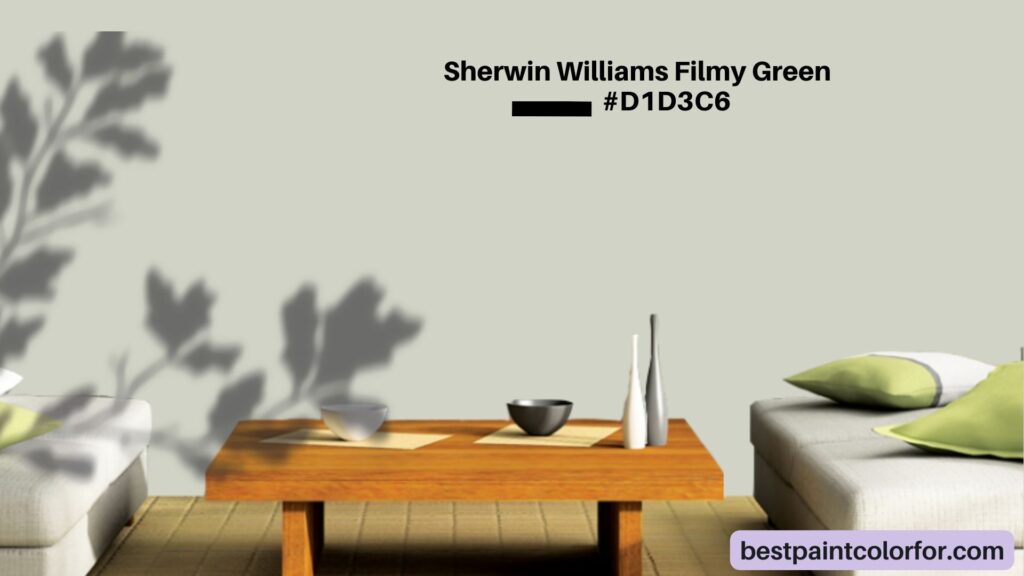 Sherwin Williams Sea Salt
This popular color blurs the lines between green, blue, and gray. It's an ideal choice for living rooms or bedrooms where you want to create a soothing and versatile backdrop.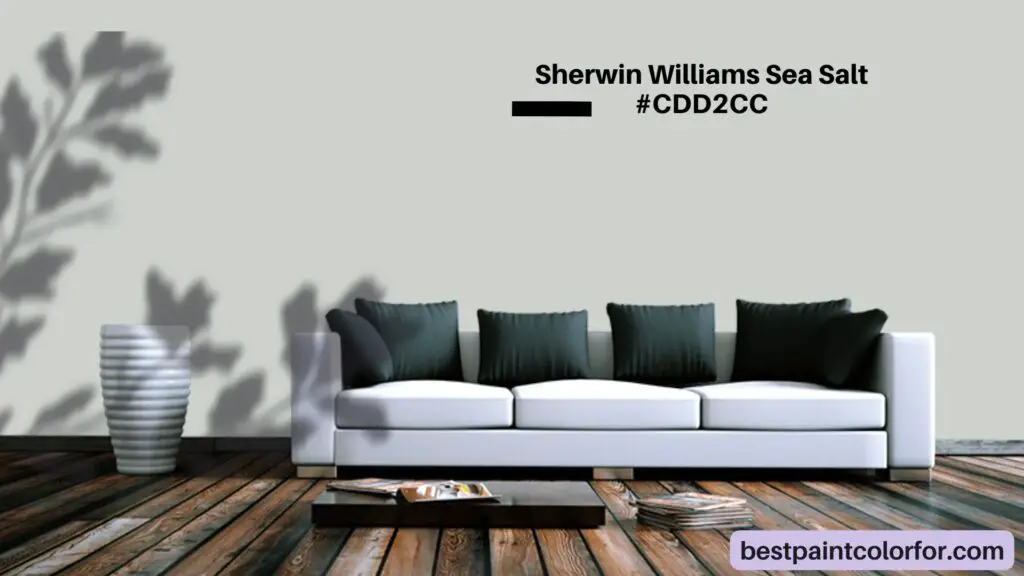 Benjamin Moore Beach Glass
A soft and dreamy green-gray shade, Beach Glass is suitable for creating a relaxed and airy atmosphere in bedrooms or bathrooms.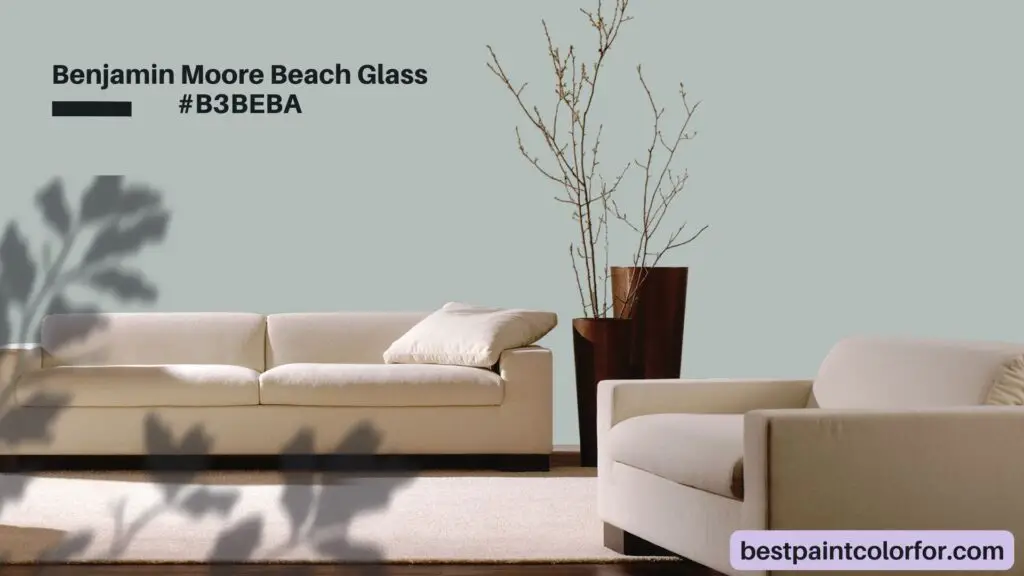 Sherwin Williams Dried Thyme
This deeper green-gray shade brings a sense of richness and depth, making it an excellent choice for cozy spaces like home libraries or dens.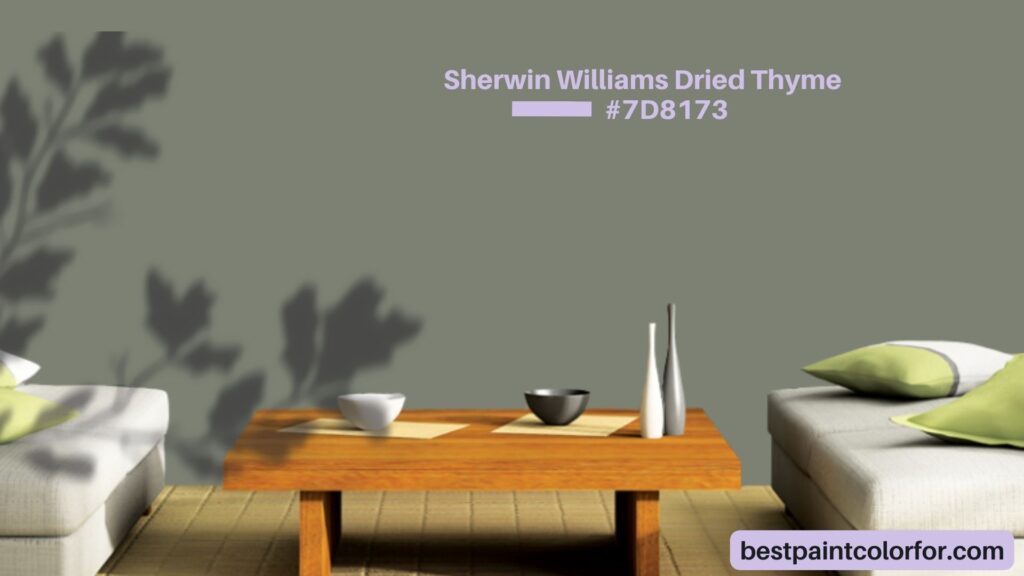 Sherwin Williams Escape Gray
With subtle undertones, Escape Gray offers a neutral backdrop that's perfect for creating a versatile and inviting atmosphere in living rooms or kitchens.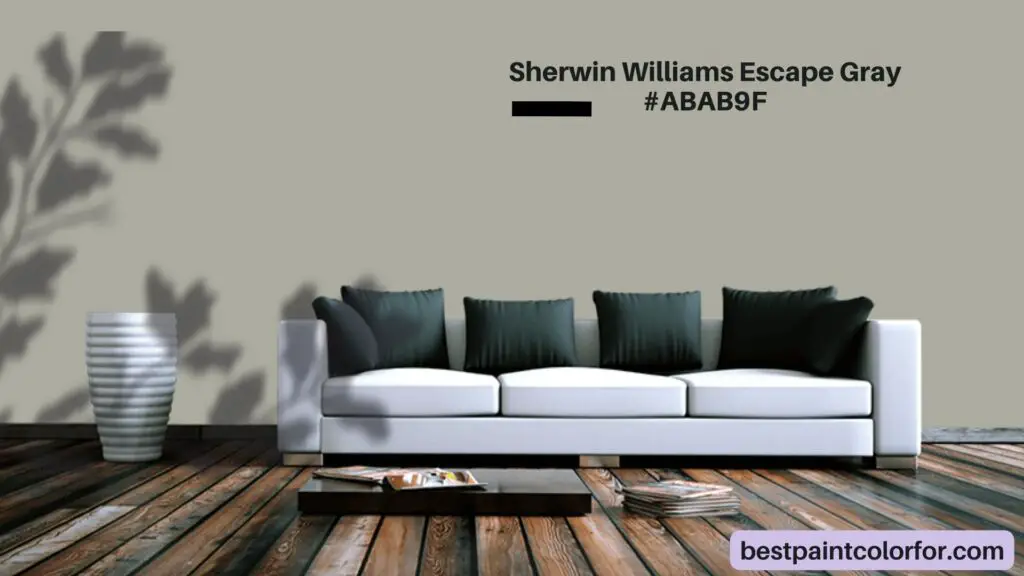 Benjamin Moore Healing Aloe
This soft and soothing green-gray shade is suitable for bedrooms or bathrooms where you want to evoke a sense of tranquility and wellness.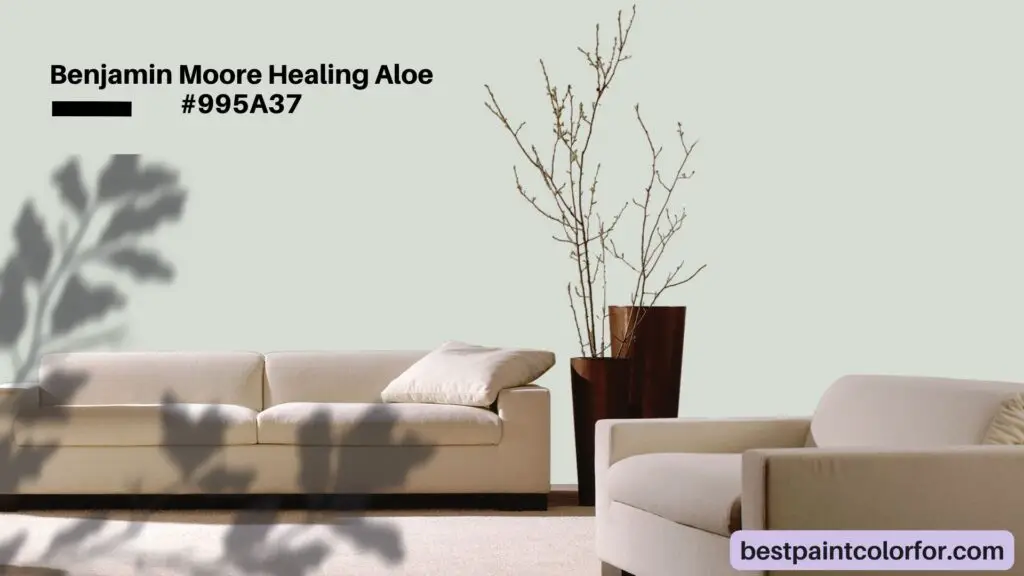 Dark Green-Gray Paint Colors
On the other hand, dark green-gray paint colors like Behr North Woods and Benjamin Moore Waller Green introduce a sense of depth and coziness to your interiors.
These shades are ideal for spaces where you want to create a warm and inviting ambiance, such as dining rooms and home offices.
Additionally, Benjamin Moore Rosepine exudes a touch of romance, making it a suitable choice for spaces where you want to infuse a sense of intimacy and elegance.
Sherwin Williams Pewter Green offers a timeless and versatile backdrop, while maintaining a connection to nature.
Behr North Woods
A robust and earthy shade, Behr North Woods is reminiscent of lush forests and natural landscapes. It's a fantastic choice for spaces where you want to infuse a touch of the outdoors, such as cozy living rooms or intimate dining areas. This color creates a sense of grounding and connection with nature, making it ideal for spaces that encourage relaxation and togetherness.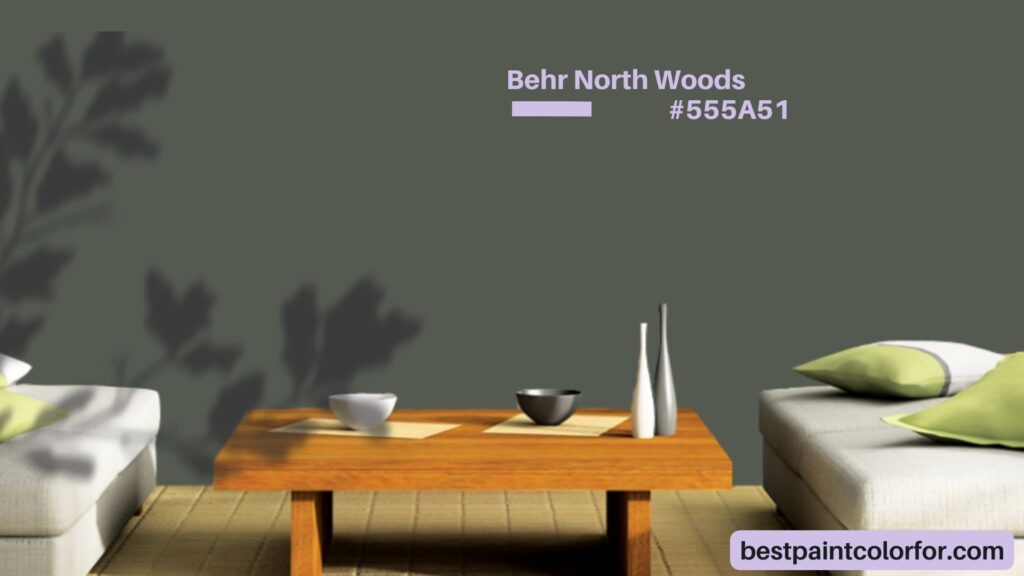 Benjamin Moore Waller Green
 This deep and elegant green-gray shade exudes a sense of classic charm. It's perfect for creating a traditional ambiance in spaces like home libraries or studies. The rich undertones of Waller Green make it an excellent backdrop for showcasing vintage furniture and decor, adding a touch of sophistication to your design.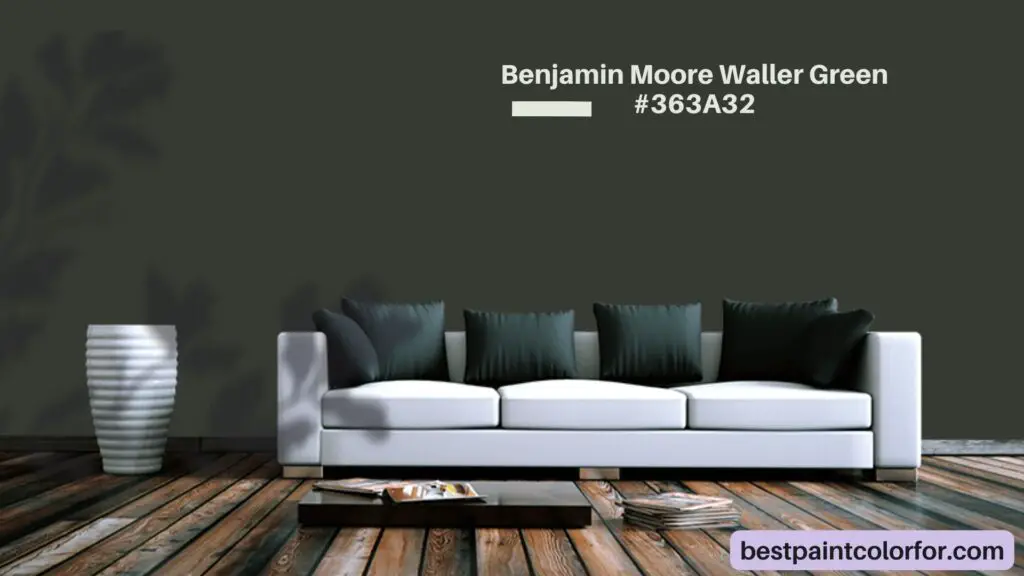 Benjamin Moore Rosepine
 Offering a hint of romantic flair, Benjamin Moore Rosepine is a darker green-gray shade that adds a touch of intimacy to your interiors. It's an ideal choice for bedrooms or cozy sitting areas where you want to create a sense of retreat and relaxation. This color works particularly well with soft textiles and warm lighting, enhancing its inviting nature.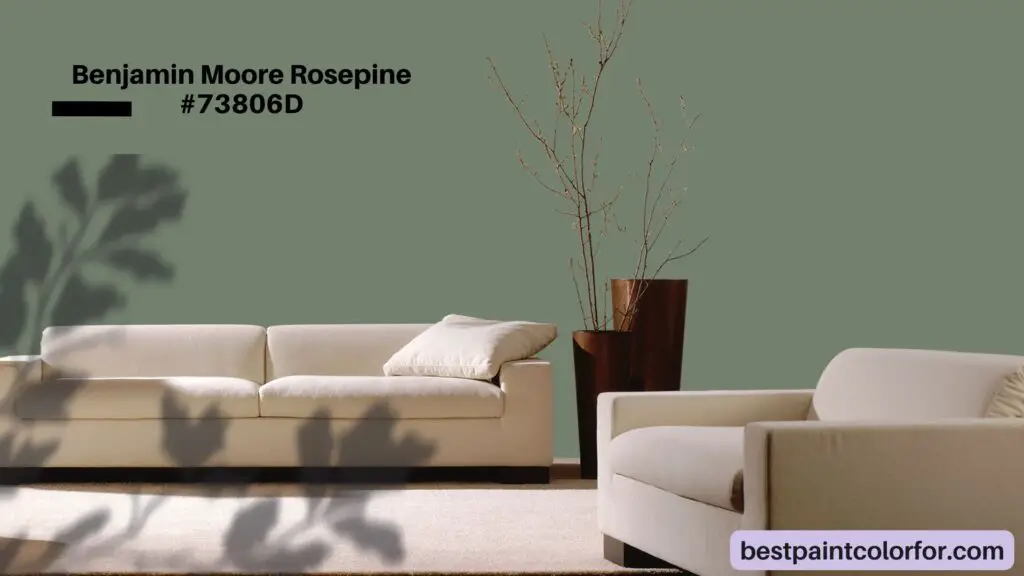 Sherwin Williams Pewter Green
If you're seeking a versatile and timeless backdrop, look no further than Sherwin Williams Pewter Green. With its balanced blend of green and gray, it creates an understated yet sophisticated atmosphere in various rooms. Whether you're designing a home office, a dining room, or a bedroom, Pewter Green offers a neutral canvas that allows other elements to shine. Its adaptability makes it a go-to choice for those seeking a harmonious and stylish interior.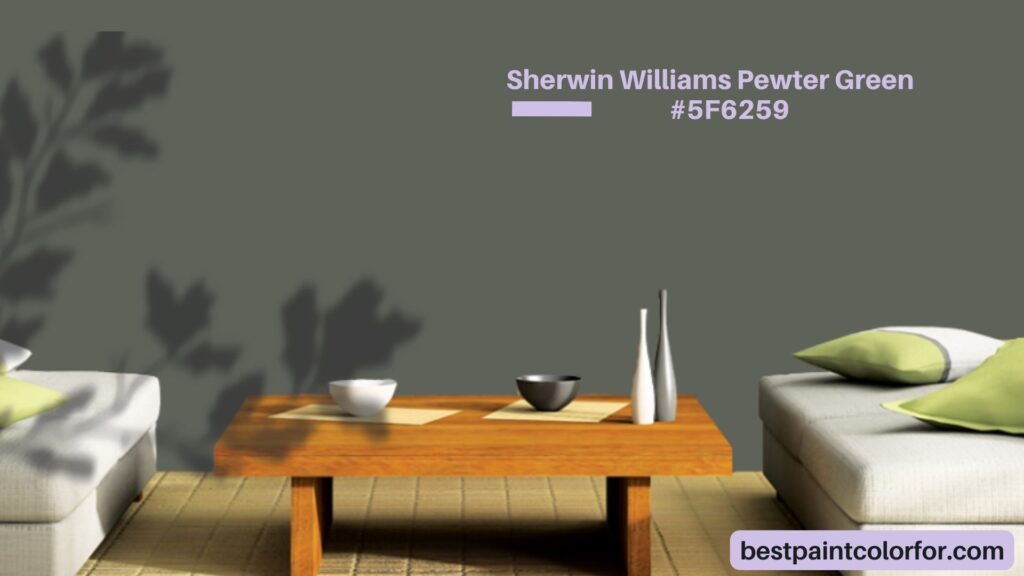 Benjamin Moore's Color of the Year for 2022
As we journey into 2023, it's worth remembering the timeless elegance of Benjamin Moore's 2022 Color of the Year. This shade isn't just a fleeting trend; it's a classic choice that beautifully complements green and gray undertones. Its subtle blue-green charm effortlessly adds depth and character to your walls, reminding us that certain hues stand the test of time.
The Enigmatic Gray Undertones
Gray undertones add an element of mystery to your space, coaxing the eye to explore every corner. These undertones enhance the depth of green shades, creating an enchanting fusion that is impossible to ignore. As you walk through your home, you'll find yourself drawn to the nuances of gray that intertwine with the natural vibrancy of green, creating a dynamic visual narrative.
Paint Samples: Your Personal Canvases of Exploration
Choosing the perfect color for your home is no simple task. Paint samples become your artistic canvases, allowing you to experiment and visualize the magic that unfolds when gray meets green. Apply these samples to your walls and observe how they transform with the changing light throughout the day. These samples are your windows to a world of design possibilities.
Olive Green: Embracing the Mediterranean Aesthetic
Transport yourself to the sun-kissed landscapes of the Mediterranean with the warm embrace of olive green. This shade exudes a rustic charm that seamlessly blends with gray undertones, creating a cozy yet sophisticated ambiance. Whether adorning your living room walls or gracing your kitchen cabinets, olive green brings a touch of Old World allure to your modern abode.
Blue Undertones: Infusing Magic into Gray-Green Palettes
Blue undertones in green-gray shades are like whispers of a hidden enchantment. They infuse your space with an aura of mystery, making it impossible for anyone to enter without being captivated by the elegance they exude. These undertones create a dynamic contrast that elevates the entire color palette, resulting in an interior that is both alluring and breathtaking.
The Dance of Green and Gray: A Visual Symphony
Green and gray have embarked on a timeless dance, creating a visual symphony that resonates with both serenity and sophistication. These colors are not mere pigments on the wall; they're a reflection of your taste, your style, and your personality. As you curate your space, remember that every brushstroke adds to this grand masterpiece that is your home.
Gray Paint Colors: From Light to Lusciously Deep
The world of gray paint colors is vast, ranging from the delicate hues that whisper gently to the bold shades that make a statement. Light grays offer a sense of airiness, while deep grays command attention and create a cozy atmosphere. The beauty of gray lies in its versatility, allowing you to select the perfect shade to complement your space.
Green Paint Colors for Your Home: Bringing the Outdoors In
Green paint colors aren't just about aesthetics; they're about embracing the soothing embrace of nature within your living space. Whether you choose a shade that reflects the calm of a forest or the vivacity of fresh leaves, green hues connect you with the outdoors on a deeper level. Your home becomes a sanctuary that rejuvenates and inspires.
Sherwin Williams Evergreen Fog: Where Dreams Meet Reality
Among the myriad of choices, Sherwin Williams' Evergreen Fog stands out as a gem. This shade encapsulates the essence of gray-green, creating an atmosphere that is both dreamy and grounded. Imagine your walls adorned with this ethereal color, inviting you to unwind and escape into a realm of tranquility after a long day.
Perfect Color: Where Elegance and Comfort Converge
The search for the perfect color is an exploration of your desires. It's where elegance and comfort converge, where style finds its embodiment. Gray-green hues offer this perfection, striking a balance between sophistication and warmth. They are the canvas upon which memories are painted, making your home a reflection of the life you aspire to live.
Green Undertone: Infusing Life into Gray
The green undertone in gray-green paint colors infuses life into what might otherwise be considered neutral. It's a subtle yet powerful reminder of the vitality that nature brings. This undertone breathes energy into your space, creating an atmosphere that fosters creativity and rejuvenation. Embrace the green undertone and watch as your walls come alive.
Wall Color: The Canvas of Your Design Journey
Think of your wall color as the canvas upon which your design journey begins. Gray-green shades provide a versatile backdrop, allowing your furnishings and décor to shine. Whether you're aiming for a minimalist chic or a cozy rustic feel, these hues adapt, making your design aspirations come to life.
Farrow and Ball: Elevating Your Interior Aesthetics
No discussion of paint colors is complete without a nod to Farrow and Ball. Their palette includes shades that seamlessly blend green and gray, offering you a curated collection that transcends trends. Each brushstroke of Farrow and Ball paint adds sophistication, depth, and a touch of luxury to your interiors, making every room an experience in itself.
The bottom line
As you embark on the journey of selecting the perfect green-gray paint color for your abode, remember that this is your opportunity to craft a color story that resonates with your soul. Let the hues of nature and the elegance of gray guide you as you curate an environment that envelops you in comfort, beauty, and style. With an array of options at your fingertips, your home will truly become a masterpiece of design.