Looking for the perfect warm gray paint color for your home? Let's discuss Sherwin Williams Eider White. We'll cover its undertones, coordinating colors, and trim options to help you decide if it suits your home.
Choosing paint colors can be tricky but essential! Even if you're leaning towards white or gray, there's an abundance of choices to consider.
Today, we're focusing on Sherwin Williams Eider White, a light and warm greige (gray-beige) paint shade.
It's an excellent choice if you want walls that are nearly white but not overly stark or cold.
Eider White falls within the same paint range as Repose Gray, a highly popular greige paint color.
If you're looking for an extremely light and bright greige option, Eider White might just be the one for you!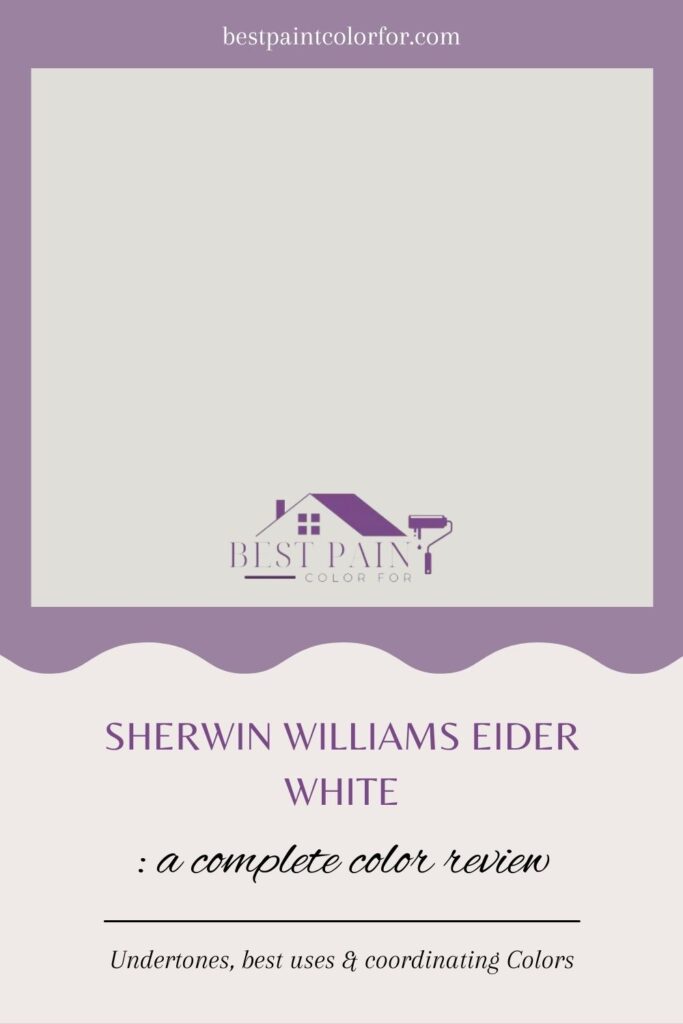 Sherwin Williams Eider White SW 7014
Let's delve into the world of Sherwin Williams Eider White, a warm gray hue that's versatile and intriguing.
Color Family
 Eider White belongs to the warm gray color family, offering a cozy ambiance.
Light Reflectance Value (LRV)
 With an LRV of 73, Eider White is a light, bright color. It's not pure white but leans more towards a subtle gray or off-white shade. LRV measures how much light a color reflects, ranging from 0 (black) to 100 (white).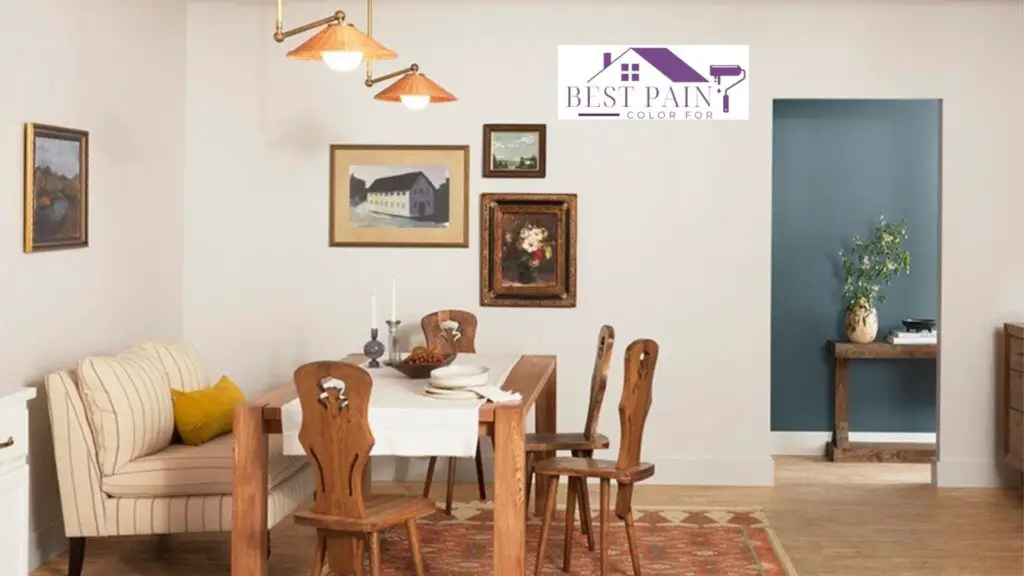 RGB Colors
 The RGB makeup of Eider White is R:226 G:222 B:216, indicating the proportions of red, green, and blue that create this color. It's the recipe for its unique appearance.
Hex Code
 The hex code for Eider White is #e2ded8, a digital representation of its color.
Also Read: The Best Black-Green paint colors
Undertones
 Eider White boasts various undertones, influenced by lighting conditions. It's primarily a very light gray with warm undertones. In certain lights, it may take on hints of purple or even pink, although these undertones are less prominent in bright, natural light. Darker rooms might reveal more pink undertones. Testing the color in different lighting situations is essential.
Best Uses
Eider White suits spaces like bedrooms, living rooms, kitchens, and even exteriors. However, due to its sensitivity to lighting, it might not be the best choice for an entire home.
Similar Colors
 Explore these similar colors for alternatives to Eider White:
Sherwin Williams Incredible White
Sherwin Williams Lunar Lite
Sherwin Williams Ghosted
Behr Poetic Light
Benjamin Moore Classic Gray
Valspar Gray Palisade
Coordinating Colors
 Pairing Eider White with other hues offers versatility. Consider these options:
Darker grays: Mindful Gray, Dorian Gray, Homestead Brown
Blues: Aqua Sphere, Riverway, Smoky Blue
Browns: Morris Room Gray, Felted Wool, Gauntlet Gray, Black Fox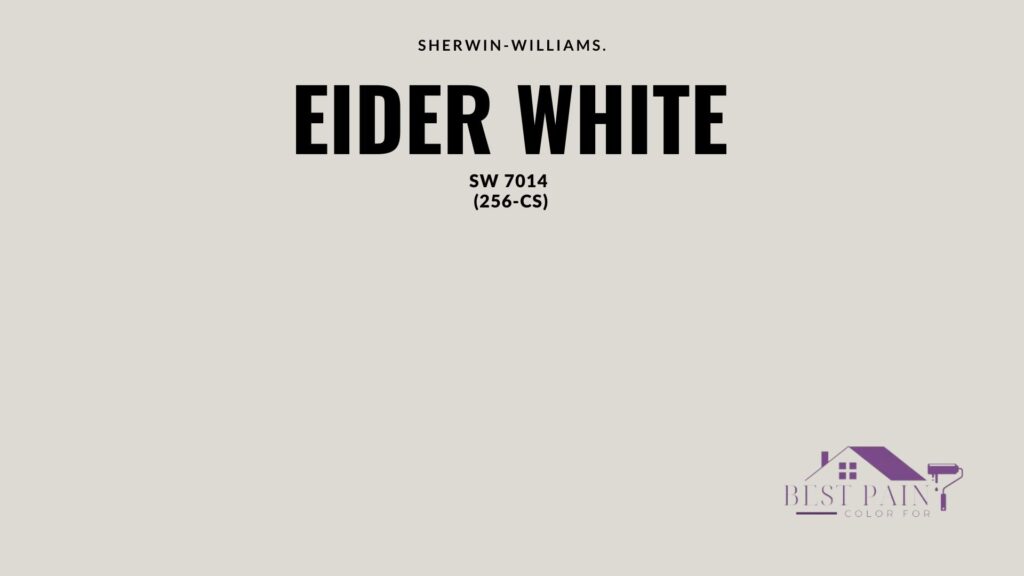 Trim Colors
 When it comes to trim, you have two choices:
Use Eider White for both walls and trim, varying the sheen for contrast (e.g., eggshell for walls, semigloss for trim) for a harmonious, tonal effect.
Opt for bright white trim to create contrast. Creamy trim might not provide enough differentiation from Eider White.
Also Read: The best paint colors for master bedrooms for 2023
Bright White Trim Colors
 Consider these options for bright white trim:
Benjamin Moore Simply White
Sherwin Williams Extra White
Behr Ultra Pure White
Eider White opens up a world of possibilities, offering a delightful blend of warmth and versatility for your home.
Comparisons of Eider White with other colors
Let's embark on a colorful journey and explore the intriguing world of paint shades! Choosing the right color can transform your space, so let's dive deeper into these captivating comparisons:
Eider White vs Repose Gray
 Picture a subtle dance of light and shadow on your walls. Repose Gray, just a shade darker than Eider White, beckons with its understated elegance. It's like a soft, comforting hug for your room. On the other hand, Eider White exudes a bright, airy charm that's perfect for spaces where you crave that touch of warmth without the starkness.
Alabaster vs Eider White
If you're drawn to warm-toned light grays, Alabaster and Eider White are like two old friends with distinct personalities. Alabaster radiates cozy warmth, like the sun's gentle embrace. In contrast, Eider White reveals its unique character, especially when you place these two side by side—the hint of purple in Eider White adds an unexpected twist.
Aesthetic White vs Eider White
These off-white contenders bring their own flair to the palette. Aesthetic White whispers neutrality with a hint of warmth, making it a canvas for your decor dreams. Meanwhile, Eider White boasts confident pink undertones that can infuse a touch of playfulness into your space.
Also Read: 40+ Best Olive Green Paint Colors Must Use in 2023
Eider White vs Agreeable Gra
 Imagine your room as a canvas, and these colors as the artists' palettes. Eider White brings a burst of brightness, like the morning sun streaming in. It's light and refreshing. On the other hand, Agreeable Gray holds a more nuanced conversation with its beige undertones, offering depth and warmth to your walls.
Eider White for Cabinets
 When it comes to kitchen cabinets, Eider White plays its role with grace. It's the choice for those who want cabinets that are neither too stark nor too dull. Imagine the elegant contrast it creates against your stainless steel appliances or natural wood accents. In a kitchen drenched in sunlight, Eider White cabinets can be a stunning centerpiece.
Also Read: The 17 best green-gray paint colors for 2023
Is Eider White Popular?
 Eider White might not be the first name that comes to mind, but it's like a hidden gem waiting to be discovered. It's a choice for those who seek a unique character for their homes, a shade that's less traveled but equally breathtaking.
Pure White with Eider White
 Pure white trim is like a frame for your artwork, and when paired with Eider White, it creates a captivating contrast. It accentuates Eider White's warmth and gray nuances, creating a striking visual appeal.
Snowbound vs Eider White
 If you're into lighter shades, Snowbound is a breath of fresh air. It's like a blank canvas, ready for your artistic touch. In contrast, Eider White brings a touch of warmth and depth to your walls, giving your space a cozy and inviting feel.