If you're in search of a captivating and bold paint color that has the power to elevate any surface, Sherwin Williams Urbane Bronze might be the ideal choice for you.
The striking presence of Sherwin Williams Urbane Bronze paint appeals to those who have a fondness for creating moody yet neutral spaces. You're not alone in your admiration of this remarkable shade.
In our own home, Urbane Bronze has become a standout favorite. We've embraced it in various ways, and we just can't seem to get enough of it.
In this blog post, we're going to explore the reasons behind our admiration for Sherwin Williams Urbane Bronze.
Our goal is to help you determine whether this paint color is the perfect fit for your living space.
So, let's explore Sherwin Williams Urbane Bronze: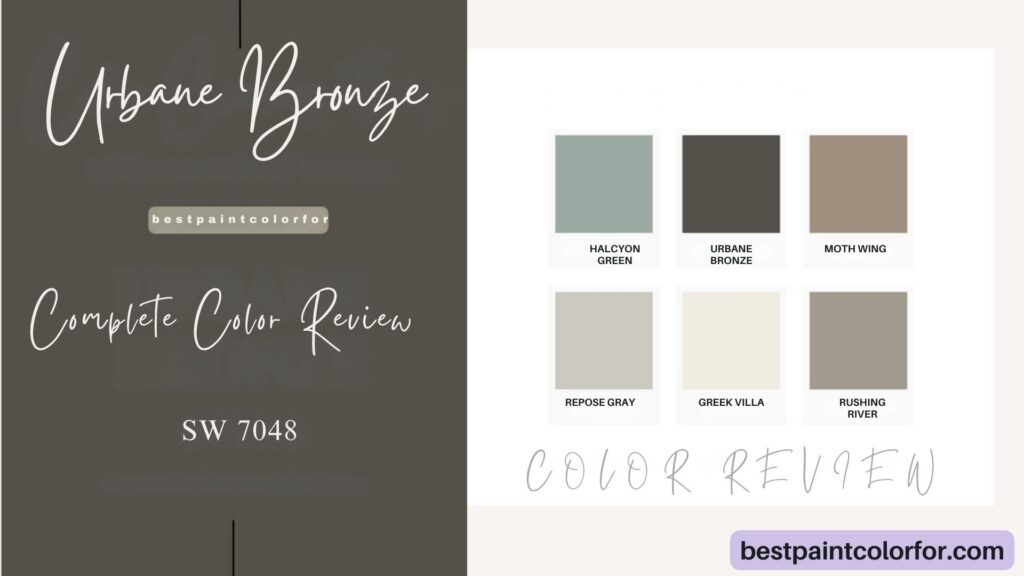 Sherwin Williams Urbane Bronze Paint Color
People often gravitate towards light and bright paint colors, and that's completely understandable. However, there are moments when a deep and rich paint color can create a magical atmosphere.
Whether you're thinking of painting a single wall, your front door, a piece of furniture, or simply want to add warmth to a room, dark paint colors can work wonders.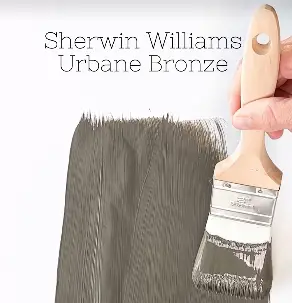 What's special about this color?
You might think that it's impossible for a paint color to strike a balance between boldness and neutrality, but Urbane Bronze effortlessly achieves this feat.
We're not the only ones enchanted by its charm; it's a widely appreciated choice in the design world.
In fact, it earned the prestigious title of "Color Of The Year" in 2021, underscoring its significance in the realm of interior design.
With a growing emphasis on nature-inspired colors that bring tranquility to interiors, Urbane Bronze has been a trailblazer in creating serene home environments.
Now, let's dive into one of the most sought-after dark brown paint colors – Sherwin Williams Urbane Bronze.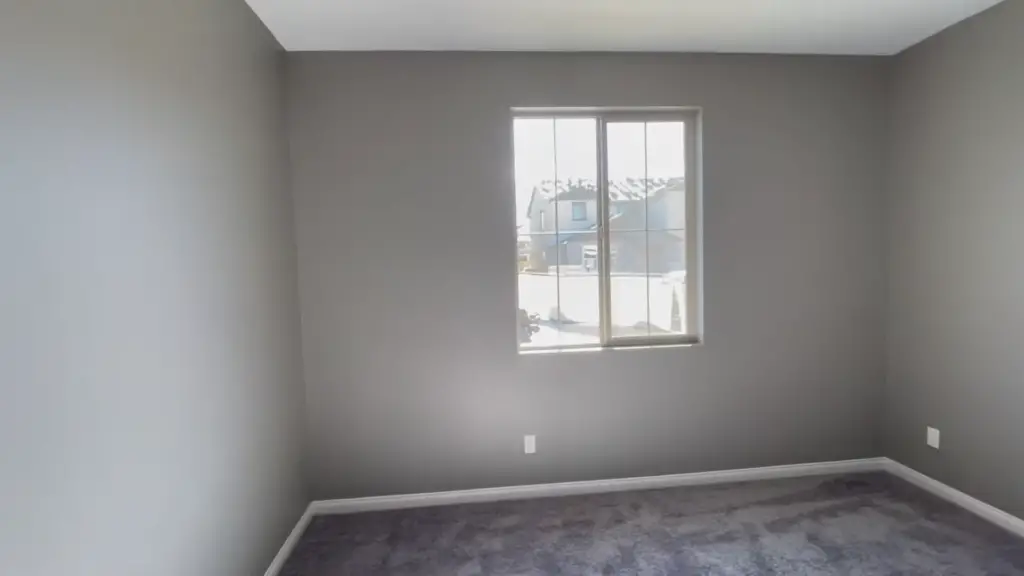 Sherwin Williams Urbane Bronze: A Luxurious Hue
Urbane Bronze is a nature-inspired color that exudes luxury and richness within a space. This color is truly exceptional!
The key to its success lies in the delicate equilibrium between deep black undertones and warm brown undertones.
Unlike some colors that lean too heavily in one direction, resulting in overwhelming choices, Urbane Bronze strikes a harmonious balance.
In our estimation, the secret to its appeal lies in the subtle addition of a touch of green to the mixture. This green component perfectly complements the earthy color palette.
📝 Key takeaways
Sherwin Williams Urbane Bronze is a captivating and bold paint color known for its ability to transform any space.
It strikes a balance between boldness and neutrality, making it a popular choice in the design world.
In 2021, it earned the prestigious title of "Color of the Year," emphasizing its significance in interior design.
Urbane Bronze is a luxurious and nature-inspired color, known for its unique combination of deep black and warm brown undertones.
It belongs to the brown color family and has an exceptionally low Light Reflectance Value (LRV), making it appear almost black in certain lighting conditions.
The color's hex code is #54504a, and it has gray undertones, making it a versatile choice for various spaces.
The color's appearance can vary based on lighting and surrounding elements, so it's essential to test it in your space.
Urbane Bronze works well in various areas of the home, such as trim, front doors, kitchen cabinets, bedrooms, and exteriors.
To balance its dark and bold nature, it can be paired with lighter, complementary colors and decor.
Artificial lighting can help mitigate the darkness of Urbane Bronze in spaces with limited natural light, allowing you to create a cozy and inviting ambiance.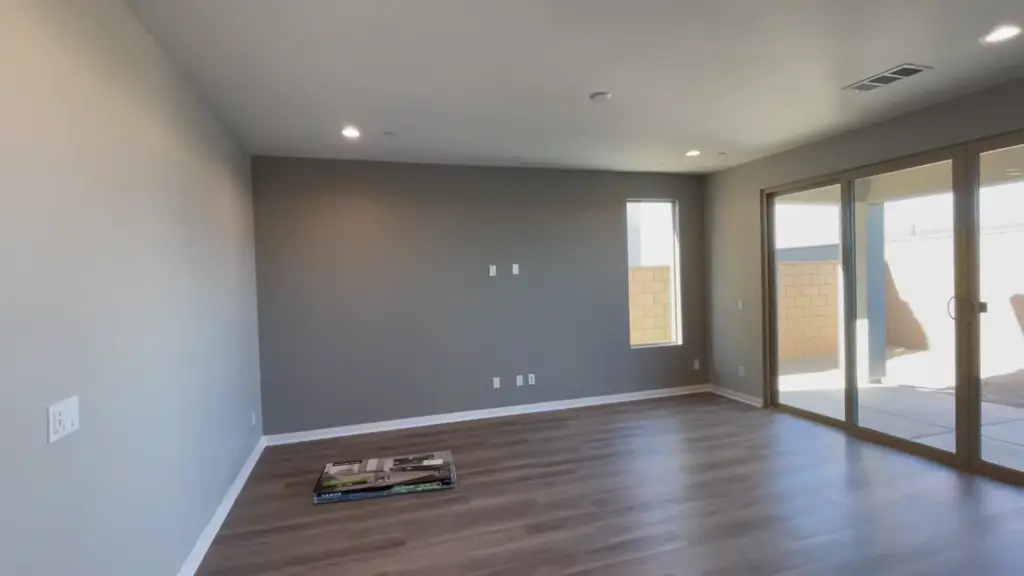 Color Family
Urbane Bronze belongs to the brown color family, and some might even describe it as a very dark greige due to its gray undertones.
Also Read: Forest Green Vs Sage Green – The Difference & Color Review
Light Reflectance Value (LRV)
LRV measures how much light a color reflects, ranging from 0 (pure black) to 100 (pure white). With an LRV of 8, Urbane Bronze is exceptionally dark, sometimes appearing almost black in certain lighting conditions.
RGB Colors
This color is composed of the following RGB values: R: 84, G: 80, B: 74. These values define the mix of red, green, and blue that make up the color.
Hex Code
Urbane Bronze's hex code is #54504a.
Undertones
Urbane Bronze is primarily a brown paint color with gray undertones. Its appearance can shift depending on the lighting and surrounding elements. In a north-facing room, it might appear more neutral, while in a south-facing room, it can take on a warm, brown tone. Additionally, it has a subtle green undertone, which becomes more apparent when paired with warm wood accents. It's crucial to swatch colors on your wall to ensure they harmonize with your space.
Also Read: Rustoleum Glitter Paint – Honest Review & Tips To Apply
How this color feels?
💡Pro tip:
This color exudes a completely natural and bold aura when applied in a room, giving it an organic and luxurious feel, thanks to its rich, dark tone. It exudes splendor and majesty on your walls.
I recommend incorporating this color into any climate, despite its dark and bold nature, because it possesses a touch of warmth that can be balanced with subtle hues.
If you have a smaller space, use this color judiciously, primarily as an accent or in small doses to achieve the best of both worlds.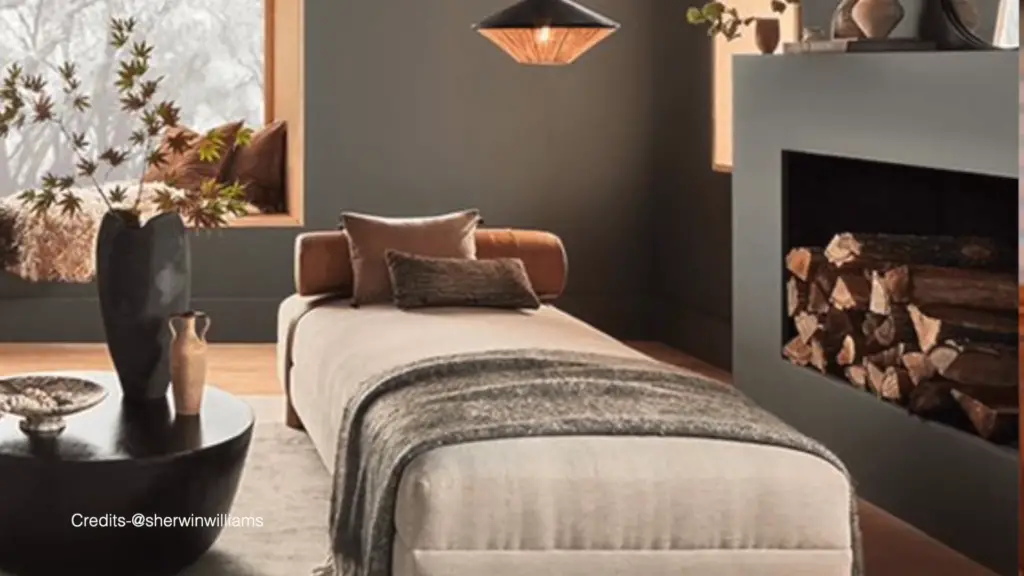 Impact of light on Urbane Bronze Paint Color
Now, let's consider the impact of lighting on this color.
Light plays a pivotal role here. If your room receives ample natural light, it's a perfect choice as it will harmonize the boldness with the airy feel provided by the incoming light.
On the other hand, in the absence of natural light, it might appear overly dark, a shade you may not particularly enjoy.
Therefore, it's essential to assess the natural light in your room, especially when opting for a darker paint.
But fret not!
You can always experiment with artificial lighting through pendant lights, chandeliers, and table lamps to create a wonderful ambiance.
If you want to see how Urbane Bronze looks in your own living space, consider picking up a peel and stick wall samples.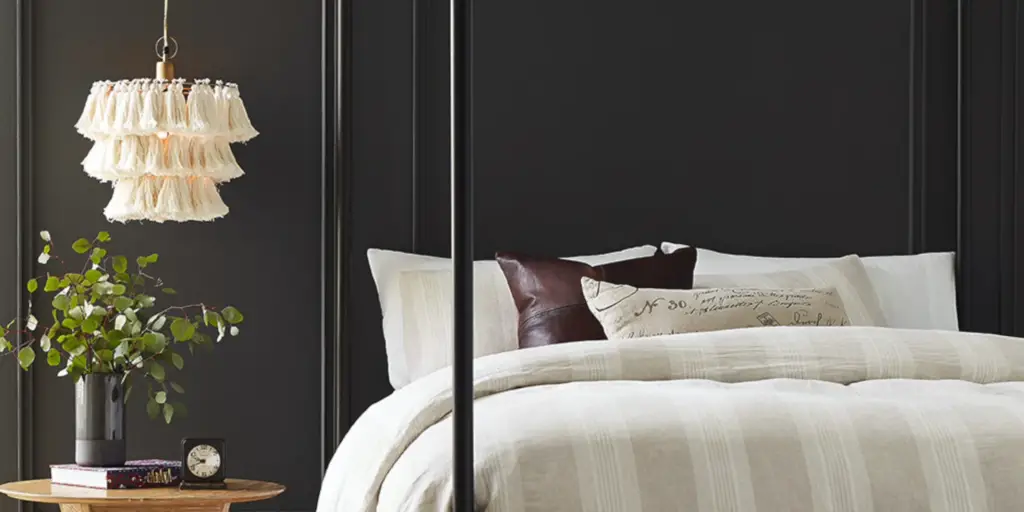 Where to Find Sherwin Williams Urbane Bronze?
If you're wondering where you can acquire Sherwin Williams Urbane Bronze, you're not alone. You can simply visit any Sherwin Williams store and request "Urbane Bronze" without needing to provide additional information.
Even if a Sherwin Williams store isn't within your reach, there's no need to fret.
Any reputable paint store can expertly recreate this stunning shade.
Where to Use Urbane Bronze in Your Home?
Urbane Bronze can serve as a sophisticated neutral paint color or a dramatic accent.
Consider using it for:
Trim
Front doors (or interior doors)
Kitchen island cabinets or bathroom vanities
Cozy bedroom walls
Feature walls
Home exteriors (note that bright light can lighten its appearance)
Urbane Bronze in Living and Dining Rooms
For a Cozy and Elegant Ambiance
Urbane Bronze is an excellent option if you aim to create a cozy and elegant atmosphere in your living and dining areas.
To maximize its effect, consider pairing it with warmer neutrals, yellows, or mustards as accent colors. For a bright and airy feel, complement it with neutral upholstery and white sheer curtains.
You can further enhance your living room's appeal by adding mustard throw pillows, artwork, and a coordinating rug for a delightful pop of contrast.
Alternatively, you can maintain a neutral and modern look by combining Urbane Bronze with off-whites, warmer beiges, and monochromatic shades, delivering a sleek and minimalistic touch to your living spaces.
Using in Bedrooms
Embracing an Organic Vibe
In your bedrooms, consider using Urbane Bronze on a single accent wall or the headboard wall to make the most of its captivating charm. This approach brings an organic and calming ambiance to your personal sanctuary. To introduce a biophilic element, you can adorn your room with tall fig trees or succulents.
In the case of more spacious bedrooms, you can extend the use of this paint to cover all the walls. To balance the color saturation in the room, complement it with lighter accents.
Urbane Bronze in Kitchens
Sophisticated and Welcoming
Urbane Bronze kitchens exude sophistication and warmth, creating an inviting space for culinary adventures.
You have the flexibility to paint the cabinets in this rich color or feature Urbane Bronze on the backdrop wall. To introduce a touch of contrast and refinement, consider adding golden accents through pull handles and fixtures.
This color works exceptionally well in kitchens with an open space plan, as it lends a sense of substance and depth to the room.
Using on Exteriors
Enhancing Curb Appeal
For those with Contemporary and Mid-Century modern homes, Urbane Bronze is an excellent choice for exterior walls. When applied to your home's façade, it may appear slightly lighter due to the abundance of natural light.
To create an appealing contrast, pair it with white or off-white trims and moldings. This juxtaposition enhances the visual interest of your home's exterior.
Alternatively, you can opt for a reversal, using pure whites on decorative moldings for a captivating effect that elevates your home's curb appeal.
Similar Colors
If you're looking for colors similar to Urbane Bronze, consider:
Sherwin Williams Thunder Gray
Sherwin Williams Stony Creek
Sherwin Williams Nocturne
Behr Berry Brown
Benjamin Moore Dragon's Breath
Valspar Dark Oasis
Coordinating Colors
What colors go well with Urbane Bronze?
Before committing to such a dark color, it's essential to consider the coordinating colors for Urbane Bronze. This ensures that your room maintains a bright and airy feel without appearing overly cold.
Recommended colors include: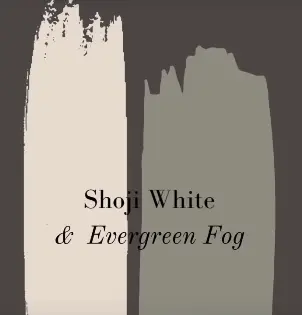 Light Warm Gray Colors:
Amazing Gray
Worldly Gray
Anonymous
Agreeable Gray
Modern Gray
Creams:
Shoji White
Alabaster
Pure White
Light Greens:
Green tones can add an earthy and beautiful contrast to Urbane Bronze:
Sea Salt
Rain
Retreat
Tidewater
Halcyon Green
Basil
Acacia Haze
Urbane Bronze also complements natural stones and metallic metals.
Trim Colors
Urbane Bronze can work well with both bright white and soft white trim, depending on your preference:
Bright White Trim Colors:
Benjamin Moore Simply White
Sherwin Williams Extra White
Behr Ultra Pure White
Soft White Trim Colors:
Sherwin Williams Alabaster
Benjamin Moore White Dove
Behr Cameo White
Use as a cabinet color
Few things are more visually appealing than a moody office space. With this in mind, my wife and I were eager to elevate our standard cabinet built-in to something more luxurious.
Given the considerable buzz surrounding Sherwin Williams Urbane Bronze, it seemed like the perfect opportunity to try it out for the first time.
The experience was akin to love at first sight! While it took two coats to achieve complete coverage, that initial stroke of paint was enough to convince us. After several months of living with this bold yet neutral color on such a significant surface, our love for it remains unwavering.
Use as a color for range hood
While painting the cabinets was a substantial undertaking, painting the range hood felt even more daring. We had previously cherished our all-white kitchen, but over time, it began to feel overly sterile.
Something needed to stand out! On a whim, I decided to climb onto the countertop and paint the hood Urbane Bronze. Though I experienced a bit of hesitation after the first brushstroke, the end result proved to be absolutely worthwhile.
 I am still amazed that such a simple DIY project delivered such stunning results. I only wish I had undertaken it sooner!
Urbane Bronze FAQs
Undertone: Urbane Bronze has brown color with gray and green undertones.
Brown or Gray: It leans more towards brown, but lighting conditions can make it appear more gray.
Black or Brown: Urbane Bronze is definitely brown but can look very close to black in low light.
Darker Colors: Iron Ore is similar to Urbane Bronze but darker.
Complementary Colors: Warm greige and creamy white colors complement Urbane Bronze. It also pairs nicely with blue-green shades.
Agreeable Gray: It pairs well with Urbane Bronze but can sometimes appear pink in warm lighting.
Revere Pewter: Revere Pewter complements Urbane Bronze nicely.
Extra White: Extra White is a great trim or accent color with Urbane Bronze.
Urbane Bronze vs. Peppercorn
The key difference between these two colors is their undertone. Urbane Bronze is more brown, while Peppercorn has cooler gray tones.
Urbane Bronze vs. Iron Ore
These are both very dark, moody colors. Iron Ore is darker and more black, making it a better choice if you prefer black. Urbane Bronze's warm tones are ideal for warm accents.
If you're still unsure about the right paint color, feel free to explore more options or seek expert advice. Your choice of color can truly transform the ambiance of your space!
The final Verdict
Regardless of the finish and whether it's used indoors or outdoors, we firmly believe that Sherwin Williams Urbane Bronze is a flawless choice for any home.
Whether your preferences lean toward modern designs or embrace farmhouse aesthetics, as ours do, you'll never regret selecting this paint color.
If you incorporate Sherwin Williams Urbane Bronze into your living space, we would be delighted to hear about your experience. Please share your thoughts in the comments!