Are you on the quest for the perfect white paint color? Let's delve into the world of Sherwin Williams Aesthetic White and explore whether it could be the ideal hue for your home!
While white paint might seem straightforward, the reality is that there's a plethora of options to consider. Head to your local hardware store, grab some white paint swatches, and lay them out side by side. You'll quickly notice variations – some leaning towards a hint of pink, others veering slightly yellow.
One standout in the realm of white paint colors is Sherwin Williams Aesthetic White. What makes it intriguing is that it's not a pure white; rather, it's an off-white shade. This subtle departure from pure white adds depth, providing a touch of interest and warmth to your walls.
Initially hesitant about painting walls white, the decision was prompted by the need to brighten up a dark kitchen in a rental house. The outcome exceeded expectations, and the love for white walls grew.
This post is part of an ongoing series addressing the overwhelming nature of paint color choices. Recognizing the frequent inquiries about paint colors, the series aims to share favorite paint colors. Previous discussions covered Camelback (tan), Ryegrass (green), Agreeable Gray, and Krypton (blue).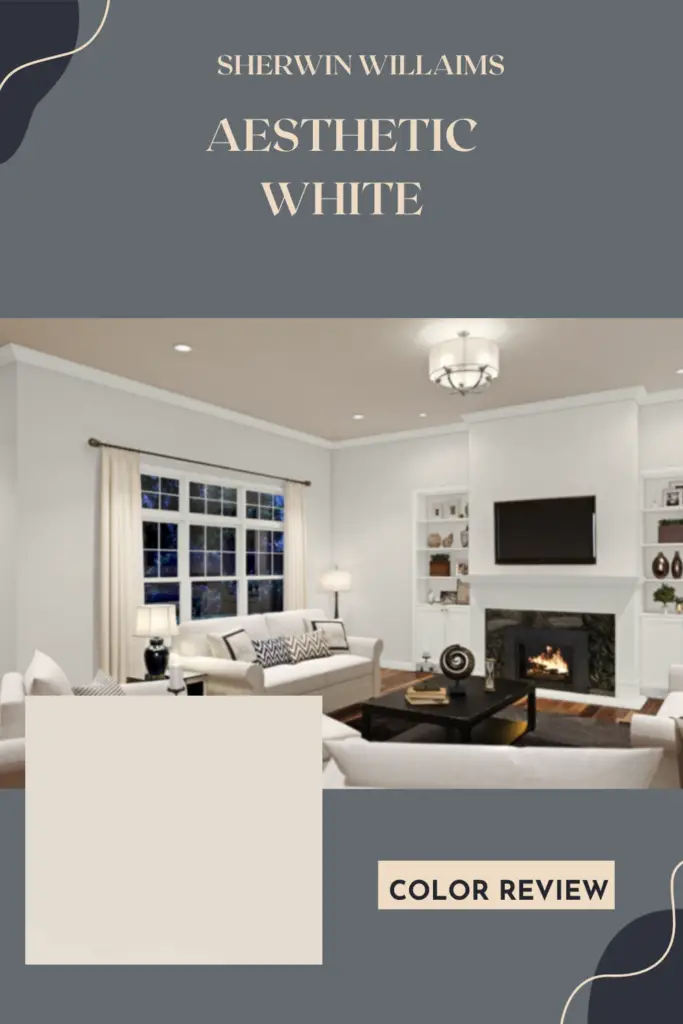 Key Characteristics of Sherwin Williams Aesthetic White:
Sherwin Williams' Aesthetic White paint presents a delightful shade of off-white, perfect for pairing with warm wood tones and serving as an ideal white paint color to illuminate a dimly lit room.
Despite its name, isn't a pure white. It falls into the off-white category, offering a soft and subtle tone that delicately balances between beige and gray. The following sections will provide an in-depth look at the characteristics of Aesthetic White.
Color Family: Aesthetic White falls within the warm beige color family.
Light Reflectance Value (LRV): With an LRV of 73, Aesthetic White is not a stark white but rather an off-white or beige shade. LRV measures how much light a color reflects, and in this case, it sits below the typical LRV of 83 for white colors. While it may not reach the LRV levels of a true white, it promises a luminous and airy atmosphere with just the right amount of depth.
RGB Colors: The color mix for Aesthetic White is described by its RGB values: R:227, G:221, B:211.
Hex Code: #e3ddd3.
Also Read: Sherwin Williams Snowbound vs Pure White
Undertones
A warm-toned color with greige undertones (a mix of gray and beige), leaning more towards beige. The warm undertones shine in well-lit rooms, but some find it appears less appealing in spaces lacking natural light.
💡Pro tip:
Always test swatches in your actual room under different lighting conditions before making a final decision.
Aesthetic White displays greige undertones, making it a preferred choice for a light greige paint color. Unlike other greiges or taupes with green, blue, or purple undertones, Aesthetic White maintains a notably neutral profile. It gracefully straddles the line between beige and gray without leaning too heavily in either direction.
Warmth of Aesthetic White
This warm paint color emanates a cozy and inviting feel, thanks to its beige undertones. Aesthetic White is an ideal selection for those seeking a warm neutral that exudes comfort.
Best Uses
Aesthetic White is a light, bright neutral color with considerable warmth. Its slight color depth also helps conceal scuffs better than a pure white paint. Similar to Agreeable Gray but lighter and brighter, it's a versatile color suitable for various spaces, including the whole house, living room, kitchen, bedroom, and dining room.
Similar Colors
SW Sunbleached
SW Heron Plume
SW Mortar
Behr Bleached Dune
Behr Arctic Ermine
Benjamin Moore Gray Mist
Valspar Oyster Pearl
Coordinating Colors:
Aesthetic White's versatility extends to its compatibility with various colors. Sherwin Williams suggests pairings with Pure White, Aqua Verde, and Chelsea Gray for a dynamic and stylish paint scheme suitable for coastal, traditional, or farmhouse-style homes.
Aesthetic White pairs well with pure whites, aqua blues, dark greiges, and black.
Pure Whites: SW Pure White, Benjamin Moore Simply White, Sherwin Williams Extra White, Behr Ultra Pure White.
Aqua Blues: SW Aquaverde, SW Festoon Aqua, SW Moody Blue.
Dark Greiges: Chelsea Gray, Dorian Gray, Gauntlet Gray.
Trim Colors:
For trim, Aesthetic White pairs well with Pure White, offering a clean look without starkness. Alternatively, combining it with High Reflective White introduces a crisp, bright element to your trim.
Choose Aesthetic White for a tone-on-tone textured, layered look or opt for a bright white trim for a more contrasting appearance.
Bright White Trim Colors: Benjamin Moore Simply White, Sherwin Williams Extra White, Behr Ultra Pure White.
📝 Key takeaways
Aesthetic White by Sherwin Williams is an off-white paint known for its ability to complement warm wood tones and brighten dark rooms.
Initially hesitant about white walls, the author chose Aesthetic White to lighten a dark kitchen in a rental house, and the result exceeded expectations.
Aesthetic White is part of an ongoing paint color series, emphasizing its popularity and versatility.
This off-white shade, labeled SW 7035, is described as warm, providing a room-brightening effect unique to white paint.
The post showcases Aesthetic White's transformative impact in a kitchen with dark brown cabinets and a mudroom with wood hooks and crates.
Aesthetic White's contrast with white trim is emphasized, highlighting its subtle yet significant difference.
Recommended for spaces lacking natural light, such as kitchens, bathrooms, hallways, or dimly lit rooms.
Coordinating colors like Pure White, Chelsea Gray, and Aquaverde are suggested, offering a cohesive palette for future projects.
The narrative challenges preconceived notions about white paint, encouraging readers to reconsider its potential transformative impact.
Overall, Aesthetic White emerges as a versatile and effective choice for brightening various spaces, providing a warm and inviting atmosphere.
Where to Use Sherwin Williams Aesthetic White
Thanks to its adaptability, Aesthetic White is suitable for a variety of spaces within your home, from bedrooms and living rooms to kitchens and hallways. Its neutral nature allows it to blend seamlessly into different design elements, making it an excellent choice for exteriors as well.
Comparisons with Other Paint Colors
In comparing Aesthetic White with other popular off-white options like Shoji White, Alabaster, and Incredible White, it stands out for its unique balance between beige and gray, offering a distinctive yet versatile choice.
Considerations for North-Facing Rooms
If you're considering Aesthetic White for a north-facing room with natural red oak floors and pure white trim, experimenting with lighting options can help strike the perfect balance between beige and greige undertones.
FAQs:
Is Aesthetic White suitable for cabinets?
Yes, it's an excellent choice for cabinets, especially if you want a white that doesn't appear overly stark. It works best in kitchens with abundant natural light.
Can Aesthetic White be used for a home's exterior?
Absolutely. Outdoors, in bright light, it leans less towards beige and closer to white, offering a cozy feel.
Aesthetic White vs. Eider White:
Both are popular off-white paint colors. Aesthetic White is a neutral warm color with subtle undertones, while Eider White has stronger pink undertones.
For a free printable paint color palette of Sherwin Williams Aesthetic White, join the PaintColorProject+ community. Once you're in, you can right-click and save the palette image.
Happy painting!